Academics Overview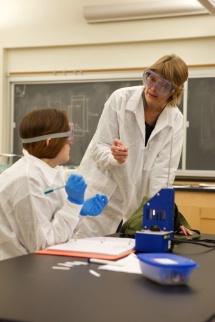 Challenging Programs
Wilson College educates students in a strong liberal arts tradition, including exposure to the arts, history, cultural studies, foreign languages, social science and environmental studies. We complement this broad experience with depth in a chosen field. In addition to a full range of premier academic programs, students also can develop their own interdisciplinary majors to achieve personal goals.
Our college offers rigorous undergraduate bachelor's degree programs in core fields such as biology, international studies and psychology, as well as a master of education degree. We also have developed nationally known programs in focused fields, including equine journalism and environmental sustainability. Students in our Adult Degree Programs can work toward bachelor's or associate degrees.
In every program, our exceptional faculty serves as role models, mentors and facilitators of learning both inside and outside of the classroom. More than 75 percent of our full-time faculty members have terminal degrees and more than half are women. Our faculty and students engage in collaborative teaching, learning and research.
A Wilson College, education prepares students for rewarding and challenging careers, leadership roles in a global society, service to others and a lifetime of learning.