Community-Supported Agriculture
Fulton Farm Community-Supported Agriculture is a project of the Fulton Center for Sustainability Studies at Wilson College. As an educational laboratory for the college Department of Environmental Studies, our purpose is to educate Wilson students and the local community in sustainable food production and land stewardship.
We are a working farm of seven acres of cultivated land, on which we raise nearly 150 different varieties of fruits, vegetables and herbs. USDA Certified Organic since 2013 and Certified Naturally Grown produce is raised without chemicals and with an emphasis on soil conservation and minimal energy inputs.
Community Supported Agriculture Membership
Community Supported Agriculture (CSA) Membership is open to anyone. Members contribute their financial and/or physical support to the farm and in return, receive the following privileges:
Weekly produce pickup at the farm, featuring a choice selection of seasonal farm produce.

Access to  sustainably produced eggs.

Pick-your-own options:  berries, cherry tomatoes, flowers, herbs and seasonal surplus items.

Member picnics and workshops.

Regular newsletters and recipes.

25% off at the North Square Farmers Market (our booth only).
The Farm
The farm is a beautiful place. Members are encouraged to walk the gardens and enjoy our quiet, interpretive nature trail. Volunteers are welcome to help with harvesting, planting and weeding. CSA pickup is also a nice time to meet your neighbors.
Question & Answer
Is it a worthy investment?
Yes, if you love cooking and vegetables or have aspirations to do so.  The freshness, flavor, taste and quality of produce you will receive at the farm CANNOT be found in any regular grocery store.
Do you sell elsewhere?
Yes. CSA shares cover 75% of farm expenses. To make up the rest, we plant extra crops for the College dining hall and the North Square Farmers Market.
What sort of produce will I get?
We like to focus on well-known vegetables, but also introduce members to unique culinary delights. Volume and variety vary with the season and weather conditions, but you can expect:
Spring: Low volume - cool season greens, radish, spinach, spring onions.
Late spring: Carrots, peas, berries, beets.
Summer: High volume - tomatoes, beans, melons, cucumbers, summer squash, garlic, onions.
Fall: Winter squash, potatoes, sweet potatoes,  cabbage, broccoli, cauliflower, greens.
We provide lettuce and salad items throughout the season (weather permitting). Produce is always fresh!
How does it work?
Members pick up produce at our barn weekly or biweekly. Your share is harvested and washed for you. Extra produce (herbs, berries, flowers, beans or even tomatoes) is free for the picking in our Pick-Your-Own (PYO) areas seven days a week. Choose a share option and pickup day that works for you. Fill out the application, then send a deposit or pay in full.
Other activities?
We offer cooking classes, speakers, farm tours and more. We'd love to have members initiate and help organize community events on the farm.  Bring us your ideas and we'll work with you to make them happen.
Community Features
Historic barn: Vegetables will be distributed from our beautifully restored 19th-century barn.
Pick your own options: We harvest your regular weekly share for you. Additional items such as berries, flowers and other specialty produce will be offered on a pick-your-own basis.
Sustainable living workshops: We host occasional workshops and discussions on diverse "green living" skills, such as alternative energy, gardening and composting. We  keep members informed of local sustainability and food-related events and activities happening in our area.
Community Supported Agriculture celebrations: Join us for potluck suppers, barn movies and an end-of-year harvest event.  These are great ways to get to know other people involved in the farm.
Share Options
Mid-May through mid-November (26weeks)*
Standard Share: For two to four people who eat vegetables on a regular basis. (Friends are welcome to split the standard share on their own.) Weekly pickup.
Small Share: For one person or for couples who eat away from home frequently. Pick up standard share every other week. (Friends are also welcome to split the standard share on their own
*Exact starting and ending dates will be determined based on produce availability, which depends on weather and other growing conditions.                
Paying in Installments
Members who cannot pay the full share price up front are welcome to pay in monthly installments. Contact FCSS Program Director Chris Mayer to learn more.
Discounted Shared Options
Vacation Option
Members who will be out of town for four weeks or more can apply for a pro-rated share or refund. Absent members should notify the farm at least two weeks ahead of time to qualify for credits. Members who join mid-season will also pay a prorated share price.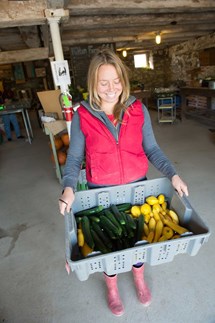 Paying in Installments
Members who cannot pay the full share price up front are welcome to pay in monthly installments.
Signing Up For the 2016 Season
Fulton Farm CSA will be offering 75 full shares for the upcoming season. Past season shareholders have first opportunity to join for 2016. Contact Chris Mayer for further information or to join our wait list.  Phone  717-264-4141 x 3247 or email christine.mayer@wilson.edu