Wilson College Directory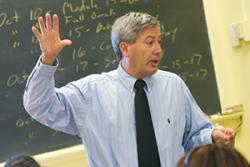 Eric Michael
Assistant Professor of Education, Master of Education Program Director
Phone: (717) 264-4141 x3109
Warfield Hall 309
Office Address:
Wilson College
1015 Philadelphia Ave.
Chambersburg, PA 17201
More About Eric Michael
Ed. D. University of Pittsburgh, Educational Leadership, Superintendent's Letter of Eligibility
M.S. Shippensburg University, Educational Leadership
B. S. Shippensburg University, Elementary Education, Environmental Education
Eric C. Michael comes to Wilson with 35 years' experience in Public Education. His career has spanned a wide range of educational experiences. He has served as; 1st grade teacher, 5th grade teacher, 7th grade science teacher , Middle School Assistant Principal, High School Assistant and Principal, Assistant Superintendent overseeing Curriculum and Instruction, Pupil Services, Special Education, Technology and Elementary and Secondary Services. His higher education experience includes adjunct professor for Wilson College, Duquesne University, Shippensburg University and Wilkes University. He has presented nationally for the Pennsylvania Department of Education and at Math and Reading conventions. Dr. Michael teaches both undergraduate and graduate courses in addition to overseeing The Masters of Education Program. He continues to remain active in the Chambersburg Community by serving on YMCA Board of Directors, Manito Board of Directors, Chambersburg Rotary (Paul Harris Fellow) and lives in Chambersburg with his wife Sharon and daughter Chelsey.