The Hankey Center and Archives
The Hankey Center, named in honor of Joan Hankey, USN (retired) '59, and her family, was dedicated on June 7, 2003, to house the C. Elizabeth Boyd '33 Archives and the Barron Blewett Hunnicutt Classics Gallery.
The Hankey Center for the History of Women's Education serves as the central resource on the history of Wilson College through the rich repository of materials and artifacts contained in the C. Elizabeth Boyd '33 Archives. We provide support for academic programs by making the Center's staff and resources available to the Wilson community, as well as to scholars, independent researchers and educators in the broader community.
 
Research Focus
The history of women's education in terms of access, curriculum, pedagogy, fields of study, and purpose; how women's education has evolved over time.
Women's leadership, women's role in the workforce, work/life balance, women's role in religion and social justice movements, and women's roles in various fields such as education, government, medicine, religion, business, science, and law.
The role and influence of Wilson women compared with national trends across time and space, with emphasis on the era of the operation of the college.
Contemporary women's issues including feminism, women's studies, cultural, educational, and political topics.
Digital technologies for creating and sharing new scholarship on women's history, education and culture.
Education and Curriculum
Curriculum for students

History of the college
Incorporating alumnae narratives into women's studies, history and sociology coursework
Use of new technology for analyzing historical data and presenting digital exhibits

Curriculum for teachers

Use of new technology for analyzing historical data and presenting digital exhibits
Women's history curriculum using primary documents
Encouraging girls in math and science

Internships available for Wilson and non-Wilson students related to women's history and archives management
Information and resources on women-centered pedagogy
Outreach
Women's History Month programming, guest speakers, and
Women's History High School Essay Contest
Hankey Center Exhibits focused on the history of women's education
Guest speaker on women's issues for historical societies, community organizations, women's conferences
Hankey Center YouTube Channel featuring short documentaries on the history of the college
Women's History blog
 
Staff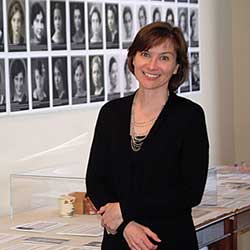 Amy Ensley, M.S.
Director of the Hankey Center
(717) 264-4141x3279
amy.ensley@wilson.edu

 
Hours and Location
The reading room of the C. Elizabeth Boyd '33 Archives and the Wilson Archival Collections are open for research use Monday through Friday from 9 a.m. to noon and 1 p.m. to 4:00 p.m. or by appointment. It is suggested that all visitors call  or email in advance to be certain that staff are available.  Please contact us at hankeycenter@wilson.edu or 717-262-2049 to set up a research appointment.
Closed all campus holidays.
The Hankey Center is located on the north end of campus along Rt. 11. See Campus Map for location and directions.