Robyn Van En Center
The Robyn Van En Center is a national resource center about Community-Supported Agriculture (CSA) for people across the nation and around the world. The center provides outreach and works to gain publicity about CSA farms in order to benefit community farmers and communities everywhere.
Since the late Robyn Van En introduced the CSA concept in 1985, the movement has spread throughout North America. The Robyn Van En Center, based at Wilson College, maintains a national database that now includes more than 1,650 CSA farms. The center helps bring farmers and communities together, as well as provides resources for those in search of information pertaining to the CSA movement.
Wilson College also hosts a 80-share CSA program at the Fulton Center for Sustainability Studies. We are farmers, students, eaters and advocates for small, local and sustainable agriculture.
Please take a moment to review our web pages and take advantage of the services offered.
Ways to contribute
Keeping the database up to date.
Contributing articles, research papers and clippings for posting and for the library.
Donating to RVEC to help support these valuable services.
Spreading the word about Community-Supported Agriculture.
Farmers already listed: Please check your listing to make sure it is up to date and add "additional comments" to help potential shareholders learn more about your farm.
Food for thought: if you haven't already, join a CSA farm today and eat locally grown, healthful, seasonal food purchased from a farm right in your neighborhood.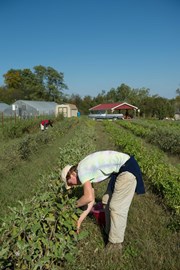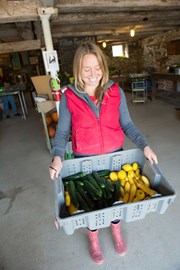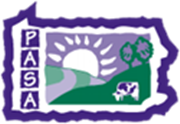 CSA Article
–

Honest to Goodness

 

In the inaugural issue of her new digital-only magazine called Honest to Goodness, Amanda Brown wrote an article on the history of Community Supported Agriculture and the important role Robyn Van En played in the birth of this movement. She also explains how the CSA model has evolved and talks about some things to consider if you are thinking about joining a CSA. To view the article (with all the accompanying photographs) visit: http://issuu.com/honesttogoodness/docs/septoctfinal page 32.

 

To view the current issue of Honest to Goodness: honesttogoodnessmag.com

"Community Supported Agriculture: The Farm of the FutureWhat is a CSA, and what can it offer you? Fresh veggies, a fresh outlook on eating, and a fresh community of like-minded friends."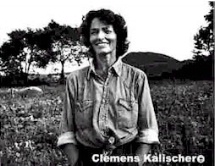 Contact Information
The Robyn Van En Center
Judy Scriptunas, RVEC Program Manager
Fulton Center for Sustainability Studies
Wilson College
1015 Philadelphia Avenue
Chambersburg, PA 17201
717-264-4141 ext. 3352
csacenter@wilson.edu
 Visit our Facebook Page
https://www.facebook.com/RVEC1985?ref=hl
CSA Resources Blog