The Archery Club aims to learn and teach new skills, and help students unwind after a busy day and shoot targets with arrows in a safe environment.
Officers:
•     President: Elizabeth Hauck
•    Vice President: Marissa Rankin
•     Secretary: to be announced
•     Treasure: to be announced
Archery club was created about 23years ago by Odrun and Connie Stevens, and a group of students who showed a great interest for Archery. Archery club provides students and members of Wilson College the chance to learn the ways of archery and learn to shoot different types of bows. The main type of bow that we shoot are recurve bows, however cross bows, and compound bows can be brought in if interest in learning to shoot that particular bow is shown. Archery club is a safe and casual environment where you can learn something new, relax and have fun with friends. 
Archery practices are held in the basement of the field house, this is when a student or members of Wilson can come and shoot bow and arrow. Practices are held every Friday and Sunday from 6-9pm. You do not have to show up on time nor do you have to stay for the entire time period. 
Archery meetings are held once a month to every other month depending on the events going on during that time.
Club events:
Seasonal themed shoots: students, faculty, and staff can come to the range and shoot at seasonal themed targets and just have fun. (Examples: Halloween shoot, Christmas shoot)
Fundraisers include chocolate covered pretzel sales
Halloween shoot: week of Halloween
Christmas shoot: week before finals begins
Campus wide events: 
Spring fling 
Who can join:
Anyone who shows a general interest in the sport of Archery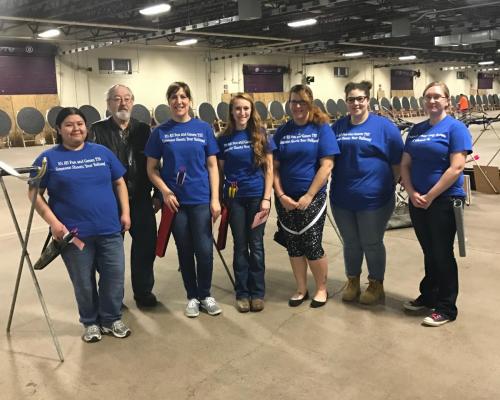 Wilson College Archery Club Constitution
Wilson College Archery
Purpose: 
    Archery club was started around 23 years ago by Odrun Stevens and his wife Connie. Archery was started because a group of students showed an interest in archery and wanted to have a club that they could go to, to unwind and chat with friends and at the same time shoot bow and arrow. This also provided a new experience for the Wilson students.  Archery gives Students the ability to get their hands on a recurve bow and learn how to shoot Fita bare bow style. This means that we have no sights or stabilizers on our bow, there for we use our bodies and instinct to guide the arrow onto the target. Recurve bows are very simple making it easy for anyone to learn and is very easy to pick up on. Because your Aim relies on your instinct it gives students a chance to learn and improve many skills such as consistency, concentration, and patients. What sets us apart from other clubs is the fact that we are a very relaxed club and just want Wilson students to have fun.
Membership: 
    As for membership anyone attending Wilson can join you do not have to have any previous experience with a bow, and all supplies will be provided. Students can join at any time during the year we do not have any dues nor do we have tryouts. The only thing we ask of the students is to come shoot some arrows, have a good time, and attend the meetings. If a Student finds that they can't attend a meeting she or he must send an email to both the president and the secretary. As a club we do not like to turn away members but if you are not attending any of the meetings or are disobeying the safety rules we will remove you from the roster. As a member you have the ability to run for an office, vote for an office, and have the awesome opportunity to compete in a regional and State archery shoot.
Leadership: 
Wilson Archery club has officers as our form of leadership. Officer positions include President, Vice president, Secretary, and Treasurer. Elections are held at the end of spring semester and new officers take their positions the fallowing fall semester. In order to be eligible for presidency the member must have competed in Reginal and State competitions the previous year.
Officer Duties:
    Archery officer Duties are as fallows
President: The president's job is to plan and set up meetings as well as run the meetings. The president must also take charge in finding and running fundraisers, other officers may assist the president with fundraisers if needed.
Vice President: The vice president's job is to assist the president with tasks such as fundraisers, and collecting paper for competitions. They must also be willing to take charge if the president is not able to attend the meeting or can't finish the year. 
Secretary: The secretary's job is to take notes, write thank you letters, and send out club minutes
Treasurer: The Treasurer's job is to manage the club budget, fill out apportionment slips, and check request forms.Fund raisers:
    The purpose of our fund raisers are to raise money to pay for expenses to go to regionals and states. As well as spread awareness of our club and what we do. Archery has at least two fundraisers per semester. Fundraisers most of the time vary from year to year. 
Updates to the constitution: 
     The Wilson college Archery club constitution can be updated or changed once a year, or have minor changes added if needed
Club Rules:
    We ask of the students participating in archery that they respect all safety rules and respect everybody in the club. Archery club is a safe place where any one can be themselves, sexism, racism, and other forms of disrespect to a fellow member will not be taken lightly and the offender may be susceptible to being removed from the club. Violence will also not be tolerated in archery club, if you are suspected of or caught planning a violent act towards a student or the school you will be reported to security and removed from the club. We also ask that you attend the meetings, if you can't make a meeting or meetings let the president and secretary know in advance. If a member of the club is interested in Competing in the Regional and State competitions, it is required of them to accumulate 6 hours of practice each month of the spring semester. If said member is unable to make it to a practice, and the missed practice is going to effect the 6 hour minimum the member must contact the president of the club and let them know. Officers must attend all meetings, if an officer is unable to attend a meeting due to an unexpected event, they must contact the other officers to let them know.