Ashley Henderson '19 'Owns Her Own Style'
By Cathy Mentzer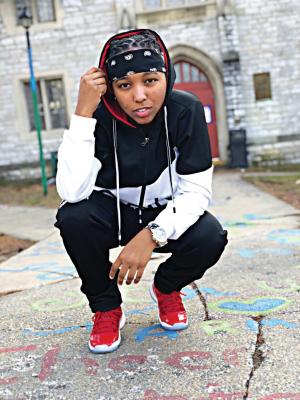 Ashley Henderson '19 is focused like a laser on what she wants to do after college. Every week she makes a schedule of her academic goals, prioritizing time for study, work, playing basketball, participating in clubs and making videos. She doesn't mind working hard to achieve her objectives.
"I know that I want to be somewhere in life," she said. "I know what I want to do and that I have to work hard to get there."
Henderson, who's played basketball since she was 3 years old, wants to go pro with a European women's league after graduation. But the communications major from suburban Washington, D.C., has another long-term goal: She wants to tell stories in visual form through documentary-style videos.
"I feel like I could do both at the same time—like I do now," Henderson said of playing basketball and making videos. "But I know for a fact if I don't go pro, then I'm definitely going to pursue communications. That's something I would never give up on."
Henderson currently plays point guard on Wilson's women's basketball team. After sustaining a devastating ACL tear in her knee in her third game as a freshman, she worked to get back into shape and by the next season, was back on the team. The experience made a lasting impact.
"It makes you realize that everything is not guaranteed," said Henderson, who no longer takes her ability to play basketball for granted. "That's what keeps me going. I'm able to do things some kids can't do, aren't able to do. That pushed me a lot to stay positive and stay focused and get back on the court."
Henderson's play has been getting better and better. In February, she achieved a career-high 30 points in a game against Penn State's Berks Campus and a few weeks later, she was named to the North Eastern Athletic Conference all-conference team.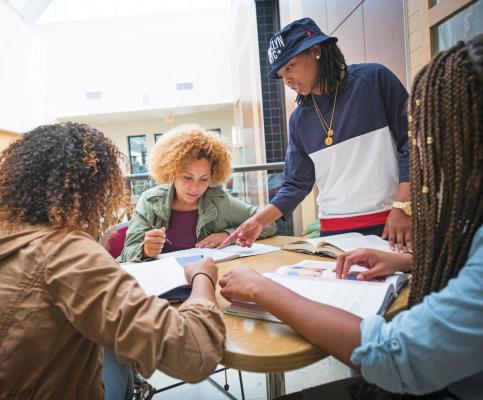 The driven 22-year-old, who holds a work-study position in the athletics department, has created or helped produce a number of team videos. "A lot of the season previews that you saw last year, actually Ashley put those together for me," said Jeremy Shepherd, associate athletics director. "She did all the video editing and the music and that type of thing. What you see as the final product, she did for us."
Henderson's talent for conceiving, shooting and editing videos is evident in her work for athletics, but it was the video she made for National Coming Out Day last fall that got her noticed on campus and beyond. Blending music and facts about the LGBT experience with interviews with Wilson students about being gay and coming out to family and friends, Henderson created a simple yet powerful mini-documentary that got a lot of attention.
"I found out about it, not through Ashley, but through a student who said, 'You should see this really cool video that Ashley did,'" said Mary Beth Williams, vice president for student development. "There was a really positive energy about it. The students who were in it, I think were honored to be a part of the project."
The reactions of Williams and others on campus was gratifying for Henderson. "I was shocked at the fact that it spread so fast around campus," said Henderson, who initially posted it on sendvid.com (watch at http://sendvid.com/zzvunhm9) before later posting it on YouTube. "Students and faculty were telling me how good it was. Some professors I didn't even talk to came up to me. I was getting emails, too. It felt good to know that my video had such a big impact."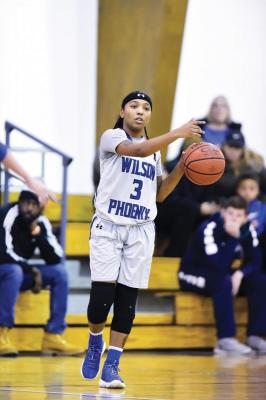 Filmed on her phone and set to the poignant Same Love by Macklemore, Happy in My Skin: A Mini-Documentary has been viewed at least 2,563 times, according to Henderson. In the video, she talks of her own experiences, including a physical attack for being gay while she was a freshman in high school. It happened when she and her friends temporarily split up on a shopping trip in Washington, D.C., and she found herself in an alley with some young men who began harassing her.
"These guys were making catcalls at me and I ignored them. That's when they attacked me, saying 'Oh you want to act like a dude, I'm gonna treat you like one.' They hit me, pushed me, kicked me," said Henderson, who managed to get away with some bruised ribs and a busted lip.
Stories of those kinds of experiences—especially stories with themes of social injustice—are the kind of stories Henderson most enjoys expressing through videos. "I do feel like I am a storyteller," she said. "I want to tell stories about real-life things, things that are actually true, things that I deal with or have dealt with."
Henderson's latest video project is about what it's like to be a student of color on a mostly white campus. She got the idea to make the video for Black History Month in February, but was unable to finish the project in time. The video includes interviews with Wilson students and, like the coming out video, combines historical events and information with personal stories.
"It's about what black students go through being a minority at this school," Henderson said. "Stuff they have dealt with, that they feel uncomfortable in some circumstances. Basically, it's things from our point of view."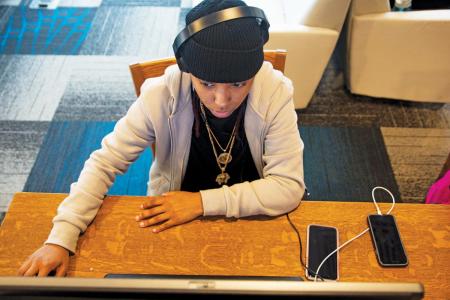 At press time, Williams and Henderson were in discussions about a possible screening of the video on campus. "I'm always open to having more conversations around race and inequality and any tensions that may exist on campus," said Williams. "I'm all for students having conversations, even though they may be difficult. We've come a long way, but we have a long way to go."
Henderson believes there is progress to be made in terms of diversity at the College, and she hopes her video can make a difference by bringing about awareness and becoming a basis for conversation. "I'm hoping this will make the campus aware of how we feel about things," she said. "If people actually got the time to sit and talk to people who are minorities … you would see that everybody's the same. Everybody has feelings. Everybody came here to get an education. Just sit down and have a conversation and see things from their point of view."
Inspiration for the video came over Christmas break. "I was listening to this song and I just got an idea in my head," Henderson said. The song, A Dream by rapper Common, samples Martin Luther King's "I Have a Dream" speech throughout while expressing a message of determination in the face of racism.
Henderson, who recently got a new Nikon camera for her videos, says she learned about using cameras and video editing software in school, but her creative process is as based on instinct as much as anything. "I've got a good vision of how I want certain things to be. How I want a video to be, how I want a poster to be," she said.  "I see it and I just go with it."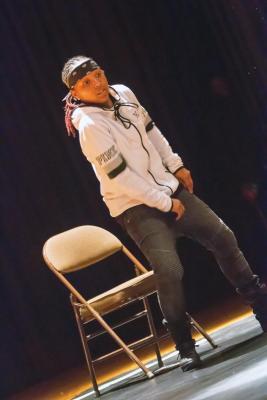 Since arriving at Wilson in fall 2014, Henderson has become involved in a lot of campus activities, including Billboard, Orchesis and Black Student Union. She's also a member of the Student-Athlete Advisory Committee.  She strongly identifies as an athlete, a person of color, a lesbian and a dancer—in no particular order. All inform her perspective as a videographer. "I really want people to know the truth about so much," she said. "I would even tell somebody else's story if they let me."
Henderson, who has a campus rep for making people laugh and telling it like it is, exudes a creativity and confidence that make others take notice. "She owns her own style," said Megan Mizanty, visiting assistant professor of dance and Orchesis adviser. "She knows who she is and she's very comfortable with being herself. I think that's why people are so drawn to her—because she's authentic. She's very honest."
Henderson, who is minoring in dance, brings diverse experience to her dance courses and to Orchesis. "I've been dancing since I was five. I did tap, ballet, church dance (liturgical), lyrical, hip-hop. Hip-hop is my favorite," said Henderson, who is adding her own stamp to the storied modern dance ensemble for this spring's performance.
"This semester, she's choreographing a piece and it is in her style so yes, this semester we will have a hip-hop piece," Mizanty said. "She's very creative with the movement she composes. I really like seeing what she does with some of the assignments she's given in both the dance technique and dance history classes. She has a very individualistic style. She takes something I give her and she makes it distinctly Ash."
Henderson originally committed to play basketball at Trinity Washington University, a women's college in the nation's capital, but Wilson's then-women's basketball coach, Jared Trulear, convinced her to visit the Wilson campus. "I came on a visit. I liked it. That's how I got here," said Henderson.
She doesn't regret her decision. "It's hard. Wilson challenges you academically," she said. "But I make sure I have enough time for my work. Every Monday I write out a schedule of what day I'm going to do what. It helps a lot."
Henderson is always prepared in class and her openness adds to the conversation—even when it may involve talking about difficult subjects such as LGBT issues or struggles minority students on campus face, according to Assistant Professor of Communications J.Z. Long, who is Henderson's adviser. "She's a great communicator. She's not afraid," Long said. "It's nice when the students themselves bring that up and add that to the conversation."
"Her energy is always inspiring," Williams said of Henderson. "She's an amazing basketball player. She's a great student. But she does not like attention. She likes to give a voice to the voiceless. She always helps me think about things from a new perspective."
Recently, when an all-campus email sought the names of student candidates for a leadership program called the Phoenix Leaders program, Matt Allen, head coach of the women's team, nominated Henderson. "I think she has a mindset of getting somewhere and doing something positive," he said. "She is a kid who is very confident in who she is, but at the same time still kind of learning her way through life from a perspective of, 'How do I become the best person I can become?' I think she has a lot more to give than she understands."