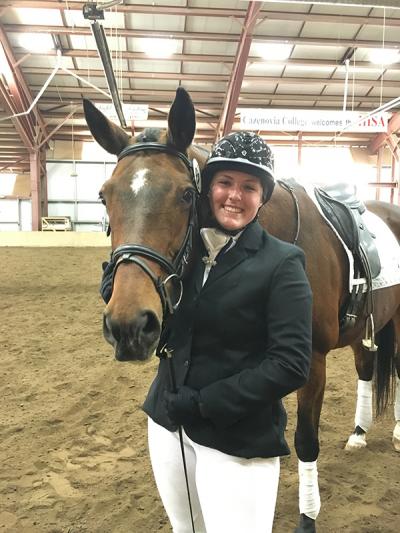 Officers:
•     Captain & Treasurer - Rianon McKee 
•     Co-captain - Bethany Doppel 
•     Secretary - Shannon Lehman
The Team:
•    The purpose of the Wilson College Dressage Team is to educate all members about the classical history, and competitive world of Dressage.  The team will have membership and participation in the Intercollegiate Dressage Association (IDA).  This will allow members to demonstrate their knowledge, proficiency, and talent of the sport through competition with other schools in our allocated district (Region C).
Practices:
•    4-6pm Practice on Friday's in Wilson's "Cook" Indoor Arena on School Horses
•    Practice riding and influencing the horse to become more athletic and sound in a dressage frame: carrying itself and rider in balanced and with harmony.
•    Practice movements that each rider must showcase in their level of competition and work to advance rider's skills, confidence and understanding.
•    We also have team meetings as needed to discuss shows, fundraising ideas, practice schedules and ideas or concerns brought up by members.
Competitions:
Throughout the year members compete in Wilson schooling shows along with Intercollegiate Dressage Association (IDA) competitions. The Wilson College Dressage Team competes in Region C of the Intercollegiate Dressage Association against other colleges and universities including Delaware Valley College, Centenary College, Cazenovia College, Cornell University, and Penn State University. As a team Wilson travels to the college or university and uses the host school's horses chosen through a lottery-type system.
Fall Events:
•    Nov. 3 show @ Delaware Valley University
•    Nov. 10 show @ Centenary University
•    Dec. 8 show @ Cazenovia College
For more information on the Intercollegiate Dressage Association visit: http://www.teamdressage.com/
Membership:
Membership is open to any Wilson College student who has paid the team dues, and who is in good academic standing at Wilson College (as defined by the Wilson College Blue Book, and IDA rules).
Coach: Shannon Lehman