Wilson's first medical mission aids sugar cane workers in the Dominican Re>public
By Coleen Dee Berry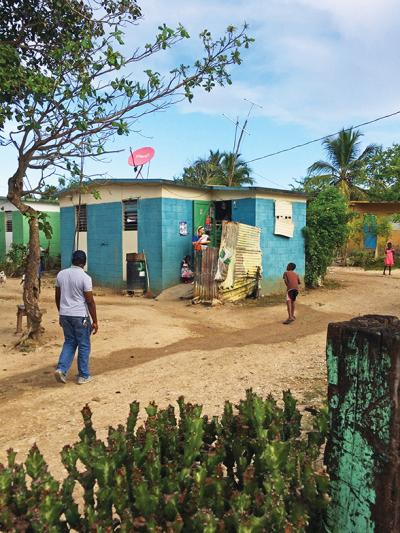 They are a forgotten people.
The Haitian "guest workers" who cut sugar cane in the Dominican Republic have been "guests" in that country for almost a century. In the remote areas near the sugar cane fields, they spend their lives in bateyes—company-owned villages that often lack the basic necessities of life: clean water, electricity and sewage facilities. With limited transportation, batey residents seldom venture far outside of their village. There are no nearby medical facilities, or even a local pharmacy. And so, those living in the bateyes are dependent on the volunteer teams who visit twice a year, bringing doctors, nurses and medicine to provide basic medical care for workers and their families.
In January, 11 Wilson students (including eight nursing students) and three faculty members became part of one of those Dominican volunteer teams. Within four days, the Wilson team assisted in medical visits to three bateyes (Creole, pronounced: ba-TIES) and a neighborhood clinic, helped treat 375 adults and more than 200 children, and dispensed more than 1,500 medications. This was Wilson's first medical mission trip, which was coordinated by the Christian nonprofit organization Mission: Hope. The organization connected Wilson with La Buen Samaritano (the Good Samaritan) Hospital in the southeastern coastal city of La Romana, which runs medical trips to approximately 100 bateyes twice a year.
Since it was Wilson's first medical mission, participants were not sure what to expect, according to Sherri Stahl, senior vice president for hospital services at Summit Health in Chambersburg, who accompanied the Wilson team. "But at that first batey, they did not miss a beat. I came away totally impressed by the quality of the Wilson students," she said. "I've been very interested in following the (nursing program) progress at Wilson and can't wait to have these students become full-fledged members of our nursing community."
"Our students were fantastic," said Wilson Division of Nursing and Health Sciences Chair Carolyn Hart, who coordinated and took part in the trip. "They showed a great deal of compassion and sensitivity, which allowed them to reach out and make connections with the people they were treating."
Associate Professor of Spanish Wendell Smith, who also participated in the trip along with three of his students, said that he was "proud of the way our group of Wilson students adapted quickly to this new environment and pitched in to work—and proudest of the efficient and tightknit team we formed with our Good Samaritan partners."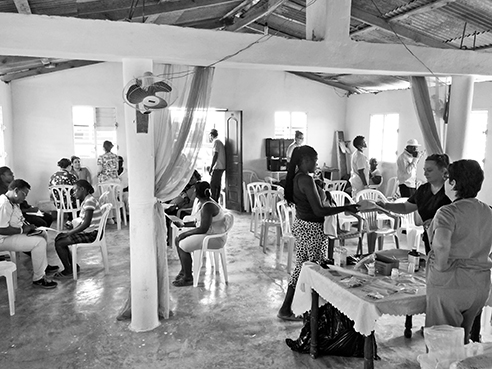 Jennifer Laman '19 can't forget the Haitian woman with the wound on her ankle. "The wound would not heal," Laman said. "If she was here in the United States, she could rest, put it up and take antibiotics and it would be OK. But there, in the batey, she had to keep working every day or she wouldn't get her wages. And the ankle wasn't getting any better."
Laman accompanied a Good Samaritan doctor into the women's living quarters to assist in dressing the wound. "She was putting on a brave face for her family but I knew it was very painful for her. The doctor put antibiotic cream on it, but what the woman really needed to do was stay off it, which she couldn't do ... I keep thinking about her. I feel awful that she had to keep working."
The mission trip was Laman's first trip outside the United States. She said she wanted to go to the Dominican Republic to learn about another culture. "I really didn't know what to expect," she said. "The conditions in the bateyes were bad. The hospital doctors told us they are really dependent on volunteers—they need the volunteer workers in order to do all their medical trips to the work camps. So I felt that I was helping."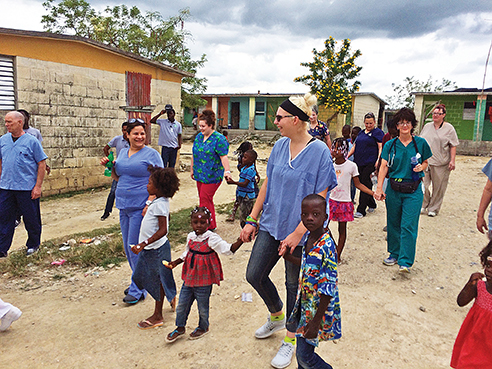 At the bateyes and the neighborhood clinic in the town of San Pedro, the Wilson nursing students took blood pressure and vital signs for the Good Samaritan doctors, assisted them in their examinations and helped hand out medications. Smith and Spanish-speaking students would help register patients and provide assistance with Spanish translation. This could be tricky, Smith said, as many of the Haitian batey residents spoke Creole French, while the Dominicans spoke Spanish. "Most of the Haitian children could speak some Spanish," he said.
One of the most unexpected obstacles volunteers encountered was the unavailability of medicines most Americans take for granted. "We, the volunteers, had to buy all the medications we needed each day for a clinic," Hart said. "Everything from antibiotics to blood pressure medicine to ibuprofen. The doctors who went with us had to look at the medications each visit to see what was available, so that they could determine what the treatment could be for that day. That's very different experience for students who are used to having just about any medication on hand available for treatment."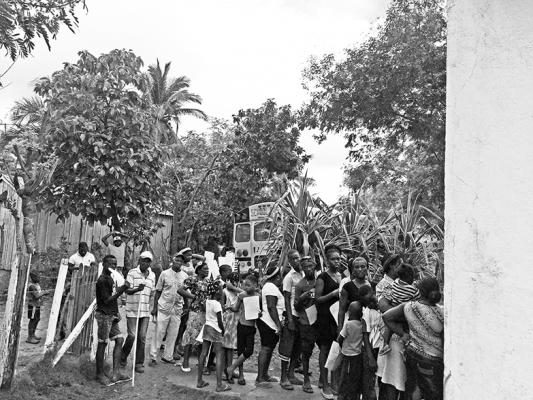 At the last batey clinic, the team ran out of ibuprofen. "It wasn't like you could just go to the corner store and buy some," Hart said. "For our next mission trip, we will bring a good supply of medications with us."
Even with medicine, the care provided by the volunteer teams could only extend so far.
Alison Shockey '20 can't forget the man with the high blood pressure. "He came in with really high numbers, like 250 plus, and with numbers like that back home, he would have been immediately sent to the emergency room for help. All we could do was give him some blood pressure medicine," she said. "They live so far away in the bateyes. They don't have access to hospitals and the clinics are all they have, but they can only do so much. I keep wondering what happened to him."
The conditions at the bateyes were daunting at first, Shockey said. Besides the lack of clean water and electricity, broken glass and trash were strewn everywhere. "But we had this saying—'different eyes'—that helped us understand," she said. "It meant that to our eyes it looked terrible, but to their eyes, this was their lives and this was normal."
One of the constants at their clinics was the children. Despite the living conditions, the children were open and friendly, crowding around the bus to greet the medical team, leading their foreign visitors around by the hand to show them their village and often acting as translators and emissaries for older family members. With the mission trip taking place early in January, it was still the Christmas season on the island and the Wilson students had purchased many small items before they left—such as crayons, pencils and coloring books—to hand out at the clinics. The promise of a gift was a good incentive to get the children lined up to take an anti-parasitic medicine that tasted particularly nasty.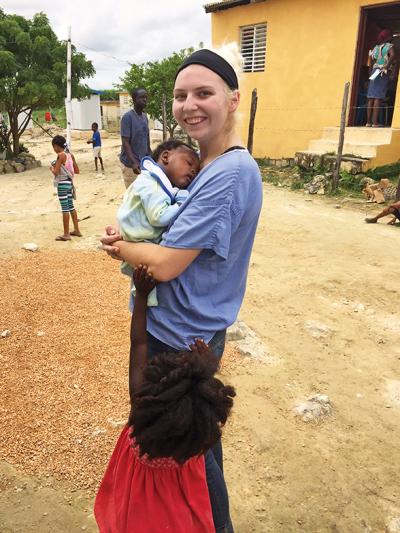 "The kids there got so excited if we gave them a pencil. Just a pencil!" Shockey said. "You really don't understand what poverty is like until you go to a place where people have nothing."
Some of the Wilson students were able to lend a hand in other areas. Cathy Rice, a nursing student who is minoring in medical Spanish, spent most of the mission trip working with a dentist. "I had worked in a dental office years ago, so I was comfortable assisting her," Rice said. The dentist performed mainly simple extractions without the aid of a dentist's chair. Most patients were seated against a wall for the procedure. "We couldn't use the water there for the patients to rinse out their mouths. It was too contaminated. We used a lot of gauze," said Rice. "I'm never taking clean water for granted again."
Even the non-nursing students found a purpose on the mission trip. Katie Shank '20 is a communications major at Wilson, "but I've taken three semesters of Spanish. I wanted to go on the mission trip for the Spanish experience, and also because for communications, I've been thinking about working for a nonprofit and I thought this would be good experience."
During the team's first batey visit, Shank stepped off the Good Samaritan bus, walked up to one of the Haitian women and asked to hold her baby. From then on, she became "the batey baby cuddler," in the words of Smith, her Spanish professor, who was profoundly moved by Shank's initial gesture.
"I'm not one of the nursing students and I wasn't really sure how I could help," when the bus first pulled into the batey, Shank remembered. She had noticed that in La Romana and in the bateyes, parents did not have baby carriers and were holding their infants in their arms as they went about their work. "So when I asked them if I could hold their baby, I was trying to give them a break from holding (the babies) all the time," she said. "The first time I did it, the mom invited me into the family's house, and I sat down and really was able to have a conversation with the family." The gesture became an ice-breaker. "It gave me a chance to connect with the people there," she said.
That connection Shank formed became apparent at the end of one of the clinics, Hart recalled. "The kids from the batey surrounded our bus to say good-bye—and they all started chanting Katie's name as we pulled way."
Back at Wilson, many of the students said they would not hesitate to return to the Dominican Republic for another medical mission trip. More medical missions will become part of Wilson's regular service-learning programs for students, according to Hart, who said the next trip might not take place until 2020.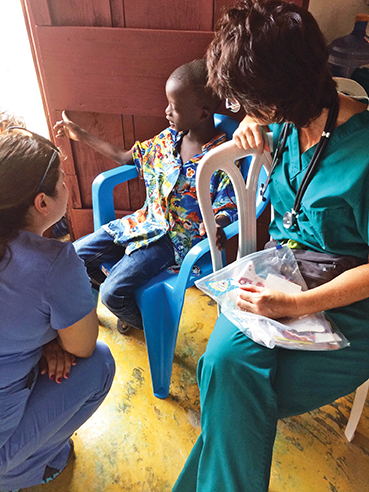 Wilson's next medical mission trip will return to the Dominican Republic and the Good Samaritan Hospital in La Romana, Hart said. "We want to stay connected with the hospital and develop a relationship with them because we feel their philosophy meshes well with the College. They believe in treating people with respect, regardless of their status, without prejudice. It's a philosophy we can support."
Summit Health is also looking to partner with Wilson to support the mission trips and would consider sending their own physicians on a future trip, according to Stahl. "Next time, we'll be more prepared, now that we've been to the area," she said. "For example, now we know about the limited availability of medications and we can plan what supplies to bring."
The week spent in the Dominican Republic was eye-opening and life-changing for students and organizers alike. For Rice, her experience on Wilson's medical mission emphasized that "as a country, we can't afford to be xenophobic about the plight of other countries," she said. "We can't just close our eyes to their problems when we can help."
Hart said she started thinking about a Wilson medical mission trip when she began designing the college's nursing program four years ago. And this trip was a first for her personally. "I've coordinated several of these trips before, but this is the first time I've actually gone on a mission," Hart said. "I have been told by many people these trips are transformative, and I found that to be very true of our Dominican experience."
Nursing