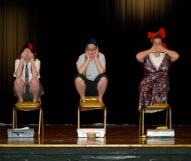 The Kittochtinny Players (KP) are the Dramatics Society of Wilson College. Founded in 1930 (though Wilson College had a Dramatics Society before that,) the KP is mostly known for their annual spring production. KP affords students not only the opportunity to act, but also to design costumes, sets and scenery, lighting, and even to direct and write their own plays for production!
Recent KP shows have included:
Because They Have No Words by Tim Maddock and Lotti Louise Pharriss (2014)
 An evening of Italian commedia dell'arte (2013)
 Gallathea by John Lyly (2012)
 Antigone by Sophocles (2011)
 One-act Festival (2010)
 Snakepit by Diane Morgan (2009)
 Words, Words, Words by David Ives and Breakout (Ain't Got Long To Be Here) by Kimberly Allen (2008)
 A Doll's House by Henrik Ibsen (2006)
 Trifles by Susan Glaspell, Love Is Hell by Michael G. Cornelius, and "Grrlz in Space" by Michael G. Cornelius (2004)
 The Vagina Monologues by Eve Ensler (2003)
 
The All-American Kumquats
The KP is also famous—or, as some might say, infamous—for their comedy-improv troupe, The All-American Kumquats. This hilarious group of Wilson students and staff interacts with the audience in playing various comedy games and enacting numerous zany routines! A guaranteed crowd-pleaser, the troupe has performed for numerous campus and community groups and is available for a modest fee. You can often catch the Kumquats on Arts Day, when the troupe performs gratis for the Wilson Community. You can look for other times and dates of improv shows here.
Minor in Theater
Wilson's minor in theater has existed since 2006 and includes coursework in acting techniques, stage values, theater history, and playwriting. To learn more about the minor, click here.
Officers
•    President- Nicole Downey
•     Vice President- Myah Quiren
•     Secretary- Marissa Rankin
•     Treasurer/Historian Allison Panek
Meetings
We meet monthly, and during the production it depends on the rehearsal schedule.
Club events
Lip-Sync Battle
Talent Show
Spring production
Campus wide events
    Spring Fling
Membership
    Any Student, Faculty, or Staff