President's Office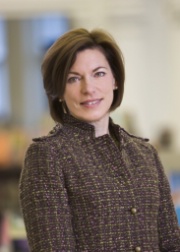 Dr. Barbara K. Mistick, President
Welcome to Wilson College. It is people who make Wilson a great place. Whether you are a prospective student, current student, professor, staff member, alumna, parent, visitor, neighbor or friend, your interest and support for Wilson College are valued and appreciated.
Dr. Barbara K. Mistick joined the Wilson College community on July 1, 2011, after a unanimous appointment by the Wilson College Board of Trustees in March 2011. As president, Mistick prioritizes building on the historic legacy to enhance educational opportunities for undergraduate, adult and graduate students, as well as strengthening civic outreach and expanding global education.
A proud alumna of Carlow College, she embodies Wilson's core values of ethical leadership and social responsibility. Throughout her academic and professional career and extensive community involvement, she has demonstrated a commitment to women's education, civic engagement, philanthropy and volunteerism.
Over the course of her 30-year career, Dr. Mistick has been an entrepreneur, educator and leader at institutions such as the H.J. Heinz School of Public Policy and Management at Carnegie Mellon University in Pittsburgh and the National Education Center for Women in Business at Seton Hill University in Greensburg, and at various businesses she managed and/or founded.
Prior to her appointment at Wilson College, Dr. Mistick was president of the Carnegie Library of Pittsburgh, where she provided strategic leadership and operational oversight of a library system that serves approximately 1.2 million people and includes 19 neighborhood library locations.
President Mistick earned a doctorate in management from Case Western Reserve University's Weatherhead School of Business in 2003, a master's degree in business administration from the University of Pittsburgh's Joseph M. Katz Graduate School of Business in 1992, and a bachelor's degree in business administration from Carlow College in 1990.
Dr. Mistick has received many awards during her career, including the University of Pittsburgh Distinguished Alumna Award, Entrepreneur of the Year (Ernst & Young), Vision 2000 Award (U.S. Small Business Administration), Greater Pittsburgh Chamber of Commerce Athena Award and Pittsburgher of the Year (Pittsburgh Magazine). She also received a doctoral fellowship from Case Western Reserve University.
Contact Information
Melissa Imes
Chief of Staff
717-264-4141, ext. 3212
TBA
Administrative Asst.
717-264-4141, ext. 3211
Listen to Dr. Mistick's interview on WITF Smart Talk
Click here to listen
Dr. Mistick's 2013 Commencement Remarks