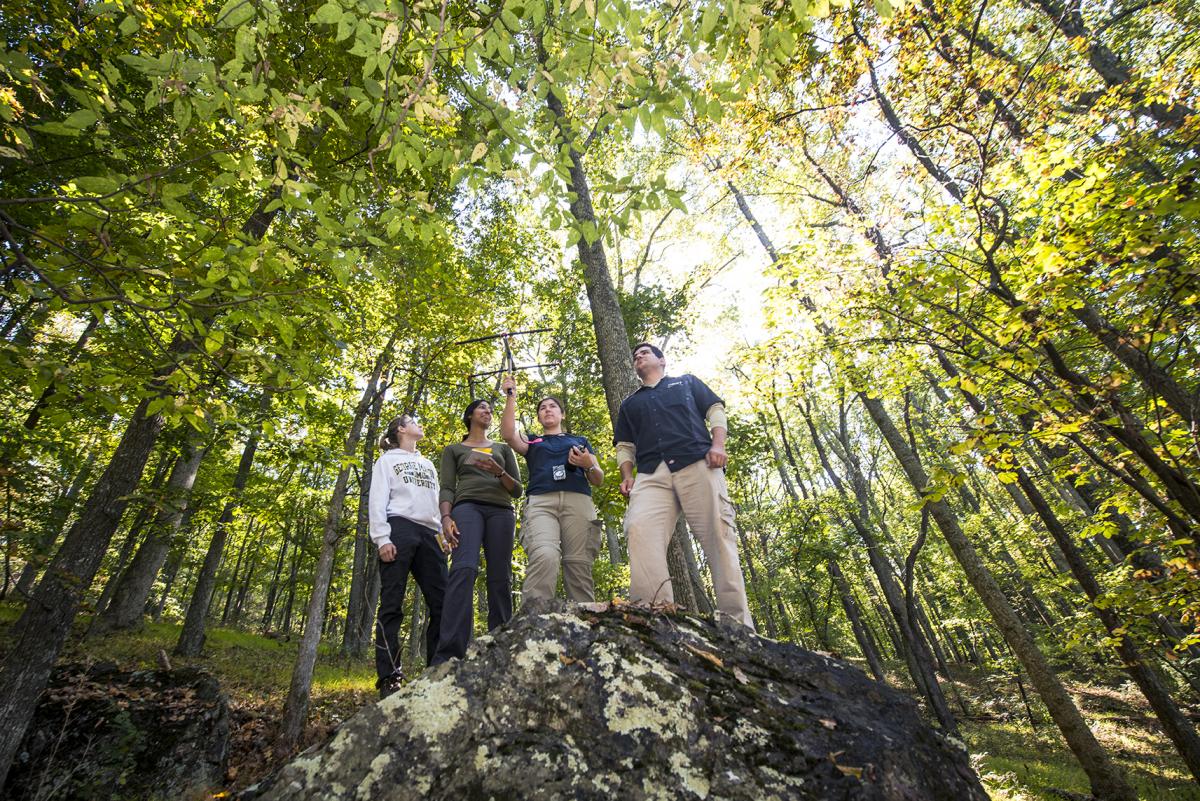 Wilson partners with Smithsonian to develop future generations of conservation professionals
by Coleen Dee Berry
For Karis Daniel '18 and Danielle Zona '18, their fall 2017 semester at the Smithsonian Conservation Biology Institute (SCBI) offered the exceptional opportunity to work side by side with international experts, actively assisting in current research projects and fieldwork, while making once-in-a-lifetime professional connections.
Daniel and Zona are the first two Wilson students to take advantage of the College's new Smithsonian partnership. At SCBI's Smithsonian-Mason School of Conservation in Front Royal, Va., students are not only taught and mentored by international experts, but they also share a campus with more than 20 species of endangered mammals, birds and amphibians.
During their 16 weeks at SCBI, Zona and Daniel took part in exercises such as tracking wood turtles using the latest telemetry technology and camera traps to conduct field surveys. Daniel assisted in a research project focused on isolating DNA genomic markers for endangered African scimitar-horned oryx and dama gazelle. Zona worked with the Virginia Department of Game and Inland Fisheries to monitor chronic wasting disease in white-tailed deer.
"Something that has not ceased to impress me since the day I arrived is a constant feeling of wonder," said Daniel, a biology major. "We're surrounded by some of the greatest minds in science, working alongside them on projects that I can't even begin to wrap my mind around, in one of the leading research institutions in the world. Every day here has served as a reminder of how much I don't know, and how dedicated, passionate and persistent the professionals within this field are."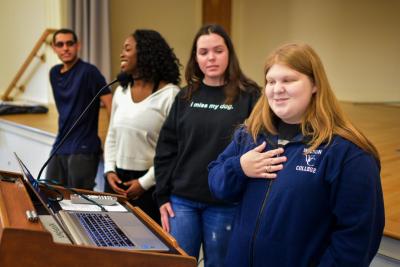 A semester spent at SCBI should "enhance the student experience that begins at Wilson," according to Cody Edwards, the executive director of the Smithsonian-Mason School. A Wilson conservation biology study-abroad program to South Africa in January 2017 inspired both Daniel and Zona to enter the SCBI program. "I was really excited about the SCBI opportunity because I found out during the J-Term in South Africa that I had an interest in doing fieldwork, and this program would give me more experience," said Zona, an animal studies major.
Students at SCBI not only participate in research to help endangered species, they also study conservation issues. As part of her fieldwork for the conservation, biodiversity and society course, Zona spent weekends working to gather DNA samples to test for chronic wasting disease in deer. "What we did was take out the lymph nodes and a tongue sample from the deer that hunters would bring in throughout the day, age the deer and then put the samples in baggies to send out to be tested in the lab for chronic wasting disease," she said.
Daniel was enrolled in the wildlife ecology and conservation course. Her final project on isolating DNA genomic markers for endangered African scimitar-horned oryx and dama gazelle allowed her to work under noted Smithsonian researcher Budhan Pukazhenthi, whose interests include understanding the fundamental reproductive biology of rare and endangered species, mitigating infertility and developing assisted reproductive technologies. Recently, his team produced the world's first Przewalski's horse foal via artificial insemination. (Przewalski's horses, indigenous to Mongolia and central Asia, are an endangered species. Several are housed at the SCBI facility.) "It was such a privilege to work with him and I learned so much," Daniel said.
----
Located on 3,200 acres of forest and grassland alongside Shenandoah National Park, SCBI operates on a network of intersecting partnerships. SCBI is the research arm of the Smithsonian's National Zoo and since 1974, the Smithsonian has used the Front Royal site to help breed and research endangered species. Full-time undergraduate classes began on the SCBI campus in 2012, with SCBI partner George Mason University responsible for the academic programming.
Thanks to the vision of alumna Susan Breakefield Fulton '61, Wilson is now one of three colleges nationally—including George Mason University and Bridgewater College, both in Virginia—that have full partnership status with the SCBI program.
SCBI's partnership with Wilson is "the gold standard of what we think a partnership should look like," according to Edwards. Ultimately, he said, the SCBI partnership will benefit students, faculty and Wilson as a whole. Elissa Heil, Wilson vice president for academic affairs, sees the partnership offering students a once-in-a-lifetime experience. "This partnership opens up a world of fantastic opportunities to our students," she said.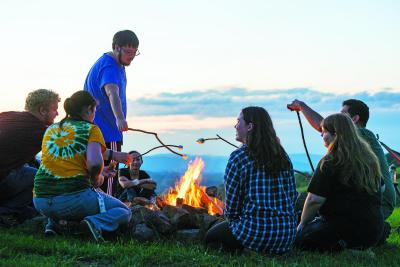 The program provides students the chance to hone their research skills and learn cutting-edge field study techniques, according to Professor of Biology M. Dana Harriger, Wilson's coordinator for the SCBI partnership. "They work on real-world, international research projects, and we hope the experience will teach them to think globally,' Harriger said.
The course offerings at SCBI mesh with Wilson's existing majors of biology, animal studies and environmental sustainability, although any student in good academic standing with a minimum of 45 credits is eligible to apply for SCBI. "The program here fits perfectly into Wilson's curriculum, as the College already has coursework in conservation biology," Edwards said. "A semester here offers a great preview to a student's capstone project." 
SCBI will hold open six slots for Wilson students each semester. Partnership also means that all of the SCBI course credits will automatically transfer to Wilson—each semester program carries 15 or 16 credits. "That's not necessarily the case with students who come here from other colleges. They often take the chance that maybe only about half of the credits will be accepted by their institutions," Edwards said.
The SCBI semester is residential only, which means students must live on the Front Royal campus. "We're looking at it as being a study-abroad type of semester, only you're going to Virginia," Harriger said. As with other off-campus study programs, there are additional costs that students must pay in order to attend.  
There are currently three semester programs offered by SCBI:
•    Conservation, Biodiversity and Society explores the ways that science, management and policy address current conservation issues.
•    Wildlife Ecology and Conservation helps students apply state-of-the-art field techniques to survey species in the wild and investigate local and global ecological patterns and processes.
•    Endangered Species Conservation enables students to evaluate vulnerabilities of small populations and develop successful conservation actions to save those animals from extinction.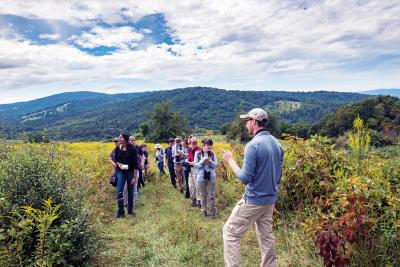 Edwards called the conservation, biodiversity and society course the school's "Renaissance" class because students registering for the course do not have to have background in biology or animal studies. The course emphasizes how an interdisciplinary approach can help develop science-driven solutions to protect biodiversity. "We have had art students, business majors, communications students take this course," Edwards said. "Some students have been so inspired, they want to come back to do the other semesters that are more animal study-related."
Ricardo Stanoss, academic program manager for the Smithsonian-Mason School of Conservation, calls SCBI "our global classroom." The school's approach fosters synergies across disciplines, helping students gain understanding and find new solutions. "In order to succeed in conservation we need the skills found in all disciplines, not just science," Stanoss said. "We need economics and business majors, people with communication skills and creative people. In order to solve the real-world problems that we face, we need all these people with these skills to work together."   
Networking opportunities are another benefit of the SCBI experience, according to Stanoss. "We have all these geniuses who are working right down the hall," he told a Wilson group that toured the facility recently. "The kids get to work alongside of them, listen to them lecture in the classroom and can have informal discussions with them in the cafeteria. They are making invaluable connections."
Daniel, whose primary interest is in the study of migratory birds, has already experienced one of those connections. "I had the chance to meet and have dinner with Dr. Autumn-Lynn Harrison, a scientist at the Smithsonian's Migratory Bird Center," she said. "She was able to provide some very helpful insight into graduate school and working overseas, and even gave me a contact at a university I was interested in."
While the SCBI campus is home to a variety of endangered species, students do not have access to some of the more sensitive cases, such as red pandas and snow leopards. However, they do get a chance to help care for other mammals and birds on the site. Among the "many cool things I have been able to do," Zona said, she has "had the chance to work with the ungulate (hooved animals such as gazelle, oryx, bison and wild horses) keepers here every Monday as part of my practicum."
In addition to their classes and research, students also take field trips to the National Conservation Training Center, Smithsonian Environmental Research Center, World Wildlife Fund and the National Zoo. Students also get a chance to meet and speak with guest lecturers. Both Daniel and Zona said one of the many highlights of their SCBI semester was their opportunity to meet E.O. Wilson, a prominent American biologist, researcher, theorist, naturalist and author who has been called "the father of biodiversity."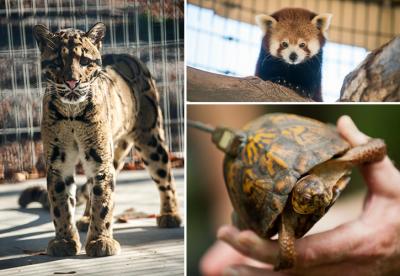 Edwards and Harriger say they hope the partnership between SCBI and Wilson can be expanded. The SCBI campus also hosts graduate classes and professional courses designed for faculty. Access to those programs for Wilson faculty would be "the natural next step in the partnership," Harriger said.
On a recent tour of the site, Abigail Berkey, Wilson assistant professor of biology, was enthusiastic about advantages for faculty at SCBI. "A semester here would give you an unparalleled experience, whether you are a student or a teacher," she said.    
Wilson faculty could use the SCBI campus "to teach a course here, incorporate part of their class at the facility or even do research," Edwards said. "We are still working out the agreements on those items, but they are certainly available to a partner."
After their intensive experience at SCBI, Daniel and Zona were back on campus with enthusiastic recommendations for their classmates about the advantages the program has to offer.
"I feel like I have benefited from this program in so many ways … There were a ton of opportunities to network with the people there that are doing really cool things," Zona said. "I have also gained a few new fieldwork skills, such as learning radio-telemetry and spotlight surveys."
Daniel said she would tell most of her classmates to study at SCBI, even if they are not majoring in biology. "You don't have to be a biology major to gain an incredible amount of knowledge and experience from this program," she said. "One of my favorite things about conservation is its transdisciplinary nature—it takes individuals from all academic backgrounds working together to make conservation action happen.
Daniel wants her Wilson classmates to know how powerful the experience was for her. "My time here gave me invaluable field and lab experience, lasting peer and mentor relationships and helped me to define directions for my own future research. This program was a life-changing experience for me and I can promise that it will challenge and maybe even change you." ​
---
SCBI plays a leading role in the Smithsonian's global efforts to save wildlife species from extinction and train future generations of conservationists. Spearheading research programs at its headquarters in Front Royal, Va., the Smithsonian's National Zoo in Washington, D.C., and at field research stations and training sites worldwide, SCBI scientists tackle some of today's most complex conservation challenges by applying and sharing what they learn about animal behavior and reproduction, ecology, genetics, migration and conservation sustainability.
---
Expanding Wilson's reach Susan Fulton '61 and the SCBI partnership
It took almost a decade of perseverance by Susan Breakefield Fulton '61 to make the partnership between Wilson and the Smithsonian Conservation Biology Institute (SCBI) a reality.
"Without Susan Fulton, this partnership would not have happened," said Cody Edwards, the executive director of SCBI's Smithsonian-Mason School of Conservation in Front Royal, Va. "She was the one who brought Wilson to our attention and talked the College up. Her support of both institutions brought us together."
Fulton, one of the College's generous, longtime supporters, said she wanted to fund a program for young people interested in science and conservation. "I think this partnership gives students a great opportunity to spread their wings, travel, learn from experts and do some real hands-on research," she said. "SCBI is a great resource and it's close enough to Wilson for the College to take full advantage of the partnership."
A fervent supporter of conservation and sustainability, Fulton pledged $1 million in 1999 to endow the Richard Alsina Fulton Center for Sustainable Studies in honor of her late husband. She also supported work to restore the Fulton Farm. Around 2007, "I was in between projects and starting to get restless. The Smithsonian asked me to come and speak about philanthropy, which I did, and in the process, I met Steve Monfort from SCBI."
Monfort, who is currently the acting director of the Smithsonian's National Zoo, is also SCBI executive director and at that time was in the process of launching the Smithsonian-Mason School of Conservation at the SCBI site. The two began talking about the proposed undergraduate programs at the SCBI site "and I fell in love with the proposal," Fulton said. "I started thinking, 'How can I get Wilson involved in this?' I toured the SCBI center, contributed money and started to talk to them about Wilson. I thought the program would be a good fit for the College."
It took several years of talks and negotiations, but by summer 2016 the College and SCBI announced the formation of a partnership, which was finalized a year later. "It's all about getting the right people interested and excited about a proposal," said Fulton, who credited Wilson Professor of Biology M. Dana Harriger with helping to finalize the partnership proposal. She also donated money to Wilson to help launch the College's end of the partnership.
"I wanted Wilson to get a broader exposure to the world, especially from a science point of view, and this seemed a good way to do it," she said. "I think this partnership will dramatically expand Wilson's reach into the scientific world."
Fulton said she continues to contribute to Wilson because "you have to understand that apart from my husband, Wilson was the most wonderful thing that ever happened to me." Besides her contribution to the Smithsonian-Wilson partnership, Fulton also has recently contributed a total of $975,000 to help construct a new veterinary education building to replace the Helen M. Beach '24 Veterinary Medical Center.
Biology