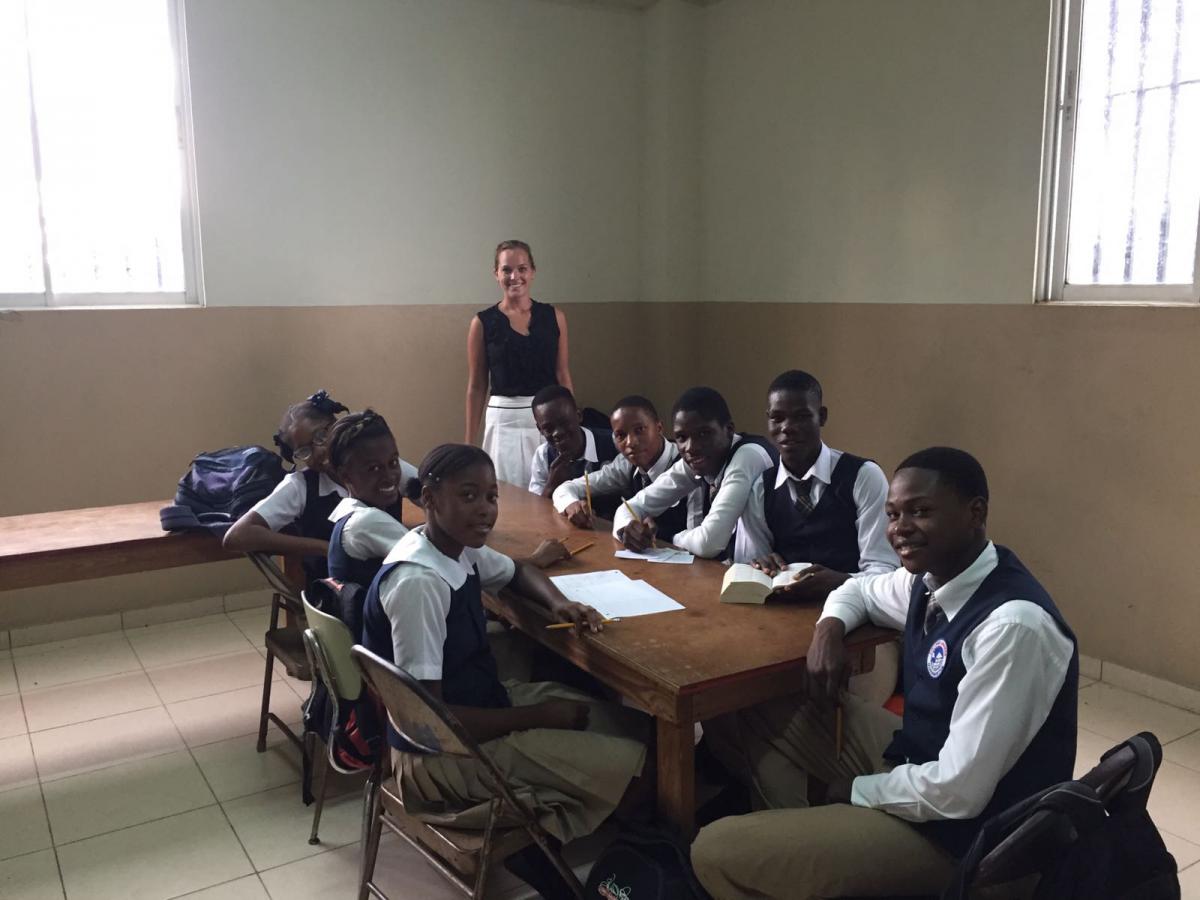 Abigail Selman '18 Leaves Her Heart in Ouanaminthe
By Laura B. Hans '13
In 2011, Abigail Selman '18 joined her best friend, Michaela Roland, on a church mission trip to Ouanaminthe, Haiti, and discovered a calling.
Roland had been participating in mission trips with Trinity Evangelical Lutheran Church of Chambersburg, Pa., since 2009 to teach vacation Bible school. Roland's enthusiasm became an inspirational force, Selman said. "She couldn't stop talking about it. I decided it sounded like a fun week, so I tagged along."
Selman returned the next two summers with Roland to help teach in Ouanaminthe. In 2013, something clicked for Selman. "One day, we were doing the morning worship for summer camp," she said. "We were singing and … I got goosebumps and I started to cry and thought, 'I'm supposed to be here.' I think that was my big 'aha' moment."
Selman has now traveled to Haiti more than 10 times and her most recent stay in July 2017 lasted one month. "I love seeing students, other teachers and friends that I have made over the years," she said. "I feel so invested in learning about Haitian culture. I want to understand life from their perspective … If I can understand the world from their point of view, I can better serve people."
Although Selman is interested in working in other countries, she says her "heart and mind are in Haiti." She now visits independently of mission trips and teaches English as a volunteer at the school, Institution Univers (IU) in Ouanaminthe. She has also assisted in providing mental health services to Haitians with limited access to healthcare at Univers Medical Center and other clinics in northeastern Haiti.
Ouanaminthe, which borders the Dominican Republic in northeastern Haiti, has a population of more than 140,000 people. Despite economic barriers, there are educational and economic opportunities. "Ouanaminthe actually has over 100 schools," Selman said. "Institution Univers, the school I teach at, is the largest in the area with 2,400 students."
The United States-based charitable organization, Coalition of Children in Need Association, funds the school, along with a medical center, bakery, mechanics shop, farm and an apartment complex. These components employ Haitians and support economic development and community capacity development.
At IU, Selman has taught English to four fourth-grade classes and three third-grade classes with about 50 children in each classroom. English is the students' third language—the first is Haitian-Creole, then French and then English. Selman has also taught 11th, 12th and 13th-grade advanced English classes and instructed adults at the free classes that IU offers its workers. She hopes "to see Univers successfully grow and continue to give children a good education, and that someday we can get (more) technology and less students in each classroom."
A psychology major, Selman also assisted a traveling mental health team at Univers Medical Center and other clinics in Haiti's northeast region from 2014-16. The team completed assessments, wrote prescriptions, distributed medications and provided treatment recommendations to patients. "Slowly, throughout the country, more hospitals and clinics focus on mental health," Selman said. "When your priorities are food and shelter, the emotional things get pushed aside, so this shows progress when things like mental health come to Haiti."
Selman enjoys sharing her experiences and during the spring 2017 semester, presented a lecture at Wilson entitled, "Beyond the Poverty." Crystal Lantz, Wilson director of international scholar services, said Selman "drove home the point that it's not about having a savior complex and fixing developing countries' problems because that never works, but (it's about) recognizing the value of coming alongside existing organizations and supporting the work sustained by people from those places."
Selman, who earned college credits while teaching in Haiti, received Wilson's Lucy Bremmer Global Citizenship Award and Study-Abroad Scholarship, which helped with her travel expenses. After graduating this December, Selman plans to earn her master's degree and dreams of teaching English or practicing clinical mental health in Haiti. She feels her time there has given her insight into the country. "Haiti doesn't need a handout," she said. "Haiti needs( to forge its own) education, employment and progress."