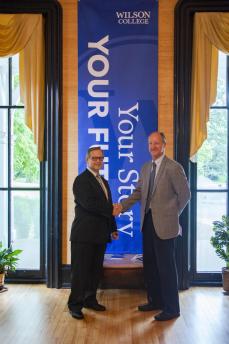 Wilson College and Scotland Campus Sports have signed an agreement that will allow eligible students at the Christian post-secondary school for student-athletes to take classes taught by Wilson faculty – either at the college or at SCS.
Wilson Vice President for Enrollment David Boisvert and Vice President for Finance and Administration Brian Ecker represented Wilson at a signing ceremony today with SCS President David Newell.
"This partnership benefits both institutions, strengthening ties in the community," Boisvert said. "The agreement gives eligible Scotland Campus Sports students the advantage of being able to earn college credits, while enhancing both institutions' profiles in the area."
Under the partnership agreement, students at SCS – a prep school for athletes who have graduated from high school and want to improve their athletic abilities before entering college – will be able to take college-level courses on a space-available basis at Wilson, provided they meet certain academic and other requirements. If a group of at least 15 SCS students want to take the same course, Wilson faculty would teach the class at the SCS campus, which is located in the former Scotland School for Veterans' Children complex in Scotland.
Also under the agreement, SCS students who take courses at Wilson will have access to the college's library. At the end of the academic year, Wilson will host a financial aid workshop for those students seeking information about applying for aid when they begin their search for a college or university to attend.
The agreement takes effect beginning with Wilson's fall semester, which begins in late August.
Published: July 24, 2018
Contact
Wilson College
Office of Marketing and Communications
1015 Philadelphia Avenue
Chambersburg, Pa. 17201