FOR IMMEDIATE RELEASE  |  Sept. 10, 2015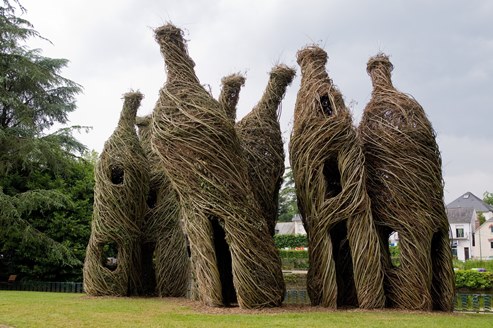 Chambersburg, Pa. — Internationally acclaimed artist Patrick Dougherty will work with the Wilson College community and local volunteers to create a one-of-a-kind environmental sculpture on the Wilson campus over three weeks in October, with the completion of the project expected on Friday, Oct. 23.
Dougherty, whose swirling, inventive sculptures are made of natural materials such as tree saplings, was featured in a recent segment of "CBS Sunday Morning" and is the subject of the feature-length 2013 documentary, Bending Sticks, as well as a monograph-memoir - Stickwork - published in 2010, which features 38 of his stunning creations.
"Patrick Dougherty is an enormously talented, world-renowned artist and it's an honor to have him come to the Wilson campus to create one of his remarkable sculptures," said Wilson President Barbara K. Mistick. "His works are cooperative efforts that bring the community together, which reflect the ethos of our campus culture and community. We couldn't be more excited."
The college is seeking volunteers to assist Dougherty, who will begin work on Oct. 5 to collect natural materials for the installation at two different sites – the former Wolf Lake area on the Wilson campus and the Shippensburg Township Park Wetland Preserve at Burd Run, where the bulk of the material will be gathered, according to Philip Lindsey, Wilson professor of fine arts.
"He's looking for 15 or 20, maybe more, volunteers to assist with the harvest," said Lindsey. "He's got to collect a 53-foot tractor-trailer full of saplings."
After the materials are gathered, Dougherty will need about half a dozen volunteers for each of two daily shifts that will work between 8 a.m. and 5 p.m., Lindsey said.
Those interested in volunteering should contact Lindsey at philip.lindsey@wilson.edu or 717-264-4141, Ext. 3305.
A public opening of Dougherty's stick sculpture is being planned and will be announced at a later time. In addition, he will present an "artist's talk" during Wilson's annual Arts Day, which will be held Wednesday, Oct. 14. Details are forthcoming.
Dougherty visited the Wilson campus last December to scout locations for his sculpture, eventually choosing Wilson's main green in front of the library. Exactly what his creation will be is a mystery.
"We do not (know)," Lindsey said. "He's working on designs and he'll show up with some sketches and an idea and off he will go."
If Dougherty's previous works are any indication, though, it will be something spectacular. His sculptures made of natural materials, which are designed to be as inviting and as interactive as possible, are in great demand – at any given time, he has a more than two-year waiting list. Recent installations of his interactive stick sculptures include the Arte Selia Sculpture Park in Valsugana, Italy; Domaine de Chaumont-sur-Loire, France; Dumbarton Oaks in Washington, D.C.; Brooklyn Botanic Garden and a number of colleges, including Swarthmore, Bowdoin and Middlebury.
"I am looking forward to building at Wilson College and working with the volunteers," said Dougherty. "It will be invigorating to work in the center of campus life, near the library, and I hope to create a sculpture with compelling views that will lure students and visitors in to explore."
Dougherty has received a number of prestigious awards, including a National Endowment for the Arts Fellowship, Henry Moore Foundation Fellowship, Pollock-Krasner Foundation Grant, North Carolina Artist Fellowship and a Factor Prize for Southern Art.
Dougherty, who lives in North Carolina, began studying primitive building techniques in the early 1980s, including his first experimentations using tree saplings as construction material. His work quickly evolved from small pieces on conventional pedestals to monumental scale, site-specific environmental works. Using green saplings of various sizes and weaving them together, Dougherty creates organic sculptures that are designed to be reclaimed organically several years after they are constructed.
Impermanence is a major theme of his art. "Often the public imagines that a work of art should be made to last, but I believe that a sculpture, like a good flower bed, has its season," Dougherty says on the Bending Sticks website. His sculptures, like the sticks they are made from, begin to fade and decay after about two years, he says.
For more information and to see more examples of his work, visit Dougherty's website, www.stickwork.net.
 
MEDIA CONTACT:           
Cathy Mentzer
Phone: 717-262-2604
Email: cathy.mentzer@wilson.edu
Photo credits: Just for Looks, 2006. Max Azria Melrose Boutique, Los Angeles, CA.  Photo:  David Calicchio
Sortie de Cave/ Free At Last (2008). Jardin des Arts, Chateaubourg, France. Photo Credit: Charles Crie
__________________________________
Founded in 1869, Wilson College is a private, coeducational liberal arts college offering bachelor's degrees in 29 majors and master's degrees in education, the humanities, accountancy, nursing, fine arts and healthcare management for sustainability. Wilson is committed to providing an affordable education that offers value to its students beyond graduation.
Located in Chambersburg, Pa., the college has a fall 2015 enrollment of 923, which includes students from 22 states and 16 countries. Visit www.wilson.edu for more information.
Published: October 21, 2015
Contact
Wilson College
Office of Marketing and Communications
1015 Philadelphia Avenue
Chambersburg, Pa. 17201
717-262-2607