Visit
Come visit our beautiful campus and get to know the Phoenix family. We have plenty of in-person and virtual ways for you to explore what Wilson has to offer. Choose a group tour, a virtual visit via Zoom, or a one-on-one meeting with a counselor or student guide. We'll customize the visit to suit you and answer all your questions. Scroll down to learn more about our tour options and schedule a visit today.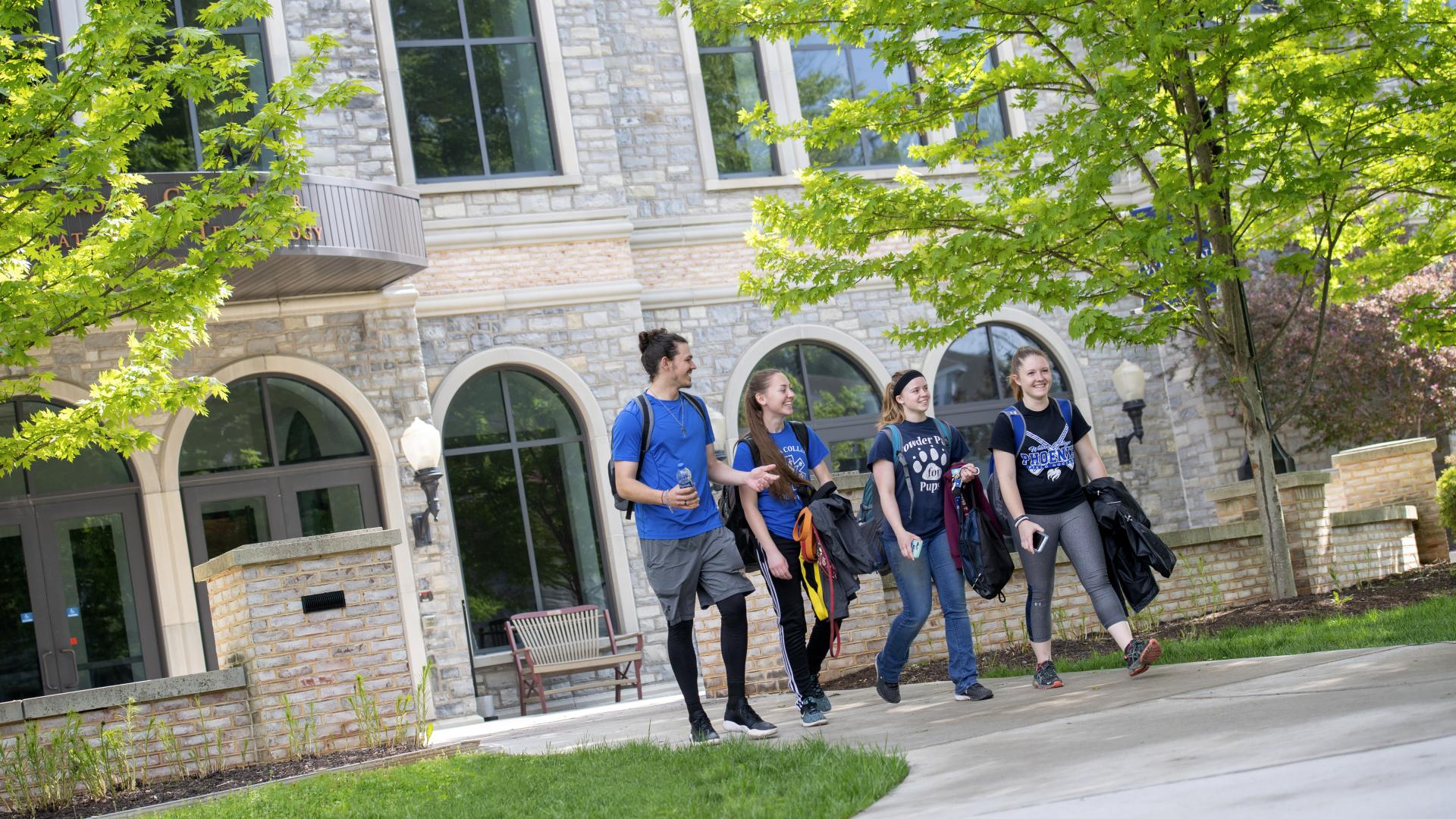 Why Visit Wilson College?
Our campus, which is located in historic Chambersburg, Pa., offers a rich experience you need to see for yourself. During your visit, you'll get the chance to:
Explore the beautiful campus and envision your future here.
Join info sessions, panels, and guided walking tours to learn more about the college and the focused courses we offer.
Meet current students, faculty, and admissions counselors.
Ask questions and get all the answers to decide if Wilson is right for you.
Ways You Can Visit
Our visiting options are flexible and fun. Check out the different types of virtual and in-person visits at Wilson College and find one that works for you.
---

Open Houses
E-Sports Information Session & Scrimmage Day
Learn more about Wilson College eSports! In addition to information about Wilson, the application process, and financial aid, you'll also participate in scrimmage matches in our brand-new eSports arena. Join us on February 5th to explore your future and show off your skills against other future Phoenix.
 
Space for this program is limited because of the interactive nature of the day. Register now!
 
 
Healthcare Focus Day
Interested in a future in Healthcare? Our Healthcare Focus Day will introduce you to the Wilson programs that will prepare for your future. If you want to pursue a degree in Nursing, Exercise Science, Health Science, Healthcare & Medical Humanities, or Biology, this is the day for you! Our faculty in each program will be on-hand for interactive sessions designed to show you what our students do on a daily basis. There will also be a session that details the pathway to post-undergraduate studies.
 
Join us on February 12th! Register here. 
---

Come to campus to get an up-close and personal look at Wilson. These sessions let you explore the campus and have one-on-one conversations with a student tour guide. You'll get to meet your admissions counselor to discuss your plans for the future, financial aid options that are available for 98% of students, and the possibilities at Wilson College. Schedule your campus visit today.
---

We get that an in-person visit to campus isn't always an option. If you're unable to make the trip, we have virtual information sessions on Tuesdays and Thursdays where you can learn more about our academic programs, campus life, financial aid options, and much more. We also offer an immersive virtual tour that you can access from anywhere in the world. Explore over a dozen spots on campus, learn more about academics and student life, and start picturing yourself as a Phoenix!
---
---
While on Our Campus
At Wilson College, the admissions team is here for you, guiding you through the process. We understand searching for and choosing the right college can be very stressful.
There are tons of things to think about before making a decision… is the college in the right location, does it offer the major you are interested in, is there enough financial aid available, what's campus life like, how's the food, what's it like to live on campus, or can I be a commuter? And the list goes on and on. And, to complicate matters even more, you are trying to make this decision during a COVID-19 global pandemic. Yikes! It's daunting, but it will be OK.
Your personal admissions counselor can answer any questions you may have about Wilson or the application process. If you are unsure of who your assigned counselor is, check out your applicant status page through our application portal. Whether it is through phone calls, email, texting, or video conference, the team is committed to helping you successfully navigate the application process.
---
COVID-19 Guidelines
The health and safety of our campus community members and guests is our top priority. Per CDC guidance:
All individuals regardless of vaccination status must wear face coverings while indoors.
Hand sanitizer is available across campus. Schedule your visit soon to reserve your spot.
This map shows where you can park when you visit the admissions office.
Hope to see you soon. Go Phoenix!
Schedule Your Visit Today
Are you ready to take the next steps in planning your future? Check out our majors and courses and reach out to request more information about Wilson College. Apply to an interesting program or schedule a campus visit to reserve your spot today!