The Wilson College Academic Success Center: We're Here for You Every Step of the Way
The Wilson College Academic Success Center provides materials and services to help students meet their academic goals during every stage of their college careers. Whether you want to solve linear equations, prepare for a big VMT 115 exam or revise a tough paper, the ASC can help.
Wilson College's Academic Success Center is housed on the second floor of the John Stewart Memorial Library. Currently staffed by two full-time professionals, a part-time reading specialist and approximately 25 to 30 undergraduate and graduate tutors and supplemental instruction leaders, the ASC provides accessibility accommodations, subject-specific tutoring, in-person and online writing support, supplemental instruction, academic success coaching and reading skills instruction to all currently enrolled Wilson students─all free of charge.
While ASC staff members can help students struggling with difficult courses or assignments, we pride ourselves on our inclusivity.  We serve students of all skill and ability levels, majors and academic backgrounds. During the 2018-2019 academic year, we provided more than 1,876 appointments to students in courses ranging from First-Year Seminar, Math 096, and English 108 to graduate courses. Over the past three years, we've found that students who attend tutoring are more likely to persist from their first to second year at Wilson, and working in the ASC provides valuable professional development opportunities for our peer tutors, supplemental instruction leaders, and graduate assistants.   
Please check out the links on the right to learn more about how the ASC can help you attain your academic goals at Wilson!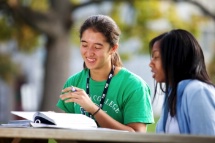 Contact Information

Sarah Feldberg
Director of the Academic Success Center, Interim Accessibility Services Coordinator
717-262-2762
206 Library
sarah.feldberg@wilson.edu
Michael Bloom Ford
Academic Success Coach
717-262-2773
204 Library
michael.bloomford@wilson.edu
 
Linda Swartz
Reading Specialist
717-262-4847
205 Warfield
linda.swartz@wilson.edu