A day in the life of an equine veterinary medical technician starts early and ends late, but for those who love horses, it always ends with a feeling of having found your life's purpose.
Equine veterinary medical technicians are vet techs who specialize in working with horses. With approximately 3.6 million horses in the United States and 504,795 farms reporting owning, breeding, raising or training horses, there is great demand for equine veterinary technicians nationwide.
The United States Bureau of Labor Statistics doesn't distinguish other types of veterinary technicians from equine vet techs, but it does report that the field is growing faster than average. The profession of veterinary technician is expected to grow by 19 percent from 2014-2024, 12 percent more than the average job growth rate.
Of course, it takes more than a love of horses to succeed as an equine veterinary medical technician. Let's take a look at the qualifications, skills and experience required, as well as a typical day in the life of an equine vet tech.
 
A Brief Overview of an Equine Veterinary Technician's Job
Samantha Rowland, a graduate of Wilson College and an equine veterinary technician (LVT, VTS [Anesthesia/Analgesia]), says that the majority of equine veterinarians operate a mobile practice. Veterinarians on the road almost all day long, and the technician often rides along on farm calls, assisting with whatever is needed. "This can include horse handling, assisting with radiographs or ultrasounds, assisting with shockwave treatments and many other things," Rowland said.
In general, equine veterinary technicians work beside equine veterinarians, similar to the way a small animal vet tech assists veterinarians in private practice. They may assist during surgery, routine examinations or health checks. Giving injections, drawing blood for lab tests and conducting X-rays or other tests may also be part of the job.
Equine veterinary technicians must have a keen eye for a horse's demeanor and be able to spot any signs of lameness, illness or other issues to report to the veterinarian in charge of the case. Some equine vet techs monitor horses at specialized veterinary hospitals, while others work at racetracks, breeding farms or in private practice.
To be an equine vet tech, you must also be in good physical health. Horses are large, strong animals, and a frightened or injured horse needs to be safely and humanely restrained so the veterinarian can treat it. You may need to hold a horse still for X-rays or walk or trot the horse for a soundness exam. Some vet techs may be asked to occasionally ride a horse, so riding skills are also essential.
 
The Typical Schedule of an Equine Vet Tech
The hours an equine veterinary technician works are typically long, but there can be a great deal of variety in what you accomplish from day to day. Most equine veterinary technicians go on barn calls, which can mean rising at dawn and accompanying the vet on calls to check on horses, conduct pre-purchase exams, administer vaccinations and worming medications, and respond to emergencies.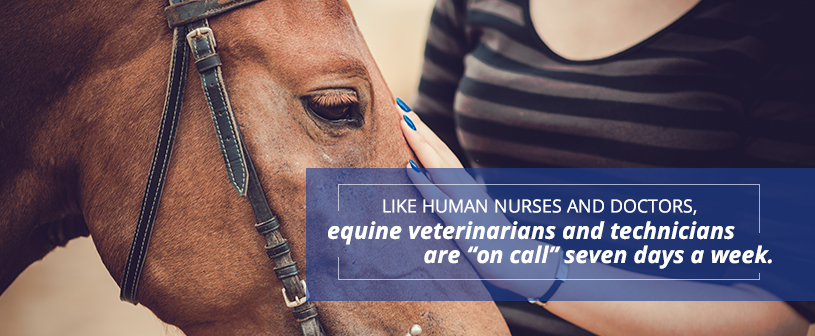 Like human nurses and doctors, equine veterinarians and technicians are "on call" seven days a week. Most work on rotating shifts within a practice, which means that for one day out of every three or four days, they may respond to calls at any time—day or night. Just like people, horse emergencies don't always fall within a regular 9-to-5 schedule.
A typical day may look something like this:
Arrive at work. While most equine vet techs are associated with a mobile practice, they may still have an office from which to complete paperwork and check messages.
Typical duties may include:
Reviewing messages and responding to emergencies.
Returning calls to collect additional information on a horse's condition and schedule appointments.
Discussing cases with the veterinarian.
Checking the mobile unit and restocking supplies as needed.
Going on barn calls with the veterinarian. Calls may include emergencies (colic, injuries), scheduled visits to administer vaccinations or check on a horse's condition, or pre-purchase examinations, among others.
Planning the care and schedule necessary for the following day.
Most equine vet techs' hours range from 7 a.m. or 8 a.m. to about 5 p.m. each day. Some days are longer. If an emergency call comes in late in the day, you'll be expected to accompany the veterinarian and stay as long as needed.
 
Duties at a Veterinary Hospital
Equine veterinary technicians working at a teaching hospital or large breeding or racing facility typically make rounds to check on their patients. This includes taking horses' vital signs, checking on their overall health status and responsiveness, and examining the healing process of wounds or surgical procedures.
Veterinary technicians may use a system with the acronym "SOAP" to check horses first thing in the morning:
Subjective assessment: How does the horse look? Is he responsive and alert?
Objective assessment: What is his temperature, pulse and respiration? The vital signs may be checked against previous shifts and any changes reported to the veterinarian.
Action: What actions are needed? Bandages may need to be changed or medicines administered.
Planning: What care must be planned for the next 24 hours? For example, horses may need to be hand-walked, clipped or prepped for surgery.
Equine veterinary medical technicians must take special care in preparing for surgeries, which may include clipping and cleaning the surgical site on the horse. They are also responsible for setting up the site for surgery, including:
Creating a sterile field for barn surgeries or emergency calls (draping blankets or sheets and cleaning the general area).
Preparing and sterilizing instruments.
Checking medications and supplies.
Checking equipment.
Equine vet techs may hand equipment to the veterinarian during surgery. Often a second vet tech is in the room to circulate and replenish supplies or assist as needed.

Equine veterinary technicians working at a large animal hospital may be asked to hand walk, graze or ride the horses at the hospital. Barn chores are also part of an equine veterinary technician's duties when working at an equine veterinary hospital, so you'll muck stalls, clean and fill water buckets, and distribute feed and hay as needed.
 
Benefits of Working as an Equine Veterinary Technician
For people who love horses, science and a changing daily schedule, becoming an equine veterinary medical technician may be the perfect job.
Equine VMTs study equine health, anatomy, physiology, feeding and nutrition, and animal husbandry. Many also help veterinarians with the business end of their practice, so they may want to include business courses in their education. While associate degree programs are typical, a four-year bachelor's degree program provides ideal preparation for the field.
Equine VMTs also must learn to ride horses, and colleges like Wilson that have VMT programs often offer equestrian programs, where students can learn to ride or become more proficient riders. Regardless of when you learned to ride, as an equine VMT, you should be comfortable in the saddle and around horses of various training levels—you may be asked to hop onto a green prospect in the morning and school a seasoned champion later that day.
For equine VMTs who work at a large teaching hospital, there is also the added benefit of being able to specialize in the veterinary field. Specialists in the equine vet tech field include:
Equine anesthesiology
Emergency/critical care
Internal medicine
Radiology
Neonatal intensive care
Dentistry
Surgery
Many equine vet techs also work with other equine professionals. The veterinarian may call in a farrier—a professional skilled at assessing, trimming, and shoeing horses—for example. Vet techs must be comfortable working with many different equine professionals in a given day.

Equine veterinary technicians can expect to earn an average of about $31,000 a year, depending on where they work and their experience level.
Challenges of the Profession
According to Samantha Rowland, the two principal drawbacks to the job are the long hours and yes, "when an animal doesn't make it." It can be heartbreaking to console an owner whose beloved horse didn't survive colic surgery, or who just had to make the difficult decision to euthanize an animal.
 
How to Become an Equine Veterinary Technician
For those interested in becoming an equine veterinary technician, it's important to have the right skills and education to be successful in the field. There are 160 equine veterinary programs in the United States. Most offer two-year degrees but some, like the Wilson College program, offer a comprehensive four-year bachelor's degree.
Equine VMTs are licensed by the state in which they intend to practice. After completing your education, you will need to take and pass the state's licensing examination in order to be employed as an equine veterinary technician.
Equine VMTs may only provide certain levels of care. The actual services they can provide are guided by state law. It's important to understand the limits placed on what you can do by your state.

The Value of Hands-On Experience
Rowland recommends that even before entering into an accredited program, individuals interested in becoming an equine VMT get more experience in the field. "I have been riding horses since I was in junior high school," she said. "I figured out I wanted to be a veterinary technician pretty early on and started volunteering in a small animal practice at 14 years old. … I knew I wanted to work in equine medicine, specifically in surgery."
Rowland did everything she could to gain experience in the field. "I worked at the small animal practice in high school and worked as a horseback trail guide."
She then sought an education to help her achieve her goals. "I chose Wilson College because of the four-year bachelor's program in veterinary medical technology, which is difficult to find," Rowland said. "Wilson has an amazing equine studies/equestrian program that is right on campus. I completed a double major in veterinary medical technology and equestrian studies with a minor in small business management." This combination of education and experience helped Rowland launch a successful career.
Rowland has worked in both equine medicine and small animal veterinary care, and has loved specializing in anesthesia. She has provided anesthesia to horses, donkeys, mules, miniature horses and foals. "Equine anesthesia is a real challenge and an amazing experience," she said. Rowland was the anesthesia supervisor at Virginia Tech's Marion duPont Scott Equine Medical Center for several years. "I had the opportunity to be the anesthetist on some pretty amazing cases that I wouldn't necessarily have seen outside of a hospital of this caliber." She has since obtained her Veterinary Specialty (VTS) in anesthesia/analgesia through the Academy of Veterinary Technicians in Anesthesia and Analgesia (AVTAA).
Choosing a Degree Program

Veterinary medical technology study is available as either a two-year associate degree or a four-year bachelor's degrees, but the bachelor's program provides a more comprehensive foundation for your career. Bachelor's graduates also have the option to apply to veterinary programs at some of the top universities in the country.
When choosing a program, be sure that it is an accredited program and consider the resources offered, as well as any associated programs. On-campus VMT and equestrian facilities provide an optimal scenario for learning. In addition to the veterinary medical technology major, colleges that offer complementary programs provide greater opportunities for students (e.g., Wilson College offers equestrian studies (with two management tracks), equine-facilitated therapeutics, equine journalism and general business courses.
Wilson also offers a VMT concentration in equi-assist, a unique, new specialization within the VMT program. In this course of study, students can specialize in equine nursing care. Students learn under the guidance of an equine veterinarian how to provide nursing care to horses in their home environment. This new program, one of the first of its kind in the nation, offers veterinary technicians another opportunity to develop specialized skills.
Earning a four-year bachelor's degree from a well-regarded, accredited college can serve as a springboard to success. Graduates such as Samantha Rowland have embarked on fulfilling careers working at veterinary hospitals, and private practices nationwide.
For anyone who loves horses and has a penchant for science, becoming an equine veterinary medical technician challenges all of your skills. You'll use those skills to help horses and their owners through difficult emergencies, routine veterinary care and exciting moments such as the birth of a foal. 
You can specialize in many disciplines, including anesthesiology or surgery, or work as a general veterinary technician. Whatever you choose to do, building a solid foundation through hands-on experience, working with horses and attending a college like Wilson College will help launch you into a promising career as an equine veterinary medical technician.