Wilson VMT Students Complete Internships Abroad
By Robin Herring '07
Wilson veterinary medical technology (VMT) majors Jordan Massey '16 and Lindsay McCauslin '16 spent their summer internships in Thailand, monitoring tigers and leopards during surgery, swimming with elephants, and caring for creatures ranging from porcupines and camels to nyala deer.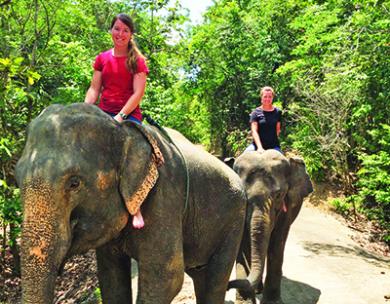 Study abroad and international internships offer Wilson students some of the most exciting and challenging experiences of their college years. This summer, Hong Nguyen '18 of Vietnam spent a month-long internship in Singapore for Google and Daniel Glazier '18, Vanessa Lybarger '17 and Cierra Valentine '18 studied abroad through the Bahrom International Program in South Korea.
Massey's and McCauslin's internship in Thailand was not their first "once-in-a-lifetime" experience since they have studied abroad three times. McCauslin's first experience was in Spain during her senior year in high school. Massey's first study abroad was at Wilson, when she traveled to Belize for a January-Term tropical ecology course.
In 2015, the two friends decided to pursue a second study abroad together and traveled to South Africa to work with EcoLife's "Vets in the Wild" program. After that trip, Massey and McCauslin, now seniors, had one last requirement for graduation: an internship. Through the resources of a company called World Endeavors, they chose a study program at the animal hospital for the Chiang Mai Night Safari in Thailand.
While in Thailand, Massey and McCauslin lived with a host family and their 4-year-old daughter. "The culture in Thailand is very different compared to the U.S.," said Massey. "While Americans are always in a hurry, Thai people are generally more relaxed and easygoing." Customs they soon adopted included removing their shoes before entering a home or a Buddhist temple, shopping for fresh food in markets daily instead on a weekly basis and pitching into a work week that might stretch to six days instead of five.
Working in Thailand is very different from the typical American job experience, according to the students. "In Thailand, the work days are very laid back, but we still got a lot of work done," McCauslin said. "In the safari, we often made a lot of our (own) supplies. …At our internship site, Jordan and I spent time making darts for the blow dart apparatus by hand."
While working at the safari animal hospital, Massey and McCauslin applied many of the skills they learned in Wilson's VMT classes. They administered drugs, placed IV catheters, performed lab work, took radiographs, monitored anesthesia while animals underwent surgery, and transported animals to and from surgery. "My most memorable moment at the safari, besides riding the elephants, was placing an IV catheter in a white tiger," Massey said. McCauslin credits her Wilson lab techniques class experience with helping her to perform lab work on the animals on her own.
Now back in the U.S. with their degrees completed, both Massey and McCauslin plan to sit for the Veterinary Technician National Examination to become certified veterinary technicians. Their Wilson professors made a huge impact on the students' college careers and their decision to study abroad in their field, according to both students. "Tammy Ege (assistant professor of VMT) was one of my biggest influences throughout my schooling," said McCauslin. "She was always eager and available to answer any questions I had. During surgery class, she instilled a confidence in me that I didn't even know I had."
Massey credited her VMT professors and other VMT students for having the biggest influence on her. "Freya Burnett (VMT program director and professor) was always supportive and excited for our adventures. Lindsay always agreed to my crazy ideas!"
The two friends encourage more Wilson students to study abroad and take on international internships. "Studying abroad gives you the opportunity to learn the culture of another country, as well as learn the way veterinary medicine, or any career, is done in that culture," said Massey.
Internships and study abroad also create moments of a lifetime, such as the day Massey and McCauslin swam with elephants. "Getting to spend the day with those gentle giants was one of the happiest experiences of my life," McCauslin said. "We rode to a watering hole on the other side of the safari, where we got to spend some time swimming with our elephants. When we rode back to the elephant's enclosure, we once again swam with them in their exhibits. After that we played a short game of soccer with them and fed them grass and bananas. It was a day I will never forget."
Robin Herring '07 works in the Office of Finance and Administration and serves as an adjunct instructor in communications.