A quiet voice in the back of her mind kept nagging at Marybeth Richards: Wasn't it time for her to go back to school and get that college degree?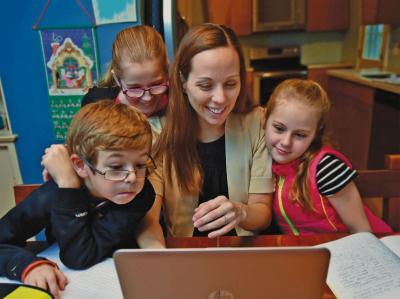 After one long discussion about finances with her husband—which ended with them asking each other, "Where do we go from here?"—she sat in her living room holding her baby daughter and watching her two older children play. "And that quiet voice suddenly got really loud," Richards recalled.
"I knew education was the door for many opportunities," said Richards '16. "But growing up in my family, what we said and what we actually did never really lined up." While her parents stressed the importance of education, they also did not give her the encouragement to go to college. In that moment in her living room, Richards said, it became clear: "I never wanted to stand in front of my own children and say, 'This is what you should do,' without having been willing to do it myself."
Her mind made up, Richards first took some online courses and then in 2013, entered the Adult Degree Program at Wilson. On May 15, 2016, Richards stood in front of her fellow graduates as a featured speaker at commencement, recounting her moment of decision. "I realized, how could I tell my children about the value of education if I myself had nothing to show for it? I wanted them to see that education—no matter what your area of study is, whether it is a trade or a skill—is powerful and life-altering."
Throughout the past 35 years of Wilson's Adult Degree Program (ADP), adult learners have sought degrees for many reasons—to advance a career, begin a career, enhance their knowledge or expand their worldview, acquire new skills or complete a personal goal. The program was founded "to help lifelong learners, both male and female, get a college degree," said Beverly Evans, director of ADP admissions. The program has been in place since 1982 and has always been coed.
Originally called the College for Continuing Education, adult education was part of Wilson's "renaissance" in the 1980s and was seen as an extension of Wilson's core mission.
Adult learners are becoming an increasingly larger segment of the U.S. college demographic. Recent statistics show that 38 percent of today's college students are adult learners older than 25. Adult undergraduate enrollment has been steadily growing. According to the National Center for Education Statistics, enrollment for adult learners increased 51 percent from 1991 to 2011. For the 2016-17 school year, Wilson has enrolled 290 ADP students, a 10 percent increase from 2013.
Making the decision to complete—or begin—a college education as an adult involves a whole set of challenges, including budgeting for college costs and making time for study. Many adult learners have to learn study habits all over again, and adjust to new technologies. Juggling multiple responsibilities of home, family, school and work can be daunting. "You have to learn to prioritize your classes, learn how to carve out time," said Robert Washinko '14, who balanced a civilian job at Letterkenny Army Depot and time in the Army Reserves with his Wilson courses. "I traveled a lot for my job, so I ended up doing a lot of homework in hotel rooms and a lot of reading on planes."
In order to accommodate adult students from all walks of life, Wilson's adult degree program offers a wide range of options, Evans said. ADP students can attend Wilson full time or part time and can even live on campus (though few opt to do so). While ADP students take the same courses as traditional undergraduates and sit side by side in the classroom, they have the option of scheduling courses at their own pace, even if it's just one course a semester.
"The program is incredibly flexible so that it can take into account family life, kids, jobs," Evans said. "ADP students can take up to a two-year leave of absence from coursework without penalty. They can re-enroll even after big gap and we will try to give them as much credit as possible for what they previously studied here, depending how our curriculum has changed."
All campus resources are open to ADP students. They can belong to clubs, engage in study abroad and perform internships. The one thing they cannot do, according to Evans, is participate in NCAA sports, due to NCAA rules. "But we've had ADP students on the archery team and the equestrian dressage team because those are club sports, not NCAA sports," Evans said.
Wilson also supports veterans returning to college and participates in the Veteran Administration's Yellow Ribbon program, which helps veterans pay for the costs of college not covered by the Post-9/11 GI Bill.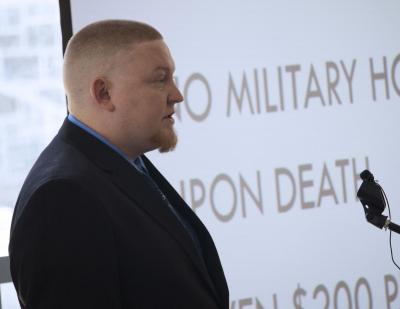 Benjamin Luzier '17 was a military policeman in the Air Force, stationed at McConnell AFB in Kansas, and served two tours of duty in Iraq before leaving the military in 2012. "I knew I did not want to continue to be a police officer, but I had no other training," Luzier said. "I had a wife and two children and I knew I had to do something to provide for them, so I went back to school."
He enrolled full time at Wilson as a veterinary medical technology major, but later switched his major to what he really loves—history and political science. "My kids are very aware that I'm going to college," Luzier said. "When I come home they ask me, 'What did you learn in school today, daddy?' And I'll tell them some history tidbit."
Luzier is looking forward to graduating in May. "I will say that going to Wilson has definitely expanded my horizons. I'm looking forward to going ahead with a career—maybe even running for office," he said. "I'll start at the ground level and run for city council." 
Older students often worry about being accepted in the classroom by their younger traditional undergraduate counterparts. "Everyone comes to college with apprehensions," Evans said. "The traditional undergrads out of high school wonder if they will be able to cope with the schedule and the courses. The ADP students wonder if they have been out of school too long and whether they will be out of touch. And somehow those concerns meet in middle and get resolved."
Wilson's faculty welcomes the maturity and real-world experience these adult learners bring to the classroom, according to Elissa Heil, vice president for academic affairs. "Most of the students have been or are currently employed. They have experiential knowledge that can complement various theories and notions that are presented in the classroom. Their perspectives are more holistic, which can evoke great discussions," she said. "It's not unusual for these students to be the most ambitious ones in the classroom, thereby posing as great role models for our traditional students."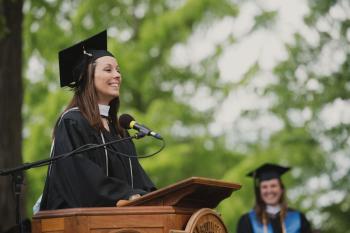 Many of Wilson's adult students who have children share Richards' desire to be a role model. "If your kids see you going to college, they will more fully understand the importance of college when their time comes," Evans said.
Richards' college education is already making a difference for her children, she said. Her oldest daughter, Aislynn, who is in 5th grade, was recently named student of the year at Guilford Hills Elementary School. "As a parent, I'm starting to see the fruits of my labor," she said. "I see in Aislynn an appreciation and a pride that she has in the entire education process."
Richards is now pursuing a master's degree in the humanities at Wilson, in order to teach at the college level. That was not her original plan when she first enrolled in the adult degree program. "I thought about teaching, but as maybe a high school teacher. I had taken courses, but they were all over the place. I really didn't know who I was or what I wanted to do—until I came here."
The turning point came when she took a class in African-American literature with Professor of English Lisa Woolley and "I just fell in love all over again with reading and with writing," Richards said. "I always liked to write stories when I was a little kid. … I decided, this what I'm going to do: pursue a career in literary studies and the humanities."
Richards credits her professors with pushing her to develop a repertoire of skills and helping to define her goals. "I had to discover my path here at Wilson," she said. "I don't think I would have graduated if I had just tried to do this online."
In addition to the graduate work, Richards' bachelor's degree has already helped her find work as an editor for the publishing firm Pearson Co. She also is a substitute teacher for the Chambersburg Area School District and a graduate assistant in Wilson's writing lab.
At Wilson, Richards also found strength in the supportive community forged by her fellow ADP students, which she described in her commencement address. "How many times have we leaned on one another for academic and moral support? A lot," she said. "My experience was never unique, special or different because the solidarity among the adult students provided the opportunity for us to learn from and empathize with one another. When we shared our experience, strength and hope with each other, we found the motivation that we needed to persevere, to finish."