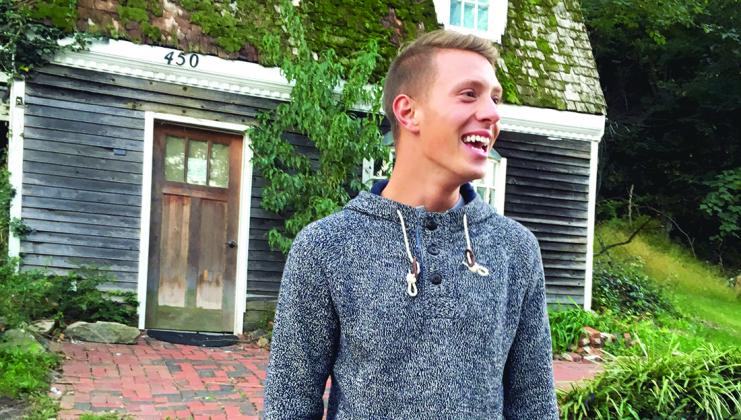 Once convinced he was alone, Michael Martin '19 has become a role model and mentor for others.
By Cathy Mentzer
More than 20,000 people follow Michael Martin on Instagram and another 2,000-plus have friended him on Facebook. The admittedly shy student-athlete from the Eastern Panhandle of West Virginia has been featured in articles in Time magazine, USA Today, the Daily Mail, CNN, Huffington Post, MTV and other national and international media outlets.
Why? Because he did the unthinkable.
While still in high school, Martin came out publicly through Outsports, a national sports news website focusing on gay athletes. His first-person article went viral, launching him as a role model and mentor for other young LGBT people—especially athletes—struggling with their identity and how to come out to family and friends.
"I was just tired of hiding, and that was the easiest outlet to project my voice to the world," said Martin '19, an environmental sustainability and business management major from the small town of Martinsburg, one hour's drive south of Chambersburg on Interstate 81. "If I had to do it over again, I would 100 percent do it over again."
Although coming out in such a public way took no small amount of courage, there was a finality about it that appealed to Martin. He knew there would be no going back. "It was like, click a button, publish, everyone knows now," he said.
Since his story went viral, Martin—an all-state soccer goalie in high school who plays soccer and volleyball for Wilson—has become a full-blown hero to young LGBT (lesbian, gay, bisexual, transgender) athletes around the world. Correspondence with some of them through emails led to him personally mentoring some of the young people.
"When I was trying to come out, no one was there for me," Martin said. "I had to seek out the help—and you shouldn't have to seek it. I feel like I'm there for people now, and that makes me happy."
Last spring, Martin was named Wilson's first Newman Civic Fellow, an award given by Campus Compact to recognize community-involved student leaders. His work advocating for LGBT issues and gay youth, including involvement with Wilson's Student Athlete Mentor (SAM) program, earned him the honor.
"When I read through the qualifications (for the Newman award), I thought of him because of his work on the field, off the field, in the public arena, in the political arena," said Vice President for Student Development Mary Beth Williams, who chaired the nominating committee. "At such a young age, he walks the talk. You don't meet a lot of young college students who do that. I would take about 20 of him."
As a Newman Civic Fellow, Martin will represent Wilson in a national group of student leaders assembled by Campus Compact, a group of 1,100 colleges and universities that focuses on civic engagement.  The one-year Newman fellowship will provide opportunities for the fellows to connect and network with one another, as well as offering training and resources to help fellows develop strategies and hone their abilities to achieve social change through activities like civic learning, collaboration and consensus building, according to CC Program Coordinator Michaela Grenier.
Martin has been invited to the first convening of Newman Civic Fellows in November in Boston, where he will be able to meet with other Newman Civic Fellows.
Before Martin came out through Outsports, he was struggling with how to tell others and gain their acceptance. His mother had found out about two years earlier after reading a Christmas card he had received from a boy he met on Facebook. She had trouble accepting it, according to Martin, who said he and his mother kept it a secret from his father and brother. "She was devastated. She said she failed as a parent," said Martin.
Martin was left to try to cope on his own. More than a year later, he was still seeking help with how to come out to his father, brother and friends while reinforcing his identity with his mother.  Out of desperation, he sent an email to Outsports co-founder and editor Jim Buzinski.
"In August of 2014, I just got an email out of the blue from Michael saying he's in high school, he's an athlete, he's scared and he doesn't know anybody else who's gay," said Buzinski. "We started a regular email correspondence, just about himself and his life and how he felt as a young gay man."
After that first contact, "We had 98 emails after that," Martin said, smiling. "He was telling me, 'You're not alone, there are plenty of other (gay) athletes, that sort of thing."
The coming-out article was Buzinski's suggestion, according to Martin, who liked the idea. Buzinski insisted that the article had to be OK'd by a parent, so Martin turned to his father, whose reaction surprised his son. "He was like, 'Bud, I don't care. I don't want to change you. Why would I want to change you?'" said Martin.
In the article, Martin described dancing with another boy at a homecoming dance at a different high school in fall 2014. Although the two were noticed, word about what happened did not reach Martin's family and he felt he needed to make more of a statement, which he did in the Dec. 16, 2014, Outsports article.
Reaction was swift. "It was the most viral thing we've done in our 16 years of telling coming out stories," Buzinski said. "I think it has about 72,000 Facebook shares, which is astonishing. It was our most-read story that year, even though it went out in December."
Martin was staggered by the response. "I got so many emails—it just flooded," he said. "Then radio stations were trying to call me, wanting me to go on the air." He was surprised at the number of emails he got from people in other countries, as well as the fact that about half were from older men "saying I could never do that—I'm glad times are changing."
Martin subsequently wrote two more articles for Outsports—the widely publicized story of his own high school prom, which he attended with a boyfriend; and last spring, when he recounted how a straight  Wilson soccer player, Kosta Zois of Australia, texted him after reading about Martin's story to tell him, "You're a true inspiration my friend."
Although he isn't completely comfortable with it, Martin has gotten used to the spotlight, especially on social media. "It feels good that people actually want to follow your life and that they interested in your journey," said Martin. "(But) those people don't know the real me. They only know my story."
While Martin is active on the Wilson campus, he has a small circle of friends, according to his roommate, sophomore Zach Zerr, who plays on the volleyball team with Martin. "There's just nothing he's not involved in on campus, it seems like," Zerr said. "I think his reputation on campus is, he's a sweet guy. He's really nice to everyone and everyone loves him because Michael's not mean to anyone. You never see Michael being a jerk."
Martin has a lot of interests: athletics, environmental issues, LGBT advocacy and politics. One of his greatest passions—soccer—led him to Wilson, after he was recruited by the team's persistent head coach, Caleb Davis, to play goalie for the team's inaugural season. Initially, Martin was skeptical because his sights were set on a large school. All it took was a visit to campus for him to realize that Wilson was the place for him.
"I loved the buildings. I loved the farm. I talked to (Professor of Environmental Studies) Ed Wells and it was good from there," said Martin. "Now I love Wilson. I love that it's growing, too, because it's a great school.  Here, everyone's close with each other."
Martin especially loves Wilson's traditions, his professors, the small class sizes, dining hall food and of course, athletics—which is a big part of his identity, according to those who know him.
On the soccer team, Martin is part of what he and Davis describe as a brotherhood. However, being gay and being part of any athletic team has its awkward moments due to lingering homophobia in men's sports in general. On the soccer team, other players sometimes use a derogatory term for gay men that bothers Martin, according to Zerr, who is straight. "That word really hurts Mike," he said.
But Martin is accepted and liked by his teammates, according to Davis. "Everybody knows that Mike's gay but at the same time, we preach family on the soccer team, and all the guys on the team look at Mike as a brother," he said. "It doesn't matter what your sexual orientation is. They're going to have your back."
Overall, Martin says the Wilson community has been very supportive of him. "He's very passionate and open with his story, and students, faculty and staff are all just drawn to him," said Williams. "Coming to college is this whole developmental process of becoming who you are, and for him to be so open and fearless with who he is, is encouraging to the men and women who will come after him."
Martin is a mentor at Wilson through the SAM program, which he was elected vice president of this fall. The athletics department program provides in-depth training with assistance from the counseling center on helping other students with any problem they have adjusting to college life.
"He's has a very caring personality," Davis said of Martin. "I think with some of the struggles he's gone through, he wants to reach out."
Martin has embraced the role. "I never had the help and now I have the opportunity to help people—and I absolutely love it," said Martin, whose parents and brother now accept that he is gay and support him fully.
In addition to inspiring young people, Martin's story resonated with gay West Virginia lawmaker Stephen Skinner of the 67th District, who wrote to congratulate him after his coming out article and subsequently hired Martin over the summer as a legislative intern. "I learned so much about politics," said Martin, who now counts the political arena among his potential post-college interests.
"I'm a quiet person, but certain issues get me fired up," said Martin, who is especially concerned about environmental issues, in addition to gay rights and the upcoming U.S. presidential election. "He's always talking about politics. I mean, nonstop," Zerr said. "Sometimes we have to tell him, no more politics."
Whether Martin pursues his interests in the environment and business (he says he hopes to open a restaurant franchise one day that uses only sustainable, local food), environmental law and policy (he is interested in Wilson's relationship with Vermont Law School) or politics, he will most likely have an impact, wherever he lands.
"It's a cliché to say that he's making a difference, but Michael's making a difference," said Buzinkski. "He's going to be somebody to keep an eye on."