Caring and Compassion
Wilson's accredited nursing program thrives as the College's fastest growing area of study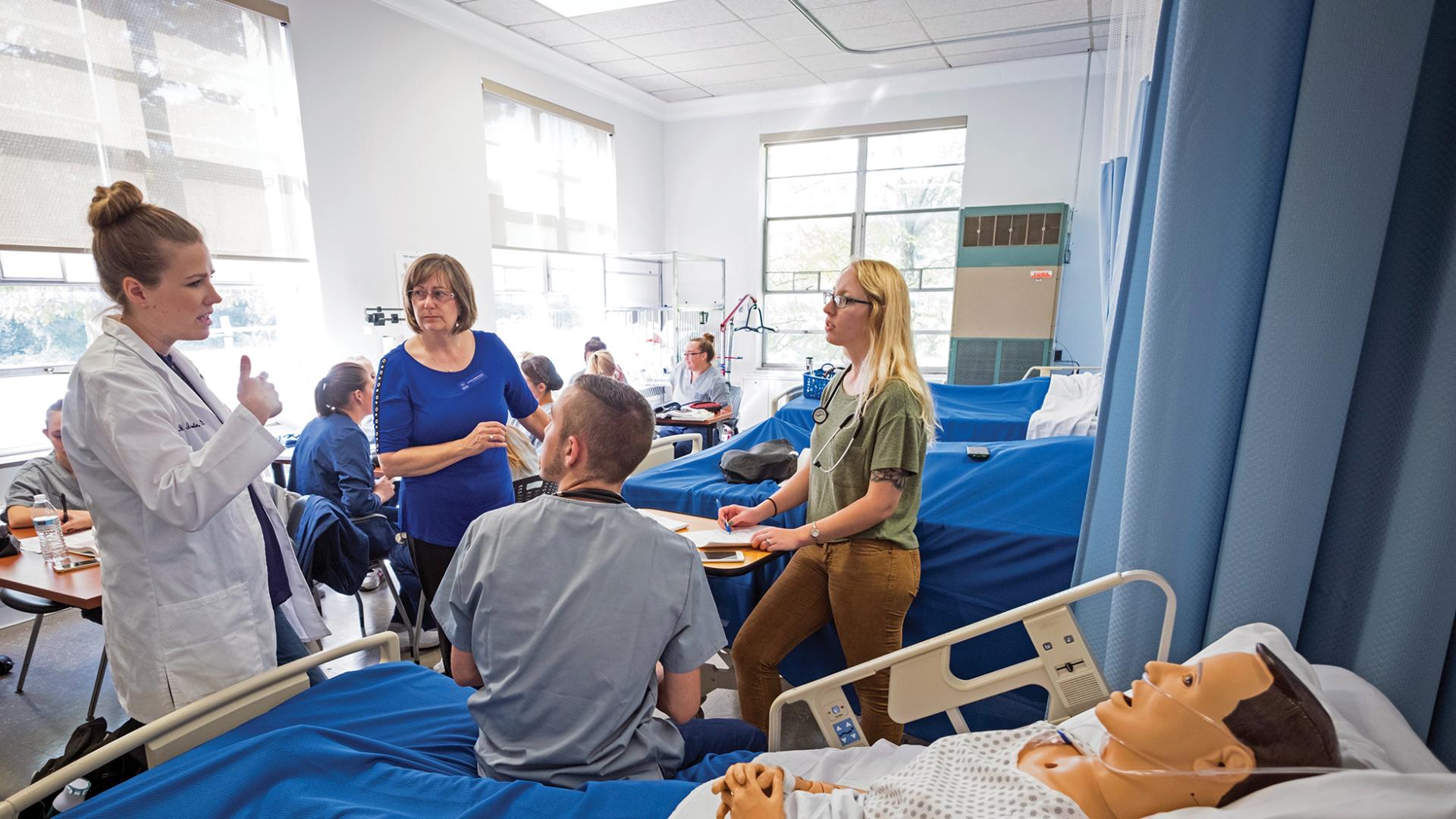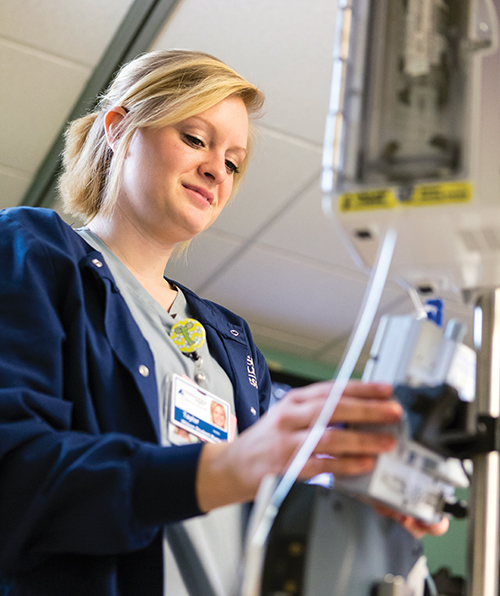 Wilson Magazine
Spring 2017
The second-year nursing students gather around the "patient" in the Rosenkrans clinical lab and look expectantly at Julie Beck, assistant professor of nursing.
"The emergency room is sending us Michael, who was injured in a motorcycle accident," Beck tells the students. "He's 27, overweight and a smoker. He has road rash on his legs, arm and back. He was not wearing a helmet. ER is too busy and can't keep him, so he is now our patient. Proceed with your assessments."
The 11 students split into two groups. Everyone has an assigned role: two bedside nurses, one nurse in charge of the lab reports, others ordering procedures and one student acting as the "voice" of the patient. Michael is a medical mannequin, capable of presenting all sorts of medical symptoms, but incapable of speech.
Each group ends up with a different diagnosis. One group concentrates on symptoms that indicate possible chest trauma; the other focuses on the patient's complaint of severe pain in his lower left leg that could signal a blood clot. Beck, who has been a nurse at Lancaster General Hospital for more than two decades, coaxes and prompts the students during each 15-minute exercise, even acting the role of an irritable on-call physician. "Don't be intimidated by the doctor," Beck tells the students. "You're the nurse. You're there with the patient. You have to be the patient's advocate."
Beck praises her students at the end of the exercise, with a caveat—it was good work to diagnose that particular set of symptoms, but what about the others? She acknowledges that many of her students are already licensed practical nurses (LPNs) or nursing home aides. "You're used to concentrating on one task at hand. As a bedside nurse, you have to be aware of all of the symptoms, all of the scenarios at once and constantly weigh all the options."
The exercise is about more than recognizing symptoms and ordering the right lab tests, Beck said. "We're trying to get them to think critically on their feet, and also to operate as a team," she said. "You have to learn to collaborate with your team members."
Kristy Brammer '19, an LPN who acted the part of one of the bedside nurses in the exercise, listens intently as Beck critiques her group. "She's a great teacher," Brammer said of Beck. "She's a bit intimidating and I think that's what makes her so good."
-------------------------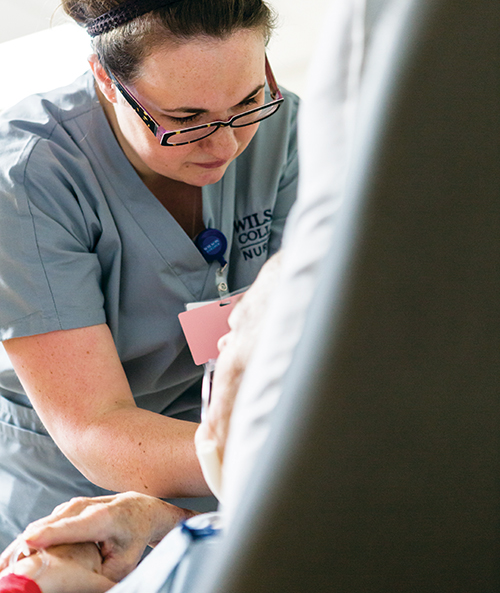 The clinical skills nursing lab epitomizes the philosophy behind Wilson's undergraduate nursing program, which seeks to provide students with hands-on clinical experiences, starting in their first semester. Wilson's "direct admit" nursing program, which immerses first-year students immediately in nursing courses, is one of perhaps five schools in the country taking this approach, according to Carolyn Hart, Wilson's director of nursing.  
"Other schools typically have their students take a year of general studies, then apply to nursing. You're in the nursing program at Wilson from day one," Hart said. "Instead of condensing the nursing program into two and a half years of courses, we have four years to learn nursing content at Wilson. That makes a huge difference in your confidence level and your competence level.
The undergraduate Bachelor of Science in Nursing (BSN) degree is just one component of Wilson's ambitious nursing program, which has been accepting students for the past three years. Wilson currently offers four pathways to a nursing degree.
In addition, the College also is partnering with Widener University in Chester, Pa., to provide advanced entry into Widener's online nurse practitioner program for Wilson's Master of Science in Nursing (MSN) graduates. Unlike most nurse practitioner programs, the Wilson-Widener partnership allows working healthcare professionals to complete flexible online courses and gain the hands-on clinical experience they need locally. Under the partnership, Wilson students who graduate with a MSN degree and have a minimum 3.0 grade-point average will be guaranteed admission to the 18-month Widener program.
After the Pennsylvania State Board of Nursing approved Wilson's nursing program in 2015, the College chose to pursue accreditation, which is voluntary. That accreditation approval was received on Feb. 16. The approval is "a student's assurance that the program they're in meets or exceeds industry standards," Hart said. "After graduation, if they want to go on to get a master's degree or doctorate in nursing, they are required to have a nursing degree from an accredited school. And employers very often want to hire people who have graduated from an accredited school. It says a lot about the program."
Hart said designing a nursing program for the College that encompassed pathways from traditional undergraduate to master's degree was a challenge she relished. "That's the fun thing about Wilson," she said. "We got to say: what does an ideal nursing program look like? That's what we tried to create. So it was just a wonderful opportunity to be able to start with a blank slate."
A total of 126 students are enrolled in Wilson's four nursing pathways, with 58 students currently in the BSN program. Nationally, the average age of a nursing student is 28 years old, Hart noted. "We have just as many people who are working on getting their degree as their second or even third career, as we do students who are right out of high school. There's an interesting mix in the undergraduate classroom—you can sit next to an 18-year-old and on the other side of you, there's someone in their 50s."
Incorporating the Wilson experience into the curriculum also makes the College's nursing program stand out, Hart said. "What makes Wilson different is our true student focus. We know our students by name—we know what's going on with them and we know how to help them. Our nursing faculty motto is 'caring and compassion,' because if students can't learn that in school, where are they going to learn it?"
Students speak highly of those relationships with faculty. "What has impressed me the most about this program is the interaction and dedication we are receiving from the nursing faculty," said Morgan Bechtold '19, who is in the undergraduate nursing program. "Dr. Julie Beck is always available to work with us outside of class if we are struggling with a particular concept, and Dr. Hart has hired clinical instructors who are on the floor with us at the hospital. We are fortunate to have these wonderful nurses bring their real-life experiences to the classroom.
Those relationships also translate to the online courses. "Almost all our students are also working, so we do our best to accommodate them for their work-life balance," said Brenda Elliott, who oversees the master's program. "I'll get emails from those who are up at 2 a.m. who are working night shifts or up late studying, and I do my best to respond quickly."
"The instructors at Wilson are great. They are available by phone and online to answer questions," said Matthew Hopkins, an emergency room RN at Chambersburg Hospital who is pursuing his master's degree on the nursing education track through the Registered Nurse to Master of Science in Nursing (RN-to-MSN) bridge program.
-------------------------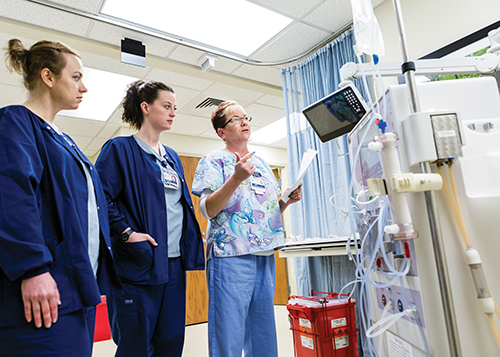 This past December, several of the first nurses who signed up for the Registered Nurse to Bachelor of Science in Nursing (RN-to-BSN) program received their degrees—including Erica Pyne, a registered nurse for 15 years before she enrolled in the program.
Pyne has worked since 2003 for Summit Health in Chambersburg at the Himelfarb Surgery Center. Her Wilson BSN degree helped get her a promotion to clinical coordinator at the center. "I have the clinical skills so the courses I took were in research, ethics and theory," she said. "The courses train you to think differently, to see the bigger picture, instead of just the patient or task at hand. The program trains you for a leadership role."
An email about Wilson's RN-to-BSN program went out to Summit employees in 2014 and Pyne attended an open house on campus and spoke with Hart. "Carolyn sat down with me, worked out a schedule and assured me that I could do this," she said. "I was working 45 to 50 hours a week with a family, and having the coursework and homework on top of that—it was about two to three hours every night—was hard."
The flexibility in the program helped her cope. "I could take the courses on my schedule," Pyne said. "Some people would think, 'Oh, it's just an online course,' but it being online did not mean it was easy. You had to participate; you had to be prepared for each class."
Flexibility is also the key to the online MSN program. It's designed to be as accessible to students who are working the night shift as it is for those working a day shift, said Elliott. The program has attracted many in the nursing and medical professions in the Chambersburg area, such as Hugh Davis, chief executive officer of Menno Haven Retirement Communities in Chambersburg, who is taking courses on the MSN leadership track.
Pursuing his master's degree at Wilson was "a great opportunity" that he said he could not ignore. "I had looked into other online courses, but never really took any. With Wilson's online courses, it works really well with also having to manage a very busy full-time job." Hart had already established a relationship with Menno Haven before Davis enrolled, and "talking with her convinced me I could undertake the courses without running myself into the ground," he said.
Davis is impressed with the give and take between his fellow students in their online classroom discussions. "We are required to post our thoughts or opinion on a topic and then there will be a discussion," Davis said. "We can have some robust dialogues online with each other; there can be several differing opinions and views. There was a particularly lively one about whether nurses should be required to get flu shots."
There's a benefit in that many of the students in the master's program work locally, according to Hopkins, who has been an ER nurse at Chambersburg Hospital for the past four years. "So in addition to the discussion board, we'll see each other at work and talk about the courses and continue a lot of the discussions."
Hopkins graduated from nursing school at Hagerstown Community College at 35. He had always been fascinated by the medical profession—"I'm the type of guy who watches the 'True Stories of the ER' programs on Discovery channel"—but worked for 10 years as a manager for AT&T Wireless until several of his friends who were nurses talked him into enrolling at Hagerstown.
Now he's pursuing his master's in nursing education at Wilson. "I saw an email from Summit about the nursing program that was starting up at Wilson. I talked with Carolyn Hart and that convinced me to sign up for the program," Hopkins said
So far he has been able to juggle his 12-hour shifts at the ER with his coursework. "Online tends to scare off some people," Hopkins said. "You have to be self-motivated and make sure that you are carving out enough time for the classes and the reading and the work."
In addition to pursuing teaching, especially on the clinical side, Hopkins plans to take advantage of Wilson's partnership with Widener to continue to study for a nurse practitioner degree. "Right now, that's my ultimate goal," he said.
-------------------------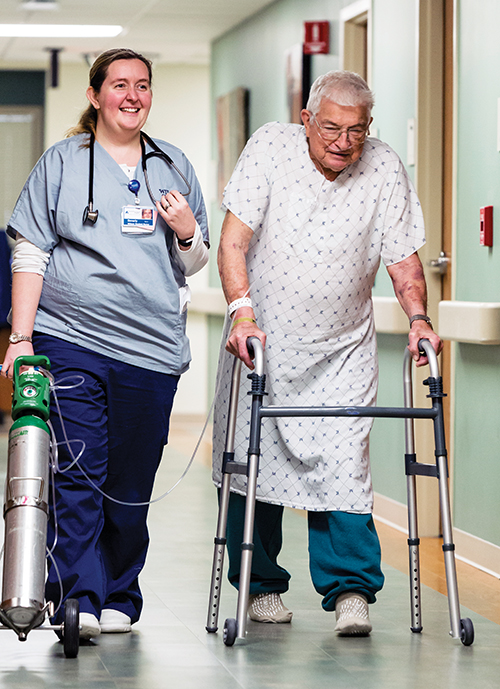 In establishing Wilson's nursing program, Hart reached out to several medical organizations in Chambersburg to partner in providing student education experiences: Summit Health, which includes Chambersburg Hospital; Keystone Health and the Menno Haven.
At Menno Haven, undergraduate students shadow nurses and help perform assessments on residents. "Dr. Hart has always had a heart for seniors and gerontology, and she wants to make sure that her students have a senior experience during their studies," Davis said. "A lot of undergraduate nursing programs concentrate on the hospital experience for their students. Hospitals are more exciting, but with the aging of the population, the real need will be with senior care."
Summit Health helps orient Wilson students to more acute care situations, Hart said. Classes have observed on medical surgery and critical care wards, as well as outpatient areas. "Summit has been very supportive of the nursing program at Wilson since its inception and we are happy to be a partner in bringing their students into an acute care setting," said Sherri Stahl, senior vice president of hospital services and chief nursing officer at Chambersburg Hospital. "It's important to have the nursing program in the area so that it can bring more nurses into the acute care pipeline at this time of need. We're hoping to see these Wilson students added to the Chambersburg area when they graduate."
Clinics at Keystone Health provide a broad range of experiences to Wilson students, fostering a better appreciation of the problems associated with obtaining healthcare, according to Hart. "For too many years, programs just taught nurses to work in a hospital setting and community health was just one course," she said. "At Wilson, we have embedded community nursing experiences into the entire program, so that students truly have a deeper appreciation of how community health care is becoming increasingly important."
Keystone's CEO and President, Joanne Cochran, lauded Wilson for advancing nursing in the community. "Community-academic partnerships are a means to bridge the gap of health disparities in underserved populations. I," she said. "As nursing students are exposed to these populations, they are able to better understand the clinical importance of community health, which challenges nurses to be effective and efficient at providing high-quality, safe and financially sound patient care."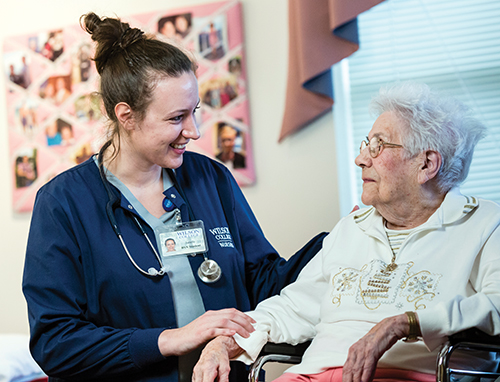 Wilson's community partners have helped in other ways. Summit has donated many of the medical supplies used in the on-campus Rosenkrans clinical labs, including IV tubing, syringes and bandages. Wilson students spend between 80 to 120 clinical hours between classes at Summit, Keystone and Menno Haven and the Rosenkrans clinical lab.
The Rosenkrans lab area was recently revamped and Hart is hoping to add several high-fidelity medical mannequins for the students to work with there. These high-tech mannequins can interact more with students and can speak, sweat, bleed and present a fever. "These labs let student nurses practice in a safe environment where they can make mistakes and no one gets hurt," Hart said. "If they make a mistake, we talk about the experience. 'What did I do right? What could have I done better? Why did this happen? What was the best way to handle the situation?"
As the undergraduate students progress, other classes may include shadowing emergency room personnel and more hands-on work in other clinical sessions. Master's program students are preparing for their final thesis or project, and those projects may be incorporated into Wilson's annual Student Research Day.  
Hart is proud of the progress the program has made since its inception in 2014. She said the CNEA evaluation team expressed how impressed it was with the College's student-faculty relationships, along with the meshing of nursing with liberal arts classes. "At Wilson, we have a very interdisciplinary approach to education, which many institutions strive for but don't achieve," Hart said. "They (the CNEA team) thought that we have something unique here."
Hart is confident the nursing program at Wilson will only continue to grow. "Even though we are a small college and even though it is a brand-new program, it is a state-of-the-art program," she said. "It was a perfect fit for Wilson. So many of the things Wilson stands for were perfect for nursing—the individualized education, the focus on liberal studies, the relationship between faculty and students. All those things make for a better nurse."