The Office of the Chaplain has been awarded a $6,000 grant to allow Wilson students to continue partnering with a central Pennsylvania Presbyterian relief organization, Lend A Hand, to undertake disaster relief trips in 2019.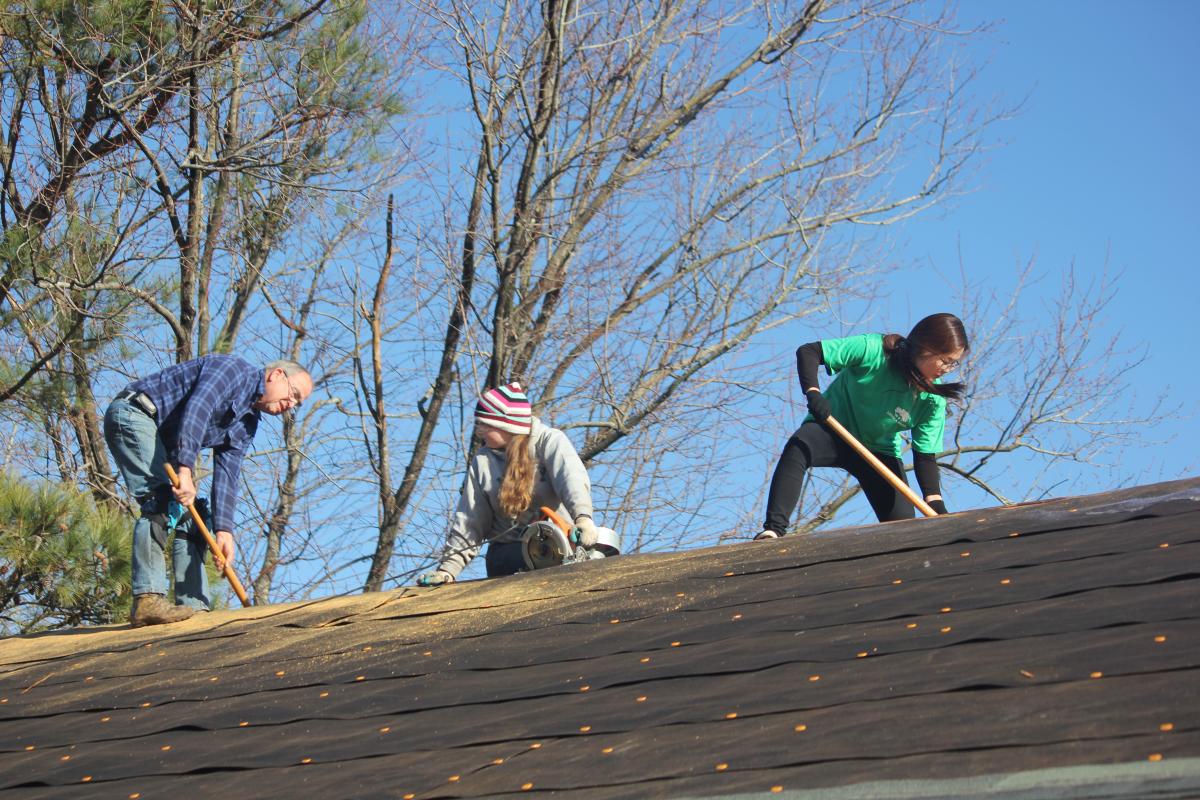 The grant was awarded by the Synod of the Trinity, Presbyterian Church (USA), which oversees 16 Presbyteries in Pennsylvania, West Virginia and Ohio. The Synod has provided the chaplain's office with an annual gift for more than 25 years, but this year, the process was different. "The Synod redefined its giving program this year as a competitive grant for campus ministry," said Margaret Light, Wilson director of corporate and foundation relations. The result was a grant that is significantly greater than in the past.
"I was stunned to get $6,000," said the Rev. Derek Wadlington, the College's Helen Carnell Eden Chaplain. "I think this is a tremendous opportunity and I'm grateful for this funding, which allows us to engage students in a service-learning activity that will return tenfold on its investment."
Last January, Wadlington and nine Wilson students worked with a dedicated group of volunteers in the Lend A Hand group−a disaster relief team coordinated by the Synod's Camp Hill, Pa., base−to help families in Princeville and Tarboro, N.C., where the communities are still struggling to recover from 2016's Hurricane Matthew. The funding for that trip was pieced together with a collection taken at the 2017 Christmas vespers service and money provided by President Barbara K. Mistick's office, Wadlington said.  
With the new funding, Wadlington said his office will be able to take two relief trips in 2019. He plans to lead a return trip to North Carolina over the upcoming January-Term and another relief mission over Alternative Spring Break in 2019, the location of which has yet to be determined.
The disaster relief trips are important, not just in helping Americans in need, but also in terms of developing Wilson students' character, according to Wadlington, who said working with the Lend A Hand volunteers last January was an "awesome" experience for students. "It educated and empowered a number of students who went on the trip in a way that was transformative for them," he said. "It also exposed them to a group of people who give because of their faith … and also offered conversations to folks who want to talk about faith and spirituality. I do believe that spiritual growth and discernment should be part of their college time."
Published: December 13, 2018
Contact
Wilson College
Office of Marketing and Communications
1015 Philadelphia Avenue
Chambersburg, Pa. 17201