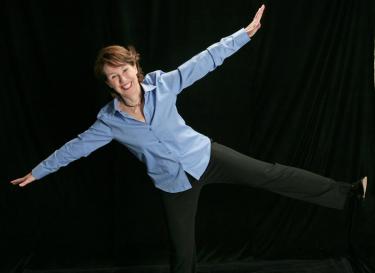 Nationally known comedian Jane Condon will address the Wilson College senior class at the 148th annual commencement ceremony, to be held at 10 a.m. Sunday, May 13. Condon, dubbed "an uppercrust Roseanne" by the Associated Press, has performed on a number of television programs, including ABC's The View, NBC's Today Show and Last Comic Standing, and Lifetime's Girls' Night Out. The Wall Street Journal calls her "a rarity" whose material "never needs to be laundered."
Condon graduated from Wellesley College in 1973 with a Bachelor of Arts degree in political science and later earned a Master of Education in children's television from Harvard University's Graduate School of Education. She began her career as a journalist for Fortune and Life magazines, according to her biography at www.fortyover40, which honored her in 2015 by naming her to its "40 Women to Watch over 40" list.  
While living for a time in Tokyo, Condon authored the 1985 bestselling book, A Half Step Behind: Japanese Women of the '80s, which sold out in Japan. According to fortyover40.com, "… when she would lecture about Japan, people would laugh. A new career was born."
Condon was named "Audience Favorite—New York" on Last Comic Standing. She also won the nationwide "Ladies of Laughter" contest and appears in theaters around the country with the "Ladies of Laughter: Funny and Fabulous" tour. Condon was named one of "10 Comedy Best Bests" in the annual Backstage comedy issue. Her bio at www.fortyover40.com describes her as "a wife and mom who balances her life by getting lots of great material for her stand-up routines from her family, as well as her hometown of Greenwich, Connecticut."
Condon performs at functions ranging from large charity fundraisers to national television. She delivered the 2011 commencement remarks at Wellesley, as well as at the University of New Haven in 2012.
Published: April 9, 2018
Contact
Wilson College
Office of Marketing and Communications
1015 Philadelphia Avenue
Chambersburg, Pa. 17201