Monday, October 1, 2018 - 8 am
Wilson College Common Hour 2018
Food Matters: You Are What You Eat
Mondays at noon in the Learning Commons - John Stewart Memorial Library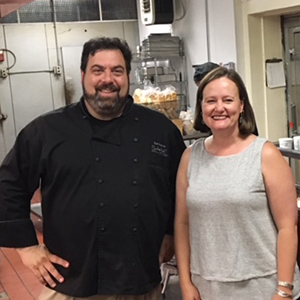 Eat Well—Be Well - Dan Maertz and Mary Beth Williams
Students, faculty and staff members all eat together on a daily basis in Jensen Dining Hall.  This talk will focus on how decisions are made in the dining hall and library café and how all community members can be a part of these important processes.  From using local and regional ingredients to cooking each dish from scratch, the food preparation in the kitchen at Wilson is intentional and ever-changing.  Dan and Mary Beth firmly believe that more informed eaters are healthier eaters and want everyone at Wilson to eat well and be well!
SAGE General Manager Dan Maertz is no stranger to Wilson College. He was the Assistant Food Service Director (AFSD) at the school from 2007-2011 when he was transferred to Anna Maria College to assist in operations there. Two years later, Dan was promoted to Food Service Director at Fay School in Massachusetts. Dan has been with SAGE for eleven years and has continuously stepped up, going above and beyond what was needed and asked of him. He is very happy to be back on campus and getting to know the students, faculty and administration.  He believes that if "you are what you eat," he would be a burrito.
Dr. Mary Beth Williams has served as the vice president for student development and dean of students at Wilson since the summer of 2014.  Two of the many offices she oversees at Wilson are dining services and residential life, and she has worked in higher education for over 19 years.  She is an avid gardener, loves to cook, finds great joy in feeding people, and is a self-proclaimed "foodie."  She believes that if "you are what you eat," she would be a caramel apple.