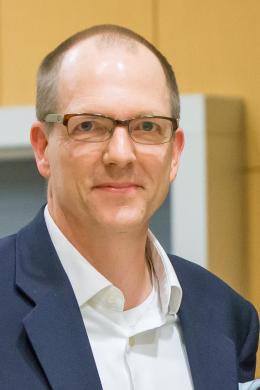 The Henry R. Luce Foundation has awarded a $200,000 grant to the editors of the academic journal Political Theology— Wilson Associate Professor of Religion David True and Vincent Lloyd, associate professor of theology and religious studies at Villanova University's College of Liberal Arts and Sciences.
The Luce grant was awarded to True and Lloyd to help develop an interdisciplinary community of scholars interested in the intersection of religion and politics—building on the intellectual community that has already gathered around the journal, according to True, who also chairs Wilson's Department of Philosophy and Religion.
"Political theology is a subject that's addressed in an array of disciplines," said True. "The grant will help us try to, in some ways, act as a catalysing force for those many different conversations—to try to bring them within shouting distance, so to speak; to try and create something of a shared conversation or at least a shared conversation space."
True, who joined the editorial team of Political Theology in 2004, was originally recruited to serve as a book review editor and later was named journal co-editor. He helped launch the journal's blog, Political Theology Today, which he serves as executive editor.
True, of Camp Hill, Pa., organizes Wilson's annual Orr Forum on matters of religion, as well as the Common Hour discussions held throughout the academic year. He is a current recipient of Wilson's Drusilla Stevens Mazur Research Award.
Published: August 1, 2017
Contact
Wilson College
Office of Marketing and Communications
1015 Philadelphia Avenue
Chambersburg, Pa. 17201