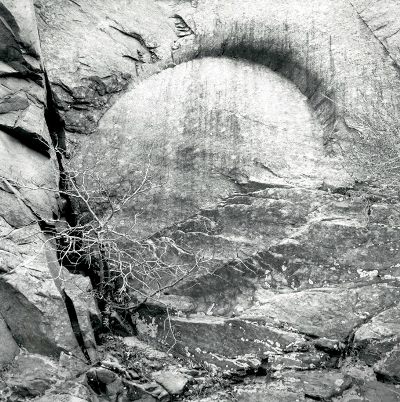 While on a sabbatical from teaching at Wilson College, Associate Professor of Fine Arts R.K. Dickson traveled nearly 10,000 miles over seven months, shooting more than 1,000 black-and-white photographs.  An exhibition of some of those large-format landscape photos entitled Rock. Water. Air. will open Wednesday, Jan. 31, in Wilson's two art galleries: the Bogigian Gallery in Lortz Hall and the John Stewart Memorial Library's Sue Davison Cooley Gallery.
Opening receptions will be held from 4:30 to 6 p.m. that evening in both venues. The receptions and exhibitions are free and open to the public.
Dickson, who lives in Chambersburg, has worked at Wilson since 2003, teaching photography and art history. On his recently completed sabbatical, he took photographs in 16 different states. "These photographs are the result of attention to, and an acknowledgement of, interconnectedness in my surroundings," Dickson said. "They are landscapes, generously interpreted to include details, man-made objects and scenes in what is sometimes called the West Coast rocks and roots tradition of black-and-white, film-based photography."
Although he traveled extensively while working on his sabbatical project, Dickson said his approach "does not require travel, but I find that shifting my setting interrupts habitual thinking and prompts fresh recognition of how objects and form relate to one another."
Originally from Silver Spring, Md., Dickson worked as a geologist and in environmental science in Denver for 25 years before changing course. He studied printmaking with E.C. Cunningham for six years at Metropolitan State College and received a Master of Fine Arts degree in printmaking from Wichita State University in 2002. In photography, Dickson is largely self-taught, but has participated in workshops with Ansel Adams, John Sexton and Paul Caponigro. He pursues a high-formalist style of traditional black-and-white, film-based photography to explore the nature of creativity and the construction of meaning.
Rock. Water. Air. will continue in the Bogigian Gallery through March 10 and in the Cooley Gallery through June 4. The Bogigian Gallery is open 9 a.m. to 5 p.m. Monday through Friday or by appointment. The Cooley Gallery is open from 8 a.m. to 11 p.m. Monday through Thursday; 8 a.m. to 5 p.m. Friday; 9 a.m. to 5 p.m. Saturday; and 1 to 11 p.m. Sunday.
Published: Wednesday, December 8, 2021
Contact
Wilson College
Office of Marketing and Communications
1015 Philadelphia Avenue
Chambersburg, Pa. 17201