High school students attending the Global Vision Christian School in Scotland, Pa., as well as the school faculty and staff, will be able to earn college credits by tak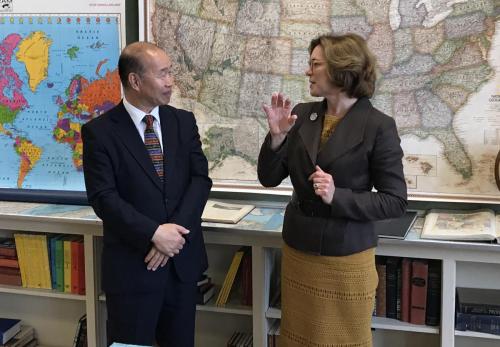 ing courses at Wilson College, under a dual enrollment agreement signed today.
The dual enrollment agreement also makes it possible for Wilson instructors to travel to the GVCS campus—located at the former site of the Scotland School for Veterans Children—to teach courses if there is a large enough cohort of students taking a class, according to David Boisvert, Wilson's interim vice president for enrollment.
The agreement, signed by Wilson President Barbara K. Mistick and GVCS Founder and President Jeanseok Nam (pictured right), allows students, faculty and staff from the South Korea-based school to take Wilson courses at reduced rates.
Founded in South Korea in 2003, GVCS joined with Broadfording Christian Academy at the Scotland campus in 2015 to establish an international, faith-based high school aimed at cultivating future global leaders, according to Joshua Kang, the school's principal. He said the school has more than 90 high-achieving students from all over the world in grades 9 to 12.
"A lot of our students want more—they want challenges other than just regular high school classes," said Kang, who is particularly impressed with Wilson's state-of-the-art science labs. "This will give more options to our students."
Although the dual enrollment agreement was not officially finalized until today, a total of seven GVCS students are enrolled in classes at Wilson this fall, with five taking biology and two taking a chemistry course, Boisvert said.
Wilson is focused on formalizing similar agreements with area schools as part of its commitment to making a college education more affordable. "Students attending Wilson early benefit not only by being exposed to the academic rigor of college but by earning college-level credit at a discount they can finish college more quickly, saving on the eventual cost of their degree," Wilson President Barbara K. Mistick said.
Some students entering Wilson College in recent years have brought as many as 21 college credits with them, shaving more than a typical 15-credit semester off their completion schedule. "It's really all about time to completion," Boisvert said. "If you save a semester's worth of expenses, that equates to thousands of dollars. We're going to see more and more of this as time goes on."
Today's prospective college students are different from those 20 or 30 years ago, according to Boisvert, describing them as "entrepreneurial" in their approach to finding the best education deal possible and minimizing their costs. "They have a plan. They know what they want," he said. "They look for opportunities."
Named a "best value" college by U.S. News & World Report last week, Wilson has frozen or reduced tuition for the past seven years and recently made the first monetary awards through a student loan buyback program that rewards students for academic performance and campus involvement by paying back some of students' federal Stafford loans. 
Published: September 27, 2017
Contact
Wilson College
Office of Marketing and Communications
1015 Philadelphia Avenue
Chambersburg, Pa. 17201