In her article for the Wilson Magazine, intern Karlee Johnston described one of her favorite items from the Elizabeth McGeorge Sullivan '38 Collection. Johnston worked extensively with the Collection to scan and photograph artifacts for the Archives' databases. She also gave a talk to the Wilson community on Sullivan's life.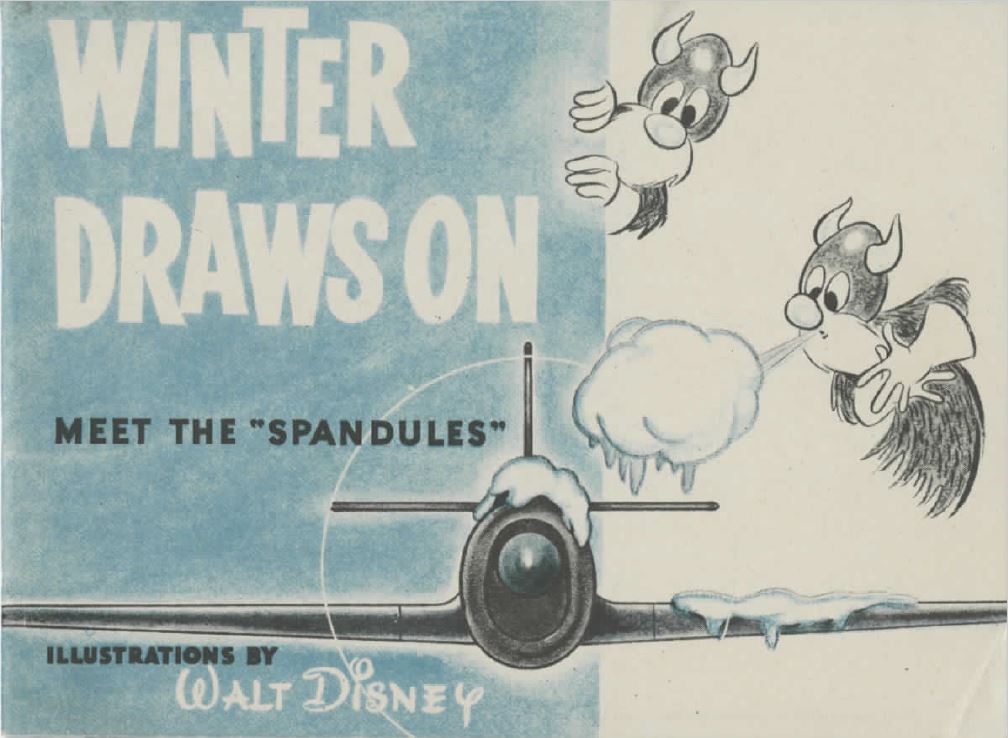 Winter Draws On: Meet the Spandules
The C. Elizabeth Boyd '33 Archives at the Hankey Center includes the extensive collection of Elizabeth McGeorge Sullivan '38, who was one of 1,074 women—and Wilson College's only alumnae—to volunteer with the Women Airforce Service Pilots (WASP) program during World War II.

A recent project to scan and photograph the various artifacts in the Sullivan collection uncovered something unique. In a folder marked "Flight Manuals and Training Books" resides a small, blue and white booklet with very distinctive illustrations, entitled Winter Draws On: Meet the Spandules.
This booklet was one of the many instructional aids that Walt Disney Productions released in conjunction with the Safety Education Division Flight Control Command during World War II. Published in 1943, the booklet was distributed to pilots of the Army Air Forces to warn of the dangers of flying during cold weather and the importance of keeping the plane's carburetor free of ice.
Walt Disney Productions created a number of wartime instructional materials during World War II, all with a similar goal: to disseminate important information in a fun, appealing and memorable manner. For Winter Draws On, Disney illustrators created the Spandules, creatures resembling horn-helmeted Viking ghosts, to give life to the wintertime hazards faced by pilots.

So, who were the Spandules? The booklet introduce these mysterious creatures as fun-loving, mischievous characters that inhabit the airspace above 30,000 feet and venture to the ground during the cold months to play pranks on pilots who "look sound asleep or a little thick between the ears." As long as the pilots were diligent and followed the tips offered in the 28-page manual, the Spandules' disruptions were manageable.
The booklet also informed readers that the Spandules were a close relative of Gremlins, another brand of mythical imps inclined to cause mechanical troubles in aircrafts. The Gremlins had been causing problems for the English Royal Air Force for years when one of their airmen, Roald Dahl, decided to make their presence known to the world by writing a children's book, The Gremlins, which detailed their misadventures.
Dahl's book reached the hands of Walt Disney in 1942, and talks of an animated short film featuring the Gremlins began. Disney even created female Gremlins called Fifinellas in anticipation of the film. However, due to copyright disputes, the film never came to be. But out of this collaboration with Dahl, Disney was inspired to bring the dangers of cold weather hazards to life with the cartoon illustrations of the Spandules—and illustrators also provided the WASPs with their mascot, Fifinella, the flying female Gremlin. 
-- Karlee Johnston, a Shippensburg University applied-history graduate student, Hankey Center intern '16