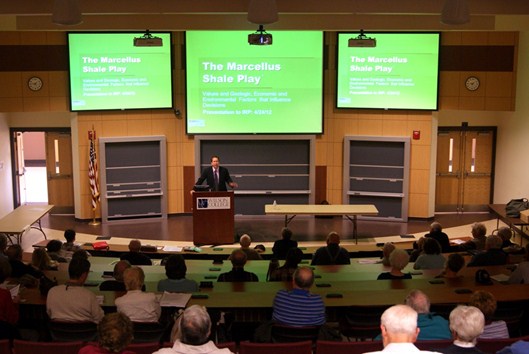 Meeting Areas
4 Auditoriums:
Laird Hall:  750 capacity with 30'x30' stage.  Ideal versatile space that can be used for dances, banquets, exhibitions, and performances.
Alumnae Chapel in Thomson Hall:  600 capacity with 30'x12' stage.  Equipped with two Steinway pianos and a classic Möller organ.
Brooks Complex Auditorium:  323 capacity.  Ideal for lectures and demonstrations.  Audio visual equipment and high-speed internet connection available.
Warfield Allen Auditorium:  100 capacity.  Equipped with large-screen TV with VCR and other audio visual equipment.
8 small meeting rooms include elegant, formal and informal lounges and board rooms for workshops and seminars - capacity ranges from 10 - 60 people.
25 classrooms:  capacity ranges from 10 - 50 people.
Dining Facilities
Meals for conference groups are all-you-can-eat, served cafeteria style in our Dining Hall with choices of entrees and salad bar.  Formal sit-down banquets, picnics and barbecues can be provided with sufficient advance arrangements.
Accommodations
We can provide overnight accommodations for up to approximately 350 guests when students are off campus (i.e., during summer break) and 100 guests when classes are in session.  There are a total of five residence halls.  Four of these have double and single rooms with bathroom and shower facilities on each floor.  Riddle Hall is equipped with semi-private baths.  Families and couples are given preference for this facility when possible.  Pets are not permitted.
Leisure
While at Wilson, relaxation and recreation are yours.  Take a long walk around our beautiful, safe campus or take advantage of our sports facilities and fieldhouse, including our tennis courts.  Feel free to visit our Richard Alsina Fulton Center for Sustainable Living and learn about our #1 ranked Community Supported Agriculture program.  The surrounding Cumberland Valley offers many exciting activities that range from snow skiing at nearby Whitetail Mountain Resort to scenic and historical parks such as the Gettysburg and Antietam battlefields, and the Appalachian Trail. Opportunities for shopping, antiquing, and golf are also nearby.