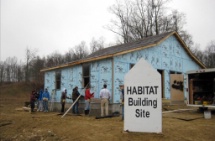 While Wilson College students have made a tradition of Alternative Spring Break trips with Habitat for Humanity, this year the students have gone the extra mile. Wilson's new Habitat for Humanity Club is a national college chapter. This student group works throughout the year to plan the Alternative Spring Break trip, as well as working with the local Chambersburg Habitat for Humanity Chapter on local builds at least one weekend a semester.
Alternative Spring Break
Alternative Spring Breaks provide an opportunity for students to concentrate their community service efforts into one week. Instead of going home or on vacation, students "give up" their break, to give someone else a break. Most ASBs involve travel, with opportunities to do some sightseeing along the way. All ASBs include the opportunities to serve, learn, and have fun!
How Much Does It Cost?
It depends on how much money we raise doing fundraisers! Generally, students pay about $100 a year, which includes all expenses. The actual cost per student is between $300 and $700. The difference is made up by donations from local churches, offerings at special chapel services, and fundraisers. If you'd like to help us raise money, just call 717-264-2062.
History
Wilson's first Alternative Spring Break took place in 1995. That year, 10 Wilson students and the chaplain headed to Drift, KY to rebuild homes for the elderly poor of that region. In 1997, 6 students plus the chaplain spent their spring break at the N. Street Village Shelters for Homeless Women in Washington, DC. In 1998, a large group (15) headed to St. Petersburg, FL, where they helped build homes for God's people in need with Habitat for Humanity. 
Over the past years students have traveled to various places to build homes through the Habitat for Humanity Collegiate Challenge. For more information, check out the Collegiate Challenge Website.
Contact
Derek Wadlington
Helen Carnell Eden Chaplain
derek.wadlington@wilson.edu
717-264-2062