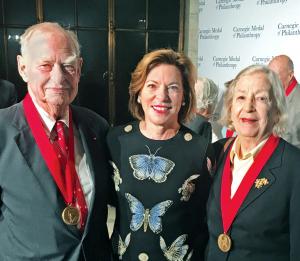 H.F. "Gerry" Lenfest, husband of Wilson alumna Marguerite Brooks Lenfest '55, passed away August 5 at the age of 88.
Following a successful career that brought them great financial wealth, he and Marguerite began a new career – sharing their fortune in support of charities and organizations. Since selling their cable television company, Lenfest Communications, to Comcast Corp. in 2000, the Lenfests have devoted their time and energy to various philanthropic efforts. Individually and through the Lenfest Foundation, the couple has contributed millions to scores of causes, including their alma maters - Marguerite's being Wilson College and Gerry's including Mercersburg Academy, Washington and Lee University and Columbia University.
Personally and through the Lenfest Foundation, the couple has made gifts of more than $1.3 billion to over 1,100 organizations, supporting causes ranging from the arts to environmental programs to independent journalism. But their highest priority has always been to build self-sufficiency through education, according to the foundation website.
During Wilson's "Leading with Confidence" capital campaign, the Huntingdon Valley, Pa., couple pledged a total of $20 million toward the college's endowment, and over the years, the Lenfests have supported Wilson's annual fund and unrestricted endowment, student scholarships, faculty development, Single Parent Scholars Program and facilities renovations — including a 2013 gift of $3.6 million to the Reimagining the John Stewart Memorial Library (JSML) renovation project that created Lenfest Learning Commons, a student gathering and study space.
"We had a wonderful campus visit with Gerry and Marguerite during the campaign to reimagine the JSML," Wilson President Barbara K. Mistick said. "We sat and chatted up on the second floor of the library which gave a great view over our academic quad and toward the Harry R. Brooks Science Complex, named in honor of Marguerite's father. It was special. Their vision for and generosity to Wilson over many decades has been truly extraordinary and their legacy will always be apparent."
The couple's philanthropy has also included funding the Lenfest College Scholars program for central Pennsylvania high school students. In 2017, the Lenfests were recipients of the Carnegie Meal of Philanthropy in recognition of their outstanding and innovative leadership in philanthropy.
Services will be private, and a public celebration of his life is being planned for the fall at the Academy of Music.
Published: August 6, 2018
Contact
Wilson College
Office of Marketing and Communications
1015 Philadelphia Avenue
Chambersburg, Pa. 17201