April 7, 2017
Chambersburg, Pa. — Wilson College sophomore Keion Adams has been named a Campus Compact 2017 Newman Civic Fellow, an honor given to "community-committed" students who have demonstrated "an investment in finding solutions for challenges facing communities throughout the country and abroad."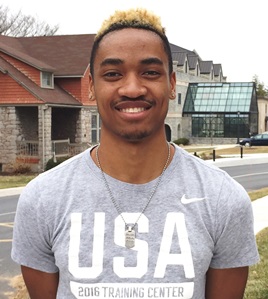 Adams, one of 273 Newman Fellows named across the country, is the student director of Wilson's campus food pantry and volunteers with the college's Student-Athlete Mentor (SAM) program, which provides peer-to-peer mentorship and guidance for first-year students to help them adjust to the demands of college. He has been active in volunteerism since childhood.
Adams is majoring in exercise and sport science and is a Wilson College Curran Scholar. The son of Kim and Juanita Adams of Gaithersburg, Md., he is forward on the college's men's basketball team and was selected as one of the top 18 players in the North Eastern Athletic Conference for 2016-17.

Campus Compact is a Boston-based, nonprofit coalition of more than 1,000 colleges and universities committed to "the public purposes of higher education." Reserved for Campus Compact member institutions, the Newman Civic Fellowship honors the late Frank Newman, one of Campus Compact's founders and a tireless advocate for civic engagement in higher education.

The fellowship is a one-year experience emphasizing personal, professional and civic growth. Through the fellowship, Campus Compact provides a variety of learning and networking opportunities, including a national conference of Newman Civic Fellows in partnership with the Edward M. Kennedy Institute for the U.S. Senate. The fellowship, which is supported by the KPMG Foundation and Newman's Own Foundation, also provides fellows with access to exclusive scholarship and post-graduate opportunities.

"The cultivation of community-committed leaders has never been more crucial," said Campus Compact President Andrew Seligsohn, who added that "our country needs more people who know how to bring communities together for positive change."

For more information about Campus Compact, visit www.compact.org.

MEDIA CONTACT:    
Cathy Mentzer, Manager of Media Relations
Phone: 717-262-2604
Email: cathy.mentzer@wilson.edu
__________________________________
Founded in 1869, Wilson College is a private, coeducational liberal arts college offering bachelor's degrees in 34 majors and master's degrees in education, educational technology, special education, the humanities, accountancy, management, nursing, fine arts and healthcare management for sustainability. Wilson is committed to providing an affordable education that offers value to its students beyond graduation.

Located in Chambersburg, Pa., the college has a fall 2016 enrollment of 1,098, which includes students from 18 states and 16 countries. Visit www.wilson.edu for more information.
Published: Monday, December 6, 2021
Contact
Wilson College
Office of Marketing and Communications
1015 Philadelphia Avenue
Chambersburg, Pa. 17201