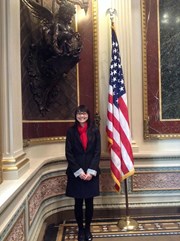 Kotcha in the Eisenhower Executive Office Building
"What do I do after graduation?" has been the scariest question for me until I attended PLEN's Science and Health Policy seminar. Not only did I learn about new career opportunities for women scientists, I gained a set of tools that will guide me toward a successful career, such as following your passion, networking, and salary negotiation. From the valuable experiences of inspiring panelists, I learned that there are rarely straight paths to a successful career, but there are no dead ends either; there are always opportunities if you open yourself up to them. I am more confident about my future and for this, I owe Wilson College for making this experience happened. It is worth every penny of it!
Submitted by: Kotchaphorn Mangkalaphiban, after attending PLEN's January 2014 Science and Health Policy Seminar in Washington, D.C.