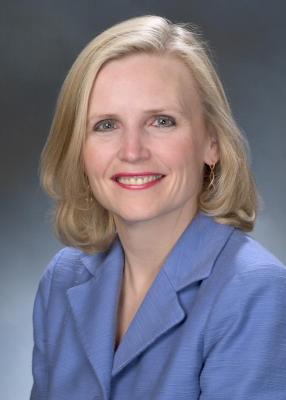 Recognized for her legal and business acumen, as well as her work on behalf of women and equality issues, Clorox Executive Vice President and General Counsel Laura Stein will address the graduating class at the 149th annual Wilson College commencement ceremony, to begin at 10 a.m. Sunday, May 19.
Stein, who will receive an honorary Doctor of Laws degree from the college, is an attorney who has had a successful career in business and been recognized with a number of awards for her work as a lawyer, businesswoman and volunteer.
This year, approximately 151 students will receive bachelor's and associate degrees during Wilson's commencement ceremony, which will be held outside on the college's main green. (In case of rain, the ceremony will be held in Laird Hall.) Approximately 97 graduates of Wilson's master's degree programs in accountancy, education, educational technology, special education, fine arts and nursing will receive degrees.
A baccalaureate service will be held at 4:30 p.m. on Saturday, May 18, in Thomson Hall's Alumnae Chapel.
Stein has been executive vice president and general counsel of The Clorox Co. since 2015. The following year, she was given additional responsibility for corporate affairs. Stein, who speaks six languages, is responsible for global legal, compliance, communications, corporate responsibility/ESG, community affairs, enterprise risk management, internal audit, crisis management/business continuity, security and government affairs matters for Clorox. Before joining Clorox, she was senior vice president and general counsel at the H. J. Heinz Co.
Stein's work has been recognized by numerous organizations, including the American Bar Association, which has given her its Margaret Brent Award─the organization's highest award for women. She has also received the Legal Momentum Women of Achievement Award, Sandra Day O'Connor Board Excellence Award, Ted Craig Humanitarian Award and Corporate Board Member America's Top General Counsel Recognition Award. The National Law Journal named Stein as one of the 20 most influential general counsel in America.
Stein received a Juris Doctor from Harvard Law School in 1987 and has bachelor's and master's degrees from Dartmouth College.
Published: April 30, 2019
Contact
Wilson College
Office of Marketing and Communications
1015 Philadelphia Avenue
Chambersburg, Pa. 17201