On April 4, the nursing program at Wilson College inducted 40 students and community members into its new nursing honor society during a ceremony at the college.
Members were welcomed into the society by the organization's president, Sherri Stahl, Summit Health senior vice president of hospital services and chief nursing officer at Chambersburg Hos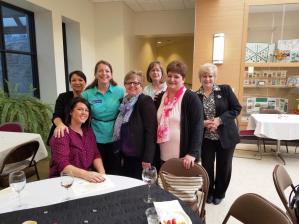 pital. Wilson Vice President for Academic Affairs Elissa Heil was the guest speaker. Inductees of the honor society recited a pledge of membership.
The Nursing Honor Society at Wilson College was created, in part, as a forum to advance the profession within the Chambersburg community, according to Carolyn Hart, director of Wilson's nursing program. "The purpose of the honor society is to support nursing scholarship and career advancement through mentorship and educational opportunities," she said.
Wilson's goal is for the college honor society to become a chapter of the Honor Society of Nursing, Sigma Theta Tau International, in 2018, Hart said. SITI is a non-governmental organization that promotes nursing scholarship and advises the United Nations on global healthcare.
To become a member of Wilson's honor society, nurses from the community must be invited and hold a bachelor's degree or advanced degree in nursing. Students in Wilson's bachelor's and master's degree programs in nursing who have completed at least three-quarters of their education and have a grade-point average of 3.0 or higher are also eligible for membership.
Wilson's nursing program, which began in 2014 with two programs that allowed existing registered nurses to earn bachelor's and master's degrees in nursing, has been growing steadily. Four nursing pathways are now offered, including a Bachelor of Science degree in nursing (BSN) and Master of Science in nursing (MSN). The first BSN completers graduate this month.
In February, Wilson's nursing program received accreditation from the National League for Nursing's Commission for Nursing Education Accreditation (CNEA), an indication of excellence and adherence to nationally established standards for nursing education.
For information about Wilson's nursing programs or to register, contact Hart at 717-262-4853, 717-414-6184 or carolyn.hart@wilson.edu.
Published: October 13, 2017
Contact
Wilson College
Office of Marketing and Communications
1015 Philadelphia Avenue
Chambersburg, Pa. 17201