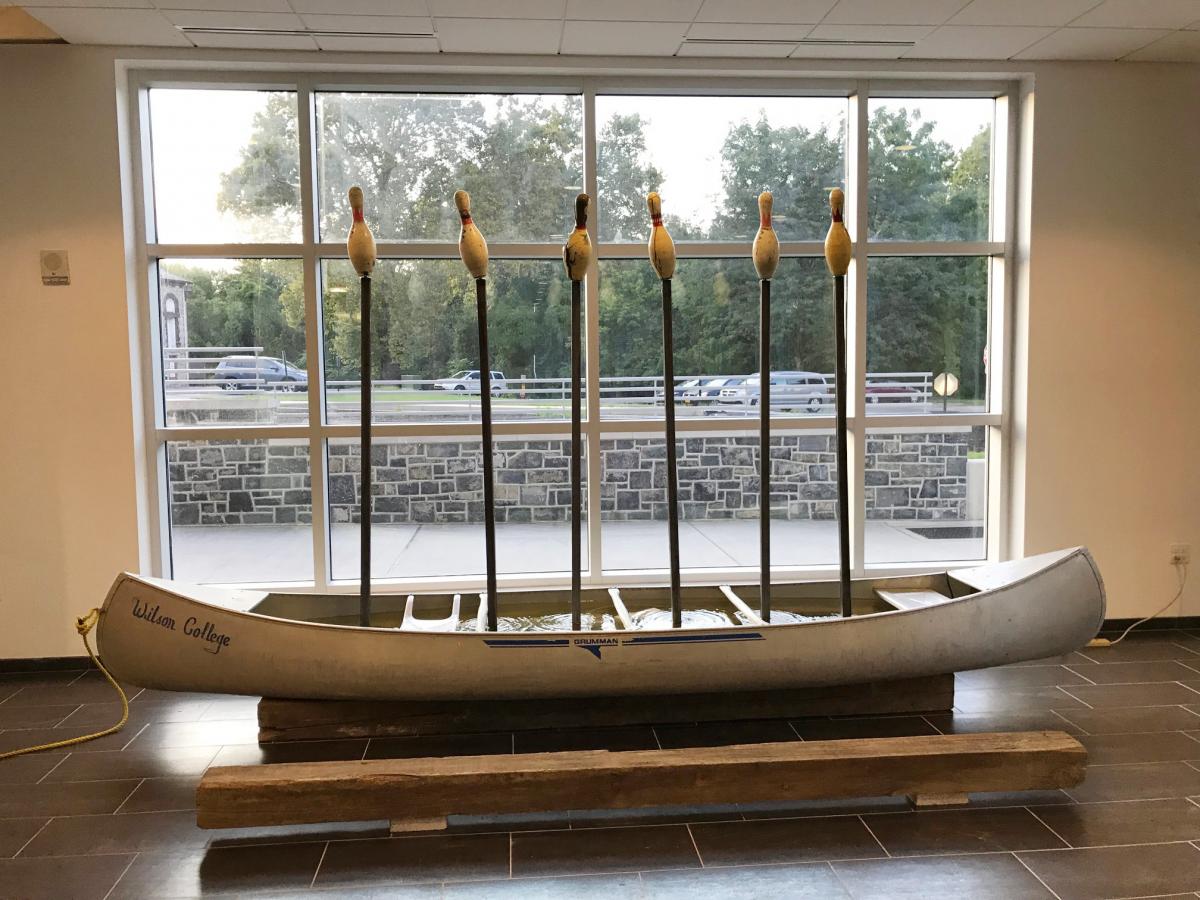 An art exhibition celebrating the 150-year history of Wilson College–created by Baltimore artist Jim Condron using college relics and artifacts–opens Wednesday, Sept. 4, in the Wilson library's Sue Davison Cooley Gallery. The exhibition, You Never Wash it Off Completely, will run through Dec. 15.
Condron, an instructor in Wilson's Master of Fine Arts program, will discuss his inspiration for the exhibition as part of the Wilson College Common Hour series of lectures at noon on Monday, Sept. 16. Those attending will be invited to view the installations and then participate in a conversation with the artist moderated by M.F.A. Program Director Joshua Legg. 
To mark the Sesquicentennial, Condron worked with Wilson archivists, professors and students to construct compelling art installations from historic artifacts. He chose objects such as residence hall and antique bed frames, including one that once belonged to Sarah Wilson, the college's original benefactor and namesake, and one belonging to Col. Alexander McClure, on whose land Wilson College was built. The exhibition also incorporates a Wilson canoe and vintage bowling pins, as well as early school uniforms, blazers and banners from the college's early years.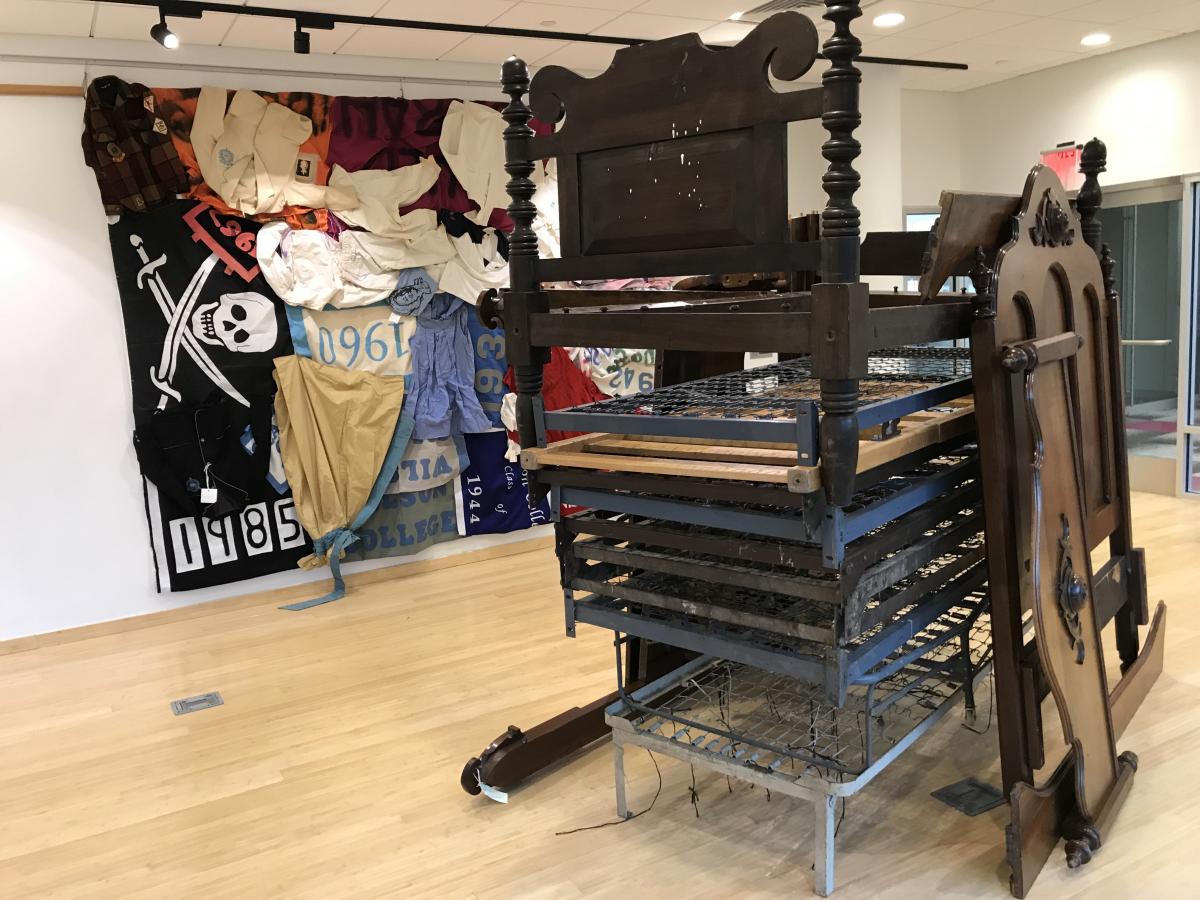 In Condron's works, nostalgia, stamina, repression, chance, expression and vitality are in visual dialogue with the ephemeral materials of life that people and institutions choose to preserve or collect to create a legacy. Each work is titled with a textual fragment from literature by an array of authors such as Toni Morrison and Ray Bradbury, with the intention of adding to the piece's rhetoric rather than naming or defining it.
"A typical archives exhibit has a literal feeling with traditional objects arranged with descriptive labels, but in this art installation, Condron magnificently captures both the feeling of belongingness, as well as the fleeting nature of each individual's experience," said Amy Ensley, director of Wilson's Hankey Center for the History of Women's Education. "This is about shared memories across time and the celebration of a community that endures."
Condron, originally from Long Island and Connecticut, earned his M.F.A. at the Maryland Institute College of Art's Leroy E. Hofffberger School of Painting. He has a bachelor's degree in art and English from Colby College in Maine and also studied at the New York Studio School of Drawing, Painting and Sculpture. His work appears nationally and internationally in galleries and museums, as well as in corporate, university, public and private collections. Condron has been awarded artist residencies at the Virginia Center for the Creative Arts, Edward F. Albee Foundation and Heliker LaHotan Foundation. He is a 2017 recipient of a Pollock Krasner Foundation grant, an Adolf and Esther Gottlieb Foundation grant and a Maryland State Arts Council grant for sculpture. More information about the artist can be found at www.jcondron.com.
Admission to the Cooley Gallery (www.wilson.edu/cooley-gallery) is free and open to the public. Hours are 8 a.m. to 11 p.m. Monday through Thursday, 8 a.m. to 5 p.m. Friday, 9 a.m. to 5 p.m. Saturday and 1 to 11 p.m. Sunday. For more information or an appointment, contact Joshua Legg at 717-264-2781 or joshua.legg@wilson.edu.
Published: Sunday, December 5, 2021
Contact
Wilson College
Office of Marketing and Communications
1015 Philadelphia Avenue
Chambersburg, Pa. 17201