FOR IMMEDIATE RELEASE  |  March 29, 2016
Chambersburg, Pa. — The 2016-17 Orr Forum at Wilson College will host Professor Henry Mugabe, a theologian and president of the Zimbabwe Theological Seminary who will present two lectures on Tuesday, April 4. The lectures are free and open to the public.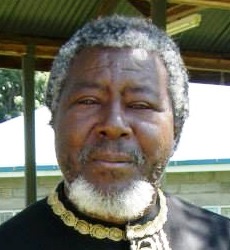 Mugabe, who has been lauded for his work on theology from an African perspective, will give his first lecture at noon in the John Stewart Memorial Library's Lenfest Learning Commons. In "A New Christianity in Africa: The Health and Wealth Gospel in a Sea of Poverty," Mugabe will examine theologies of prosperity in the context of disease and poverty, raising the question of whether these theologies liberate or continue to enslave followers.
Mugabe's second lecture, "The Practice of African Traditional Religion in Modern African Society," will be held at 5 p.m., also in the library's Learning Commons. In this presentation, Mugabe will discuss the practice of African Traditional Religion in modern African society, highlighting the nature of the religion and its ethical concerns for preserving and enhancing life.
Mugabe is teaching and preaching throughout the United States this spring as part of his goal of building partnerships between churches here and his native Zimbabwe, as well as with the Zimbabwe Theological Seminary. Mugabe has a doctorate from the Southern Baptist Theological Seminary in Louisville, Ky. He has served as a visiting professor at the Wake Forest School of Divinity in Memphis, Tenn., and the Baptist Theological Seminary at Richmond in Virginia. The Society of Christian Ethics recently named him one of two Global Scholars for his work on theology from an African perspective.
Begun in 1964, the Orr Forum is Wilson College's most widely known and prestigious academic event. Before the establishment of the Orr Forum, Wilson sponsored annually what was called "Devotional Week," with a series of chapel services, sermons and a communion service. In 1962-63, Associate Professor of Bible and Religion Harry Buck and Professor Graham Jamieson, who chaired the Department of the Bible and Religion, proposed using a fund established by Thomas J. Orr in honor of his parents Mary and William, to start an endowed lecture series that would bring to campus outstanding thinkers in various aspects of religion studies. Topics addressed by the Orr Forum have reflected the wide and shifting interests in religion studies in America, including such topics as bioethics, race relations, the relationship of church and state, the nexus between religion and environmental issues, the AIDS crisis and contemporary Islam.
For more information visit: www.wilson.edu/common-hour.
MEDIA CONTACT:       
David True, Associate Professor of Religion
Phone: 717-460-8228
Email: david.true@wilson.edu
__________________________________
Founded in 1869, Wilson College is a private, coeducational liberal arts college offering bachelor's degrees in 34 majors and master's degrees in education, educational technology, special education, the humanities, accountancy, management, nursing, fine arts and healthcare management for sustainability. Wilson is committed to providing an affordable education that offers value to its students beyond graduation.
Located in Chambersburg, Pa., the college has a fall 2016 enrollment of 1,098, which includes students from 18 states and 16 countries. Visit www.wilson.edu for more information.
Published: April 11, 2017
Contact
Wilson College
Office of Marketing and Communications
1015 Philadelphia Avenue
Chambersburg, Pa. 17201