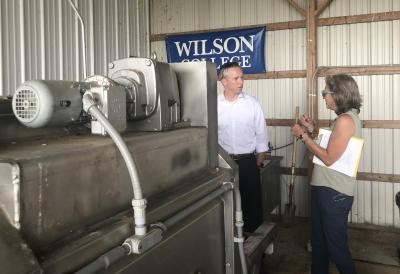 Pennsylvania Executive Deputy Secretary of Agriculture Michael Smith visited Wilson College Friday, Sept. 7, and toured Fulton Farm as part of the agriculture department's ongoing Planting the Seed initiative. Smith met with President Barbara K. Mistick before touring the farm with Fulton Center for Sustainability Studies Director Chris Mayer.
"The Fulton Farm is an excellent resource, not just for Wilson College, but for the surrounding community," said Smith. "Its commitment to stewardship, sustainability, education and outreach provides students and their neighbors the chance to pursue and explore all of the opportunities available in agriculture." 
Dedicated to environmental stewardship, the seven-acre organic farm's goals include using a minimal amount of non-renewable resources; minimizing pollution of the soil, water, and air on the farm and "downstream"; promoting biodiversity; ensuring farm worker safety and health; and providing healthy, locally produced food for the campus and community. The farm is part of a Community-Supported Agriculture (CSA) program, providing produce to more than 125 community members. The farm is part of the Fulton Center for Sustainability Studies, which teaches students how to promote sustainability in food production, energy, transportation and land stewardship.
"We are so pleased to have Deputy Secretary Smith visit Wilson College and Fulton Farm," Mayer said. "Our farm has been a model for community-supported agriculture at since 1996 and as Wilson's hands-on home for environmental education, we continue to educate students of all ages for humane stewardship of our communities and our world."
Pennsylvania agriculture is a $135 billion industry with a lot of opportunity, but is also one that is facing several challenges, including an aging workforce, according to the agriculture department. It said attrition and advancing technologies will result in a workforce deficit of nearly 75,000 over the next decade. The Planting the Seed Tour aims to engage and educate the next generation about the many education and career opportunities available in Pennsylvania agriculture.
Published: September 7, 2018
Contact
Wilson College
Office of Marketing and Communications
1015 Philadelphia Avenue
Chambersburg, Pa. 17201