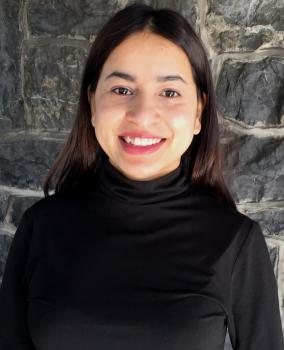 Wilson College sophomore Pratikshya Gaihre has been named a Campus Compact 2018 Newman Civic Fellow, an honor given to civic-minded students who have demonstrated "an investment in finding solutions for challenges facing communities throughout the country and abroad."
Gaihre, one of 269 Newman Fellows named across the country, is an international student from Kathmandu, the capital city of Nepal. She is a Wilson College Curran Scholar who volunteers with the college's tutoring program for children from migrant worker families, as well as with Menno Haven's Elder Day adult daycare program at Penn Hall. She is parliamentarian for the Wilson College Government Association and is a member of Wilson's international student club. She also works as a resident adviser (RA).
Gaihre, who is majoring in accounting and financial mathematics, has a history of civic engagement activities in high school. As president of a social service club, Gaihre—with the help of her parents—raised $15,000 to buy and install solar panels to provide electricity for 14 families and a school in the remote village of Bhojpur in eastern Nepal.
"I did it because there are so many students, especially in rural areas, that help their parents with households or take care of their farms," said Gaihre, adding that they are only able to study at night—which is difficult without electricity. After a bus ride of more than 12 hours, Gaihre and the installers from the company she purchased the solar panels from had to walk seven more hours to get to the village. "It was hard, but it was worth it," she said.
When Gaihre was in 11th grade, she was part of an effort that donated computers and books to establish a library in a poor village in the western part of Nepal.
"It just makes me happy," said Gaihre of helping people. After graduating from Wilson, she wants to continue her studies and get a master's degree in the same field. Then she plans to return to Nepal and find a job—perhaps with the United Nations, a UN-based organization or an international corporation—and continue helping Nepali people in need.
"I'm interested in providing service to the people. There are rural places in Nepal that need to be helped," she said. "I would also like to do something related to accounting."
Gaihre is Wilson's third Newman Civic Fellow. The fellowship, named for Campus Compact co-founder Frank Newman, is a one-year experience emphasizing personal, professional and civic growth. Through the fellowship, Campus Compact provides a variety of learning and networking opportunities, including a national conference of Newman Civic Fellows in partnership with the Edward M. Kennedy Institute for the United States Senate. The fellowship also provides fellows with access to apply for exclusive scholarship and post-graduate opportunities.
Campus Compact is a Boston-based, nonprofit coalition of more than 1,000 colleges and universities committed to "the public purposes of higher education."
"We are thrilled to have the opportunity to celebrate and engage with such an extraordinary group of students," said Campus Compact president Andrew Seligsohn. "The stories of this year's Newman Civic Fellows make clear that they are bringing people together in their communities to solve pressing problems. That is what Campus Compact is about, and it's what our country and our world desperately need."
For more information about Campus Compact, visit www.compact.org.
Published: March 5, 2018
Contact
Wilson College
Office of Marketing and Communications
1015 Philadelphia Avenue
Chambersburg, Pa. 17201