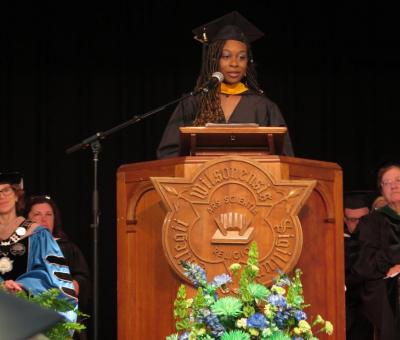 Rain forced the 148th annual Wilson College commencement ceremony indoors on May 13, but that didn't dampen the mood of the assembled graduates, guests and speakers, thanks in large part to the address delivered by comedian and author Jane Condon.
True to form, Condon kept the audience assembled in Laird Hall laughing throughout. Condon, who received an honorary degree presented by President Barbara K. Mistick, used some of her favorite quotations as a way to dispense pithy advice to the Class of 2018, mixing quotes from historical icons such as Winston Churchill, William Shakespeare and Margaret Mead with those of comedians like Robin Williams, Lily Tomlin and Wendy Liebman.
Condon also shared some advice she said she has given to her own two sons: "You can't always control the world, but you can choose your attitude—whether to be positive or negative. You can make a zone of kindness wherever you go."
Approximately 214 degree candidates were recognized during commencement, including 113 graduate students and 101 bachelor's and associate degree students—all of whom must complete Wilson degree requirements in order to receive diplomas.
During the ceremony, Wilson Trustee Robin J. Beinstein conferred trustee emerita status in absentia on Marguerite Brooks Lenfest '55. Lenfest of Huntingdon Valley, Pa.—a former Trustee and, with husband Gerry, generous donor to her alma mater—was unable to attend commencement, but was honored at an event in April at Longwood Gardens.
Associate Professor of Computer Science Donald Kelley, who is retiring after nearly 20 years of service, was recognized with trustee emeritus status.
For more on the commencement festivities, including photos and a video of the entire ceremony, go to wilson.edu/commencement.
Published: May 16, 2018
Contact
Wilson College
Office of Marketing and Communications
1015 Philadelphia Avenue
Chambersburg, Pa. 17201