In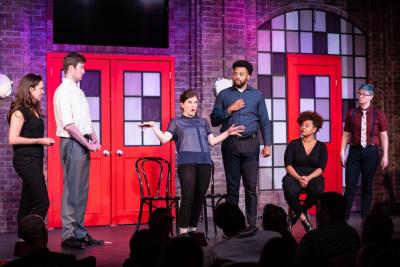 The Second City, Greatest Hits Vol. 59, today's audiences can watch the next generation of comedy superstars put its spin on the best of the legendary Chicago improv troupe's hits during a show at Wilson College at 7 p.m. Saturday, Sept. 21, in Laird Hall.
From sketch comedy to original songs to world-famous improv, the show will leave audiences rolling in the aisles as The Second City celebrates nearly 60 years of cutting-edge satirical revues, rebooted and reimagined for today.
The Second City opened its doors in Chicago in 1959 and the small caberet theater grew to become the most influential improv comedy company in the world. It launched the careers of some of the biggest names in the genre-from John Belushi and Dan Akroyd to Stephen Colbert, Tina Fey, Steve Carrell, Bill Murray and many, many more.
This show is rated PG-13. Tickets are $15 per person for general admission and can be purchased at the door or in advance at https://www.eventbrite.com/e/the-second-city-greatest-hits-vol-59-wilson-college-performing-arts-series-tickets-65559270543. Wilson College students, faculty and staff get in free with ID. For more information, contact Wilson Director of Conference and Special Events Kelsey Young at 717-262-2847 or kelsey.young@wilson.edu.
Published: September 9, 2019
Contact
Wilson College
Office of Marketing and Communications
1015 Philadelphia Avenue
Chambersburg, Pa. 17201