Monday, September 16, 2019 - 8 am
This year's Common Hour, Living Boldly, is inspired by Wilson's sesquicentennial celebration marking 150 years of bold Wilson students. The fall series, which kicks off on September 2, will feature 11 talks and one dance performance. In the spirit of fostering critical thinking about pressing issues and big questions, all Common Hour events are free and open to the public.
You Never Wash It Off Completely
You Never Wash It Off Completely is an art exhibition celebrating the 150-year history of Wilson College–created by Baltimore artist Jim Condron using college relics and artifacts. Condron worked with Wilson archivists, professors and students to construct compelling art installations from historic artifacts. He chose objects such as residence hall and antique bed frames, including one that once belonged to Sarah Wilson, the college's original benefactor and namesake, and one belonging to Col. Alexander McClure, on whose land Wilson College was built. The exhibition also incorporates a Wilson canoe and vintage bowling pins, as well as early school uniforms, blazers and banners from the college's early years.
Jim Condron, an instructor in Wilson's Master of Fine Arts program, will discuss his inspiration for the exhibition as part of the Wilson College sesquicentennial celebration. Those attending will be invited to view the installations and then participate in a conversation with the artist moderated by M.F.A. Program Director Joshua Legg.  Refreshments will also be served.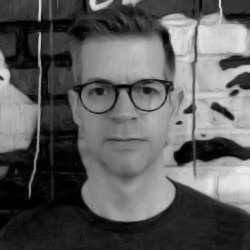 Jim Condron
Artist of the undefinable
Originally from Long Island, NY and Connecticut, Jim Condron earned his MFA at the Hoffberger School of Painting at the Maryland Institute College of Art (2004) and a BA in Art and English from Colby College, Waterville, ME (1992). He also studied at the New York Studio School of Drawing, Painting and Sculpture (1993-'95). Since 1993, Condron has studied with Rohini Ralby, the artist's mentor. His work appears nationally and internationally in galleries and museums as well as incorporate, university, public and private collections.
Condron's pieces express humor, absurdity and beauty through the combination and interaction of everyday objects, castoff remnants and paint. Each piece is titled with a textual fragment from a story that intends to add to the work's rhetoric rather than naming or defining it. Titles are applied to the pieces the same way Condron assembles materials and are appropriated from literature by an array of great authors such as Don DeLillo, James Salter, Anton Chekhov, Nikolai Gogol, Oscar Wilde, Hunter Thompson, Kurt Vonnegut, Ernest Hemmingway, Henry Miller, Anais Nin, and others.