Monday, November 4, 2019 - 12 pm
This year's Common Hour, Living Boldly, is inspired by Wilson's sesquicentennial celebration marking 150 years of bold Wilson students. The fall series, which kicks off on September 2, will feature 11 talks and one dance performance. In the spirit of fostering critical thinking about pressing issues and big questions, all Common Hour events are free and open to the public.
This "Downtown" Common Hours will ALSO be held at 7 p.m. at Coyle Public Library in downtown Chambersburg.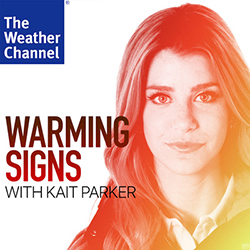 Kait Parker 
The host of the "Warming Signs" Podcast, Weather Channel 
Kait Parker is an atmospheric scientist that has studied and covered every major US storm on-air for the last decade. Before joining The Weather Channel digital team, she hosted America's Morning Headquarters on The Weather Channel and regularly appeared on Good Morning America. Additionally, she has worked as a meteorologist in West Palm Beach, Florida and Montgomery, Alabama. A graduate of the University of Missouri with a degree in Environmental and Atmospheric Science, she has also been an instructor for a graduate-level course on Climate and an undergraduate course on Storm Chasing.