Traditions, Both Odd and Even
By Coleen Dee Berry
Traditions create a college's unique identity and define the student experience. At tradition-rich Wilson, today's students carry on the College's celebrations and revel in the distinctive rituals handed down through the generations.
Wilson students no longer dance the minuet on George Washington's birthday or play Angels and Gremlins for the holidays. However, many of the existing traditions on campus can be traced back not only decades, but as long as a century ago. They've just been tweaked a bit along the way.
The century-old rivalry between the odd and even-numbered graduating years remains the foundation for many traditional events. First-year students are still presented with their class colors in a candlelit ceremony that dates back to 1905. Sophomores still carry a homemade daisy chain to graduating seniors waiting by the Conococheague on commencement morning, a ritual first noted in 1909. The alma mater (dating to the early 1920s) is still sung at ceremonies, usually with a hearty shout-out on the last line. But students also engage in a raucous, 24-hour banner-stealing competition—a modern twist on "dummy rush"—and have turned the annual May Day Queen and her court pageant into Spring Fling, which includes a campus carnival and dance.
Traditions make memories, according to Carole Ashbridge '70. "They help build these unbreakable bonds with your classmates, with the College," she said. "You come back here for Reunion and all the memories come rushing back, and many of them have to do with the traditions. It's all tied up in what makes this a very special place."
"Traditions are our connection to the College's legacy and bring the campus community together," President Barbara Mistick said. "Traditions make indelible memories. It's amazing how powerful the memories of the traditions are among alumnae when they are back here for Reunion."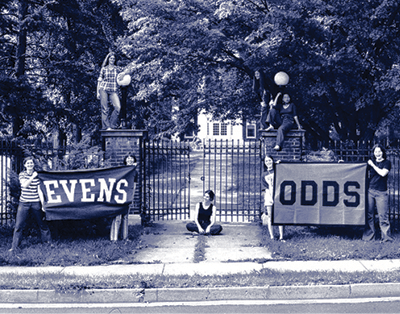 From their first day, first-year students are immersed in Wilson traditions. They spend an orientation session becoming familiar with the most popular traditions and even have a first go at Song Wars. By mid-September, all classes are participating in Sarah Wilson Week, which includes the assignment of Bigs and Littles, banner stealing and a secret ceremony for first-years.
"What is so cool is that we have this great rivalry inside the College. Like, we will all unite in defense of Wilson, but then we also have this great Odd/Even spirit," said Nicole Zuleger '17, class historian and president of the Campus Activity Board (CAB).
One of the first things first-years learn during orientation is whether they are Odds or Evens, which is simple enough—it corresponds to what year they enter the school and their graduating year. This year is an Evens cycle (enter in 2016, graduate in 2020); but members of this year's senior class, who graduate in 2017, are Odds. Odds colors are red and black; Evens are green and blue.
In the 1890s, there weren't any Odds or Evens, but there were Defenders and Invincibles. The two rivals met in battle over a basketball game around Thanksgiving. The Color Ceremony began in 1905, when the seniors, carrying candles, marched from South Hall to present colors to the freshman class waiting by Laird Hall, a tradition that remains part of Sarah Wilson Week.
Another Sarah Wilson Week tradition that dates back to the early 1900s is Bigs and Littles. Littles (first-year students) are assigned Bigs (juniors) who become mentors and big sisters/brothers. In the early 1900s, these assignments were made before the Littles came to campus, and Bigs wrote to their Littles over the summer with advice on how to prepare for college life.
Bigs also present Littles with their dinks, felt beanie caps in the appropriate Odds or Evens colors—a tradition that dates to the 1940s. The way the Bigs set the cap on their Littles' heads is how the students must wear their dinks throughout college. "I see some alumnae and staff who were Evens with their dinks, and from the way they are wearing them, I realize it's like I'm wearing the great-great-grand dink of someone, which is pretty cool," said Kirstin Lehman '18, who is the CAB traditions chair.
Zuleger's favorite tradition is Bigs and Littles. She took on six Littles in her junior year, including three little brothers. "If they are having a bad day, you try to take them to Starbucks or do something to lift their spirits. That's what makes traditions important to me—that they help make Wilson feel like home," she said. "The bonds created between Bigs and Littles can be awesome. I'm still in touch with my Big two years after graduation, and I hope to stay in touch with my Littles after I graduate."
Secrets are key part of the Wilson traditions. Odds and Evens each have their own carefully guarded ceremonies, handed down from class to class. "There's sooo much that goes on that's secret—but I can't tell you," Zuleger said with a smile.
The ceremony to welcome first-year students during Sarah Wilson Week is one such secret. "Sarah Wilson Week is my favorite because it is shrouded in mystery during your first year," Lehman said. "Finding out about so many traditions at once is the greatest way to start college."
Wilson traditions also have appeal to international students. "I'm a tour guide here and one of the things I like to tell visitors about are all the traditions we have. It's what being part of the Wilson community is all about," said Ghada Tafesh '16, a graduate student from Gaza. "Traditions let students know that they're not just a file or a number in a column when they are here. Traditions offer a way to get to know everyone and to feel that you are welcome at Wilson."
Tafesh acted as a Big to Cody Dunlap '18, who is now the Wilson College Government Association president. "Bigs are important for Littles. They are your role models, they help you navigate the campus, they introduce you to people you probably wouldn't have met on your own and it becomes your first networking experience,' Tafesh said. "I was WCGA president when I was Cody's Big, so I encouraged him to join—and now he's the president!"
Dunlap, the first male WCGA president in Wilson's history, said now that he's a Big, he hopes to encourage his Littles to become active in student government. "Ghada has been a big help to me. I can't imagine my college experience without her," he said. "The traditions here add a lot of heart to Wilson. Once you start participating in them, you want to experience more."
As Wilson moves forward in the 21st century, one of the challenges is trying to ensure students outside of the traditional undergraduate program are included in traditions. Members of the College Traditions Committee are currently brainstorming how to engage commuters and Adult Degree Program students in traditional events—something students organizing those events admit is difficult. "I have tried to figure out how to include the ADP students, but since most of them have jobs and families, and the traditions happen so late at night, a lot of times it just doesn't work out," Zuleger said.
The traditions committee was formed several years ago to examine how Wilson's decision to expand coeducation would affect traditions and address the concern that some traditions would fade away. The committee—with student, alumnae, staff and faculty representation—agreed that how traditions might evolve was, as always, ultimately in the hands of the students.
 Mistick said she already sees Wilson's male students taking part in traditions. "I don't think traditions have gender. The guys will have just as much fun and memories," she said. "Some things won't be changed—like the alma mater—but they will be O.K. with the female references in the alma mater. It's our history. No one is about to change that."
The men on campus have their favorite traditions—"Banner stealing is awesome!" said Daniel Glazier '18—and as time goes by, more men participate in more events. There are now men elected to the May Court, "and I'm hoping this year we get a guy on the Daisy Chain," Zuleger said.
Wilson's traditions may evolve, but they also endure, according to Vice President for Student Development Mary Beth Williams. "Traditions are one of the pillars of the student experience here at Wilson, and they are grand and cool and fun and ever-changing," she said. "The traditions make the students here all different and yet all the same."
Amy Ensley, director of the Hankey Center—which houses many of the records and artifacts of Wilson's traditions—says the powerful bond of traditions connect today's students to past and future students. "Through these rituals, our students become part of our heritage," she said. "One hundred and forty-seven years from now, the class historian for the Class of 2164 will rummage through the archives and find an image of Nicole and Ghada and Cody, and she will have a little laugh about how silly everything looked back then, and then she'll go back to her room to get ready for the White Dinner."