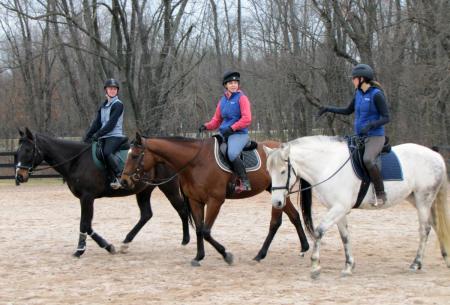 Wilson College will add a National Collegiate Equestrian Association (NCEA) Equestrian team in fall 2020, increasing the quality of competition opportunities for the College's equestrian students.
College equestrian clubs will continue to participate in International Collegiate Horse Show Association (IHSA) events, but the addition of the NCEA Equestrian team for hunt seat competition is a significant and positive development for Wilson's program, according to Brooke Leininger, assistant professor of equestrian studies.
"For students who are serious about equestrian sports and riding, NCEA will provide a higher level of competition," said Leininger. "This is significant because it's going to play a major role in recruiting students, both to the College and to our equestrian program."
NCEA uses a collegiate format that allows competition between schools in all three NCAA divisions─I, II and III. In NCEA competitions, riders compete against one another on the same, randomly drawn horse, "a format that comes down to riding skill rather than the luck of the draw," Leininger said.  "In IHSA, riders are judged against a multitude of other riders on different horses."
There are a number of other format differences between NCEA and IHSA. She said IHSA riders compete against numerous teams at each show. By contrast, in NCEA competition, schools compete directly against one another. And in IHSA competition, the number of riders is set by the host school, but in NCEA, five riders from each institution compete head to head. For championships, an IHSA team must be regional champions before advancing to the finals. In the NCEA, the top 12 overall teams are invited to compete, according to Leininger.
"Wilson's students are excited about the move up to a higher level of competition and to have the opportunity to continue their IHSA experiences at the same time," she said. "But current and future students who are entry-level competitors are encouraged to develop through the IHSA ranks and become a more advanced competitor by the time they graduate from Wilson."
 
Wilson is developing its 2020-21 NCEA schedule, which will be announced at a future date.
Published: March 27, 2020
Contact
Wilson College
Office of Marketing and Communications
1015 Philadelphia Avenue
Chambersburg, Pa. 17201