The College has added three in-demand majors to our undergraduate selections and an online master's degree aimed at professionals seeking to advance in their careers. Beginning fall 2021, the new majors offered are Healthcare and Medical Humanities, Liberal Studies, and Supply Chain Management. The online master's degree is in Applied Leadership.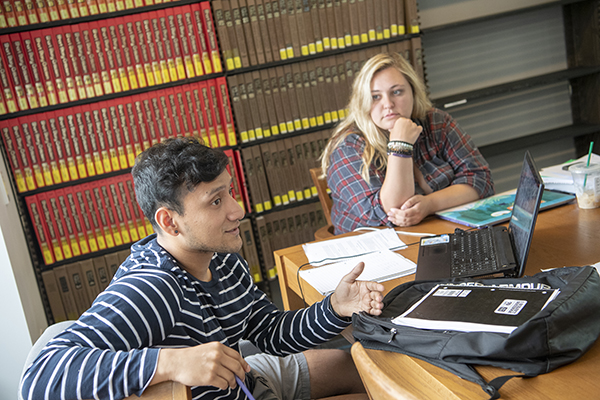 Wilson continually updates and changes the courses offered to best meet our students' needs and provide them with options that give them an edge in today's jobs market and more pathways to fulfilling careers and professions. 
Our healthcare and medical humanities major combines practical, science-based knowledge with ethical values and psychological insights to give students a more complete, holistic, and contemporary understanding of best practices in healthcare. It prepares graduates for an array of careers in this field. 
"Patients are not just their symptoms or a momentary embodiment of their illness. They are whole human beings with entire life experiences," says Melanie Gregg, Ph.D., associate professor of humanities. "Having the ability to listen with empathy and interpret a patient's story and pull meaning from it is how a caregiver can lead a patient out of suffering and onto a path of healing." 
The liberal studies major is a versatile, broad-based degree customized to the individual student's interests and strengths. Graduates will learn the problem-solving, communication, leadership, and collaboration skills prized in a world that is everchanging and where adaptability and independent thought give you an advantage. 
Supply chain management is one of the fastest-growing career paths and, according to Forbes, has created 1.4 million new jobs between 2018 and 2018. In an increasingly interconnected world, managing and optimizing the supply and delivery of raw materials, parts, or manufactured products from their producers to the customer is vital to many industries. 
Our supply chain management major will appeal to students interested in a career in a variety of businesses or professionals already working in logistics or distribution and who want to advance their careers. 
Applied Leadership is an online master's degree that prepares graduates for leadership roles in business, communications, healthcare, organizational management, and many other fields. The student customizes the courses across multiple disciplines to fit the area they already work in or one they would like to enter. 
"This online program of study is ideal for working professionals with current or anticipated leadership responsibilities and has been designed to be flexible for professionals from diverse backgrounds and experiences," says Michael G. Cornelius, Ph.D., director of the master's in applied leadership. 
These additions continue Wilson's tradition of providing academically rigorous and profession-oriented programs enhanced through a liberal arts education .
Published: Saturday, December 4, 2021
Contact
Wilson College
Office of Marketing and Communications
1015 Philadelphia Avenue
Chambersburg, Pa. 17201