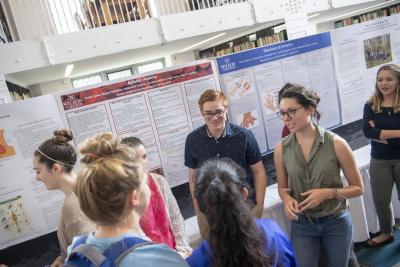 In a nod to its 150th anniversary and a fresh start under new leadership, Wilson College has launched the Boldly Believe fundraising campaign emphasizing three key areas: endowment, estate planning and every day. The effort, known as a "flash campaign," will run during the last 150 days of the college's Sesquicentennial celebration─from Feb. 1 through June 30.
The campaign's main objective is making sure that the "every day" category, which refers to the college's Wilson Fund, meets its $1 million goal, according to Camilla Rawleigh, Wilson vice president for institutional advancement. "It touches everything," she said of the Wilson Fund, a multipurpose, unrestricted general fund that can be used for everything from student financial aid to operational needs.
The Wilson Fund fundraising effort has received a boost from Wilson Trustee Margaret Hamilton Duprey, who has offered to match all donations one a one-to-one basis, up to $150,000.
"Margaret recognizes the critical importance of unrestricted annual support," Rawleigh said. "Through her generous, forward-thinking $150,000 Wilson Fund match to kick off the Sesquicentennial Boldly Believe campaign, she will incentivize others to give, as well."
Duprey, a resident of Wellington, Fla., has supported Wilson both before and since joining the Board of Trustees in 2017. She said her latest gift reflects the excitement on the Wilson campus, which has been growing in recent years and is entering a new phase in leadership under its energetic new president, Wesley R. Fugate, who joined the college in January.
She added that her matching gift focuses on Wilson's annual fund because she has witnessed the difference it makes in the life of the college. "During my three years on the Board of Trustees, I have seen first-hand how important the unrestricted Wilson Fund is to the success of Wilson's students and campus as a whole," Duprey said. "It is my pleasure to offer this match and I hope that others will step up to be a part of the Boldly Believe campaign."
During the campaign, Wilson will also seek to raise money for the college's endowment. "We hope to find some people who have an interest in helping grow the unrestricted endowment, which the college can use for whatever necessary," Rawleigh said. "We also have an interest in others who are interested in establishing endowed scholarships, which fall into the restricted category."
The third leg of the fundraising campaign involves estate planning. Wilson alumni, their families and friends, and others can make provisions in their wills to support the college.
Wilson plan to promote the campaign over the next months in various ways, including through social media, email and personal contacts. Anyone interested in making a gift now should contact Rawleigh in Wilson's Office of Institutional Advancement at 717-264-2061 or camilla.rawleigh@wilson.edu.
For more information, visit https://www.wilson.edu/boldlybelieve.
Published: March 4, 2020
Contact
Wilson College
Office of Marketing and Communications
1015 Philadelphia Avenue
Chambersburg, Pa. 17201