Wilson College has named Angela Zimmann, Ph.D., CFRE of Gettysburg, Pa., as the new vice president for institutional advancement. With more than 20 years of experience in fundraising, leadership, and teaching in higher education, Zimmann will join the college March 15. She replaces Camilla Rawleigh, who retired from the institution in November 2020.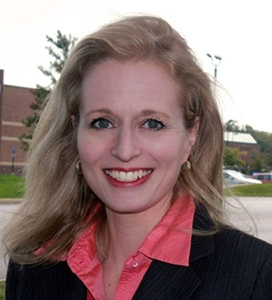 Zimmann currently serves as the vice president for institutional advancement at United Lutheran Seminary (formerly The Lutheran Theological Seminary at Gettysburg and The Lutheran Theological Seminary at Philadelphia). In this capacity, she leads the overall fundraising strategies for the institution, including the annual fund, major gifts, planned gifts, and various philanthropic campaigns. She also oversees all aspects of alumni relations and donor relations and is the president of the seminary's endowment foundation. Prior to her current role, Zimmann served as interim president of the institution from Dec. 2019 to Aug. 2020 and advancement executive from 2014 to 2016.
With the assistance of Academic Search, a firm specializing in the recruitment of higher education leadership roles, Wilson conducted a national search for this important position. "It is a time of transformative change at the college. We have launched a new strategic action and planning process that will enable us to better respond to the needs and desires of today's students and beyond," Wilson College President Wesley R. Fugate, Ph.D., said. "We needed an advancement professional with the ability to tell the story of Wilson College and share the student experience. These skills are critical to securing needed resources and engaging all constituents in the work of the college. Angela's leadership skills, ability to harness the power of data to influence key decisions, as well as her ability to inspire others with the Wilson story, make her a great addition to the team."
Lynne DiStasio, president of the Alumnae Association of Wilson College, agrees. "During the interview process, it became clear Angela has a real passion for the mission of the college. Her desire to build meaningful connections with our alumni will go a long way in bringing forward much-needed resources for the college's future programs."  
Reporting to the president of the college, the vice president for institutional advancement is responsible for enhancing Wilson's resources and relationships to respond to changing student and institutional needs and to create a vision for a sustainable future. The position works closely with the president, the executive team, academic deans and directors, faculty, staff, students, and the Board of Trustees to strengthen a collaborative college-wide effort, engaging alumni, corporations, foundations, and the community to support the college.
"I am excited to join the team at Wilson College and am very much looking forward to helping the college build upon its past successes," Zimmann said. "Wilson is poised to thrive and flourish. I'm grateful for the opportunity to be a part of its bright future."
Zimmann holds a Bachelor of Science in industrial engineering from University of Toledo, a Master of Divinity from United Lutheran Seminary, and a Doctor of Philosophy in English, rhetoric, and writing from Bowling Green State University.
Founded in 1869, Wilson College is a private, coeducational liberal arts college offering bachelor's degrees in 33 majors and master's degrees in education, nursing, applied leadership, and the arts and humanities. With 99 percent of its students receiving financial aid or scholarships, Wilson is committed to providing high-quality, affordable education.
Located in Chambersburg, Pa., the college's 300-acre campus is nestled in the beautiful Cumberland Valley and is within an hour-and-a-half drive of Washington, D.C., and Baltimore. Visit www.wilson.edu for more information.
 
Published: February 9, 2021
Contact
Wilson College
Office of Marketing and Communications
1015 Philadelphia Avenue
Chambersburg, Pa. 17201