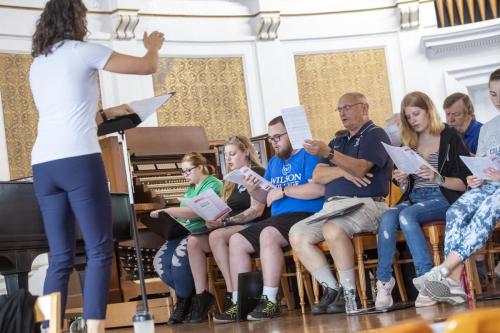 The Wilson College Choir will hold its fall concert, which is free and open to the public, at 3 p.m. Sunday, Nov. 24, in the Thomson Hall chapel.
For the first time, the Wilson Choir will be joined by the Cumberland Valley School of Music's New Horizons Choir to perform sounds of the holiday season, including: a delightful choral arrangement of Tchaikovsky's Dance of the Sugar Plum Fairy, Beautiful Star of Bethlehem by R. Fisher Boyce, Sweet Was the Song by Mark Sedio, John Tavener's breathtaking The Lamb and Molly Ijames' thoughtful arrangement of Christina Rossetti's poem, In the Bleak Midwinter. In addition, featuring student and staff soloists, Dan Forrest's stunning arrangement of The Huron Carol, Christmas Sanctus by Lee Dengler, The Manger Carol by Almon Bock and Auld Lang Syne. 
The Wilson College Choir is directed by Elisabeth Turchi and accompanied by Myrna Gowing.
Published: November 6, 2019
Contact
Wilson College
Office of Marketing and Communications
1015 Philadelphia Avenue
Chambersburg, Pa. 17201